Following the 18-year-old's graduation from Sierra Canyon School in Los Angeles, the NBA legend on Friday marked the achievement with a sweet post on Instagram.
The elder James shared a slideshow that featured a video of his son in a cap and gown at the high school's graduation ceremony. At one point in the video, the Los Angeles Lakers star is seen excitedly waving around a diploma.
"PROUD!!!!" he captioned the post. "CONGRATULATIONS & LOVE YOU KID!"
Savannah James, the NBA player's wife, also celebrated her son's big day on Instagram.
"I am so so proud of you and I hope you are extremely proud of yourself!" she wrote. "I am forever your unwavering support, your biggest fan and beacon of guidance always!"
LeBron James and his wife are also parents to son Bryce, 15, and daughter Zhuri, 8.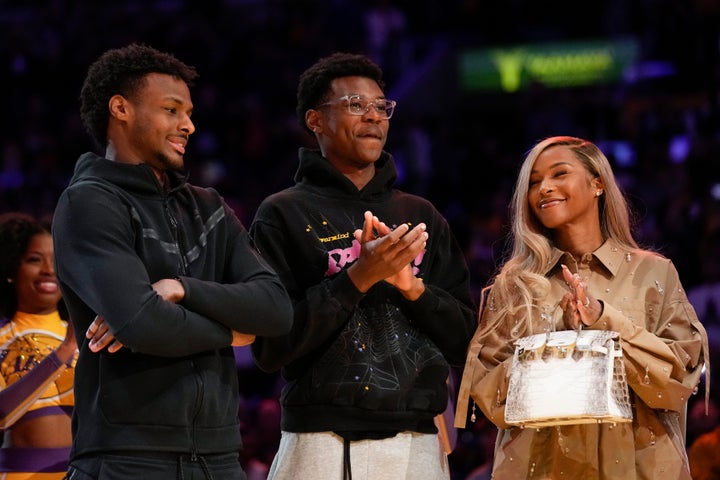 Over the past several years, LeBron James has expressed his hope to one day play in the NBA with the young man. But the Lakers forward's recent remarks about the future of his career suggest that he may have eased up on that desire.
He shocked the basketball world during a press conference this week by suggesting he might retire from the sport, after his team was swept by the Denver Nuggets in the NBA's Western Conference finals.
As for his dream that Bronny James will eventually play in the league, the father said he just wants his son to embark on whatever "his journey" may end up being.
"However his journey lays out, he's going to do what's best for him," LeBron James told ESPN. "As his dad, and his mom, Savannah, and his brother and sister, we're going to support him in whatever he decides to do. So, just because that's my aspiration or my goal, doesn't mean it's his. And I'm absolutely OK with that."
Popular in the Community