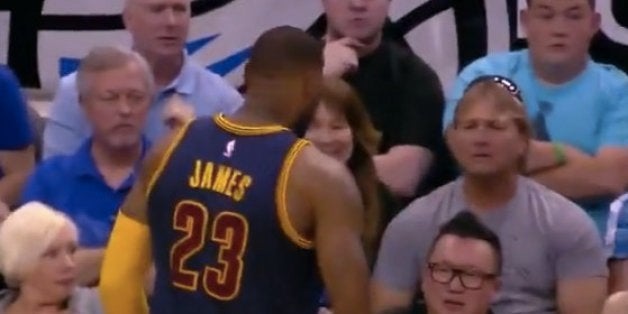 It hasn't been a great week for LeBron James and opposing teams' fans.
And on Sunday's game against Orlando, another fan hit the ball away from James while he was trying to gain control of it on the sideline.
LeBron doesn't look too pleased. (Source: YouTube)
The referees awarded the Cavs possession, ruling the incident interference. Cleveland eventually extended its winning streak with a 123-108 victory over the Magic. James told reporters after the game the fan "just slapped the ball," according to ESPN.
Let's hope James has better luck with the crowd during the Cavaliers' next matchup. But being that James will be returning to Miami on Monday to face off against the Heat, we're not sure his former hometown will be so easy on him.
In the meantime, James has plenty of more pleasant memories with fans.
Like when he gave this fan a kiss:

Pucker up. (Source: YouTube)
...or earlier this year, when another fan received a smooch on her hand from The King:

Smooth. (Source: YouTube)
LeBron tackled a fan who won $75,000 after sinking a half court hook shot:
And on certain occasions, LeBron doesn't actually mind passing the ball with fans:
But perhaps the most memorable fan interaction was with James Blair, who ran onto the court in 2013 when James, as a Heat, played against Cleveland. James acknowledged Blair, who was wearing a shirt that said "We Miss You." The Cavaliers only just lifted Blair's ban from Cleveland's Quicken Loans Arena when James returned in 2014.
Calling all HuffPost superfans!
Sign up for membership to become a founding member and help shape HuffPost's next chapter