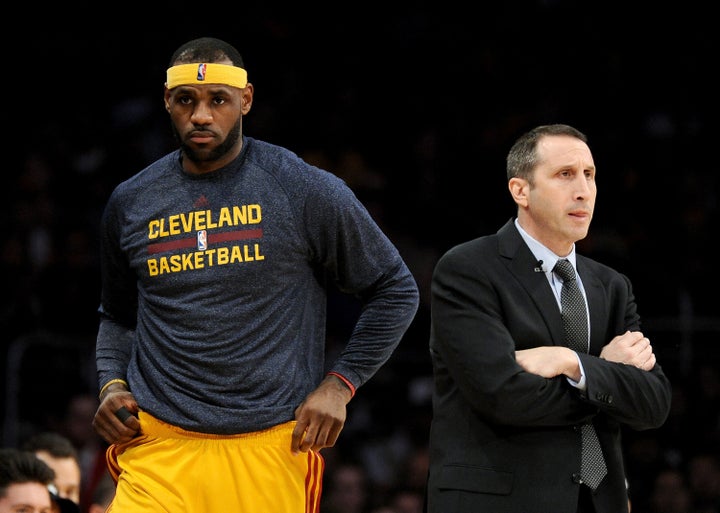 While the Cleveland Cavaliers' abrupt dismissal of former head coach David Blatt last Friday was frowned upon by many within the NBA's ranks, that was nothing compared to the apparent ire that some in Israel felt at Blatt's unceremonious boot.
According to the American Free Press, Israeli basketball fans unequivocally blame LeBron James for Blatt's firing, pointing their collective finger at the Cavaliers' superstar who had famously questioned the coach in the past. Blatt, an Israeli-American, had been highly successful on the European sidelines for years before journeying to the NBA in 2014, having endeared himself to Israeli basketball loyalists by leading Israel's Maccabi Tel Aviv to a 225-55 four-year record prior to the trans-Atlantic move.
"LeBron James is now the most hated person in Israel … It's a little bit joking and a little bit true: These days I can only compare the Israeli hate for LeBron James to the hate for Hamas," reporter Sharon Davidovitch explained to the AFP.
And while Monday's Cavaliers game wasn't aired in Israel according to Cleveland.com beat writer Joe Vardon, local papers smattered headlines like "Goliath Eliminates David" across their weekend editions. In this analogy, LeBron, of course is Goliath -- with owner Dan Gilbert acting as Goliath's famous javelin. 
Even U.S. Ambassador to Israel Dan Shapiro joined the public outcry this weekend, if in a more muted fashion, posting on Facebook: "I don't really understand the Cavs' decision to fire David Blatt after all his success. But I congratulate him, a wonderful man and a talented coach, on all his accomplishments, and wish him well in the future."
 In a now-famous incident last season, James pushed Blatt while arguing with an official.
And after leading Cleveland to its first Finals appearance in eight years last June, Blatt guided the franchise back to the No. 1 spot in the Eastern Conference this season before his unexpected release.
PHOTO GALLERY
Some Cool 2015 NBA Finals Photos
REAL LIFE. REAL NEWS. REAL VOICES.
Help us tell more of the stories that matter from voices that too often remain unheard.