The Los Angeles home of LeBron James has become the site of an apparent hate crime just one day before the Cleveland Cavaliers superstar embarks on his seventh straight NBA Finals. 
The LAPD has confirmed to HuffPost that authorities were called to James' home early Wednesday morning after someone vandalized the front gate of the home. TMZ reports that the vandal spray-painted the word "n****r."
James, whose primary residence is in Akron, Ohio, was reportedly not present during the time of the incident. He addressed the incident later on Wednesday at a press conference in anticipation of his eighth finals appearance. 
"If this is to shed the light and continue to keep the conversation [about race relations] going on my behalf, then I'm okay with it," James said. "My family is safe. At the end of the day, they're safe and that's the most important." 
"But it just goes to show that racism will always be a part of the world, a part of America. Hate in America, especially for African-Americans, is living every day," he continued. "And even though that it's concealed most of the time, we know people hide their faces and will say things about you, when they see you they smile at your face, it's alive every single day."
He then added, "No matter how much money you have, no matter how famous you are, no matter how many people admire you, being black in America is tough. And we got a long way to go for us as a society and for us as African-Americans until we feel equal in America."
Police are looking into the incident further as investigators sift through available security footage. Property managers at the home have already covered up the graffiti.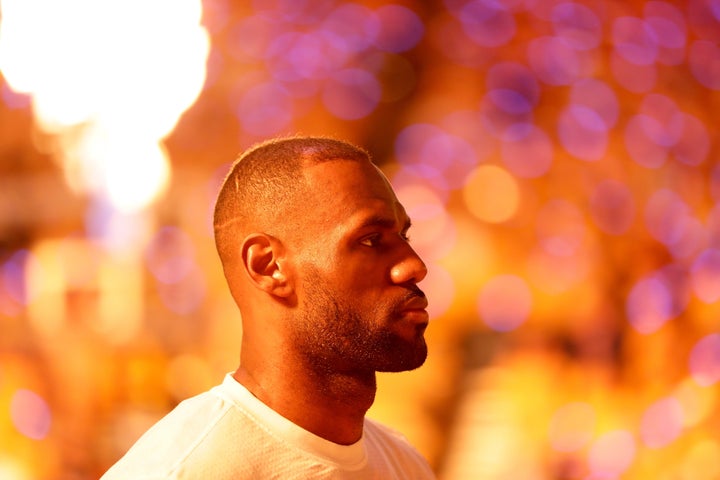 Hate crimes rose 20 percent in the U.S. during 2016 amid heightened tensions related to the presidential election, according to the Center for the Study of Hate & Extremism at California State University, San Bernardino.
Game 1 of the NBA Finals between the James' Cavaliers and the Golden State Warriors starts tomorrow at Oracle Arena in Oakland, California. 
Requests for comment from James' team were not immediately returned. 
May 31, 5:42 p.m. - This post has been updated to include comments from James about the incident. 
America does not do a good job of tracking incidents of hate and bias. We need your help to create a database of such incidents across the country, so we all know what's going on. Tell us your story.
REAL LIFE. REAL NEWS. REAL VOICES.
Help us tell more of the stories that matter from voices that too often remain unheard.
BEFORE YOU GO
PHOTO GALLERY
LeBron James Through The Years