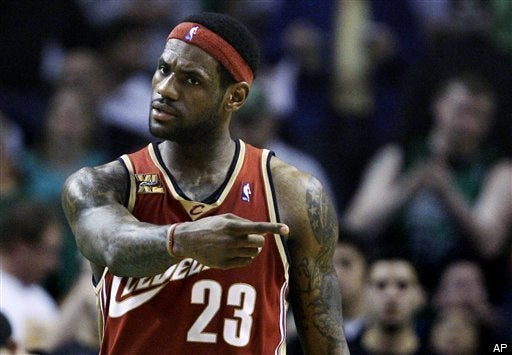 LeBron James may be headed to the New York Knicks, according to reports today, Wednesday, July 7, 2010 -- one day before free agent signings can be made official.
Phoenix Suns forward Jared Dudley tweeted about 2 p.m. Eastern Time., "Breaking News!!! My sources tell me Lebron will announce that he will be goin to the NY KNICKS tomorrow on ESPN.. This is serious.. WOW!!!!"
The rumor took a life of its own when @ESPN_FirstTake, which has 70,000 followers, retweeted Dudley. Hundreds of retweets followed, though the ESPN account later deleted the retweet. ESPN is broadcasting LeBron James' announcement live tomorrow night, beginning at 9 p.m. EST.
Dudley posted a follow-up tweet to his "breaking news" alert, "That's what I'm hearing.. I don't care where he goes lol.. I personally thought he would stay in Cleveland.."
Even the business world may have been impacted by the rumors. CNBC's Darren Rovell tweeted, "Market definitely going with LeBron to Knicks. Stock is now up 7%, MSG shares trading 5x their avg. volume."
The New York Daily News reports that LeBron is coming to Greenwich, Conn., to make the announcement, a short drive from the Knicks training facility in Greenburgh, N.Y.
Calling all HuffPost superfans!
Sign up for membership to become a founding member and help shape HuffPost's next chapter