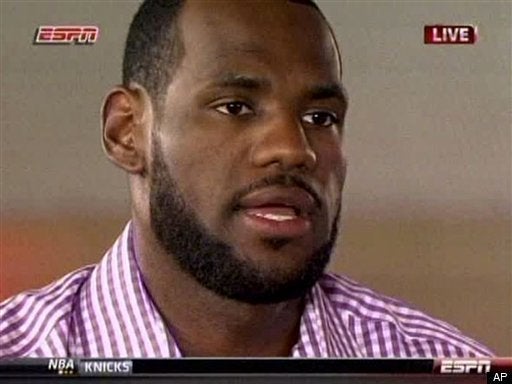 LeBron James did a lot of things right in choosing to move down south in a quest to uplift his near-legendary status to a championship bracket. But King James made a gigantic error in judgment after his marketing team successfully secured a one-hour special with Disney's ESPN.
I'm not criticizing LeBron on his choice of teams, nor the manner in which he chose to make his decision. That's the way the ball bounces when big boys play in the big leagues. Miami fans won. Cleveland fans lost. It's not a game of loyalty. It's pro basketball, where everyone looks out for No. 1.
Isn't that why teams trade players?
Well, sometimes players trade teams. In this case, LeBron traded Cleveland for Miami.
But that wasn't his error in judgment. In fact, it may be inaccurate to say it was LeBron's error at all. It may have been Maverick Carter's call.
Maverick is the CEO of LeBron's public relations firm, LRMR Marketing. And for a guy whose claim to fame is his close friendship with LeBron through thick and thin, Maverick has made quite a name for himself since given the green light to manage LRMR. I have lots of love and kudos for how he has risen to the challenge and overcome the slings and arrows of his critics.
But in this monumental circumstance, in which Maverick and LeBron caused the sports world to stop spinning and hold its collective breath, I believe a mistake was made. A big one.
After LeBron announced his decision to move to Miami, he failed to say he was going to Disneyland. That was a huge miscue.
"I'm going to Disneyland" were the iconic words pro athletes would yell after legendary victories. Someone was typically staged to ask, "What are you going to do now?"
Answer: "I'm going to Disneyland!"
That's not the real answer I expected to hear from LeBron. But I expected to hear someone ask the question, "What are you going to do now?"
And I expected LeBron to say something that would've directed his gigantic audience to an incredibly innovative website where he had special videos waiting (in like manner to the t-shirts and ball caps waiting for the winners of a championship game), gifts for new members who joined his site, a special live broadcast of his after party and a variety of other very cool options that would've monetized his social media content and leveraged his off-court persona.
"What am I going to do now? I'm glad you asked. I want to first thank the City of Cleveland and its awesome fans for such strong support. Now, I want to enjoy the fantastic welcome by the great fans here in Miami. I'm having a huge party for all of America at LeBronJames.com. Go check it out. Gifts for all my fans. You're all invited to my celebration party tonight here in Miami. I'm headed over to LeBronJames.com right now to greet my fans. I'll see you there with a special live broadcast message."
When monumental moments in sports history occurred in the past, Disney was there to capitalize on the glory and monetize it. In the case of LeBron's one-hour ESPN special, Disney was there, as usual. But, in this case the tables were turned. The moment of reckoning was at hand. And LeBron blew it.
Or maybe Maverick missed the mark.
The bottom line is that LeBronJames.com was crawling along with a few thousand unique visitors who witnessed a very bland website showing a short video of an interview in which LeBron reveals his favorite cupcake. Yawn.
Hey, LeBron and Maverick, I've got two words for you: social media.
Better yet, here's two more: call me.
REAL LIFE. REAL NEWS. REAL VOICES.
Help us tell more of the stories that matter from voices that too often remain unheard.