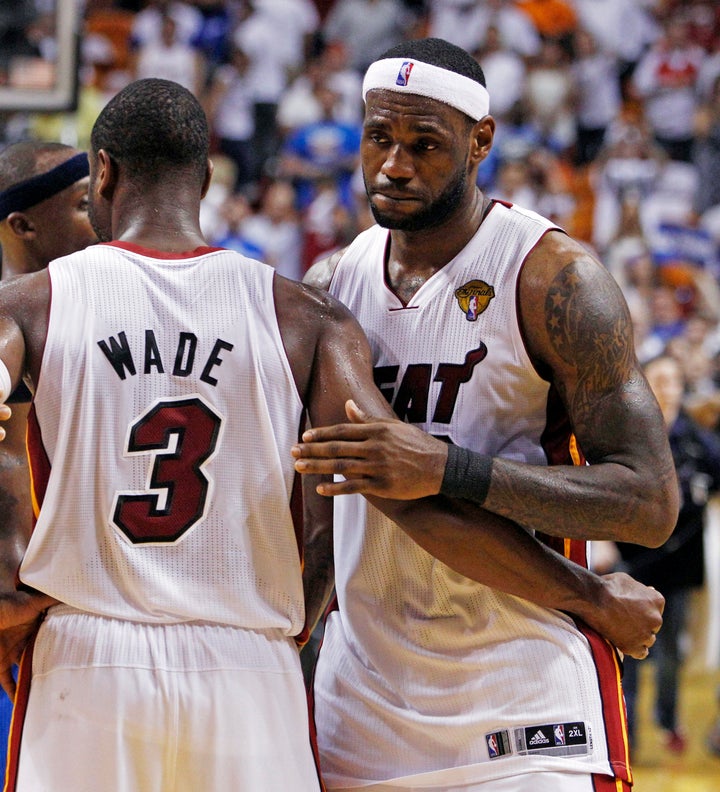 MIAMI — Good thing LeBron James had that big party when he arrived here last summer.
For now, that's the only celebration he gets in Miami.
He brought his talents to South Beach to win titles, so he'd have All-Star help around him and he wouldn't have to carry the team.
Problem was, the Heat couldn't carry LeBron.
His first finals with the Heat ended Sunday night with the Dallas Mavericks' 105-95 victory in Game 6. James started strong and faltered at the finish, just the way the Heat did in this series.
James agreed the loss felt like a "personal failure" but also said "it hurts of course, but I'm not going to hang my head low.
Miami simply couldn't overcome his poor fourth quarters in most of the series. He had only 11 points in the final periods of the first five games, a major reason the Mavericks kept finding ways to rally late in games they trailed much of the way.Advertisement
He had seven in the final quarter of this one to finish with 21, but he had gone too long without impacting the game after scoring nine of Miami's first 14 points.
"Sometimes you got it, sometimes you don't, and that was this case in this series," James said.
And while they celebrated in Dallas, there was surely a big bash going on in Ohio, James' home state. Fans there were stunned and shunned when he decided to leave the Cleveland Cavaliers, and the hurt turned to rage when he opted to do it in the heavily criticized TV show called "The Decision," which included the much-mocked announcement that he was taking his talents to South Beach.
And make no mistake, it's a load of talent. James just couldn't figure out how to use it in this series.
He claimed confusion over how to be most effective when superstar buddy Dwyane Wade was playing well. He said he wasn't tired from playing too many minutes, that nothing was wrong with his shot.
But something was amiss, because the two-time league MVP, largely considered the most talented player in the NBA, was at best the third-best player in this series behind Dirk Nowitzki and Wade.
The Mavericks showed no fear of James. Jason Terry wondered aloud if James, a first-team All-NBA defender, could guard him for seven games after James shut Terry out in the fourth quarters of Games 1 and 3.
Turns out, James couldn't. Terry finally broke free in the fourth quarter of the pivotal Game 5 and led the Mavs with 27 points in the clincher.
DeShawn Stevenson claimed it appeared James "checked out" down the stretch in Game 4.
James had become perhaps the league's most-scrutinized player since last July, with the way he left the Cavs rubbing so many the wrong way. But it was rare for him to receive such criticism for what happened on the court as he did during this series.
He never got to play with another great player in Cleveland, where he eventually felt he would never be able to win a title. His lone finals appearance had ended in a sweep, and he'd never really come close again despite the Cavs' regular-season success.
So while there was ridicule over the way he did it, there was understanding why he left Cleveland, why he felt he needed better players around him.
But it also meant nothing but a title would do for James' critics, something he seemed to understand when he noted after Game 5 that he had a triple-double but it was viewed by many as a bad performance, because he did so little in the fourth quarter.
And one of his biggest critics, Cavs owner Dan Gilbert, fired a quick shot on Twitter, congratulating the Mavs and noting that "There are NO SHORTCUTS. NONE."
When it was over, James walked over to Wade for a hug, then shook hands with some Mavericks players. Nothing quite like the spectacle he found in this arena last summer, when the Heat hosted a pep rally to celebrate winning the free agency championship by adding James and Chris Bosh.
And that's the only crown the King gets to wear from now.
Support HuffPost
The Stakes Have Never Been Higher
Related
Popular in the Community