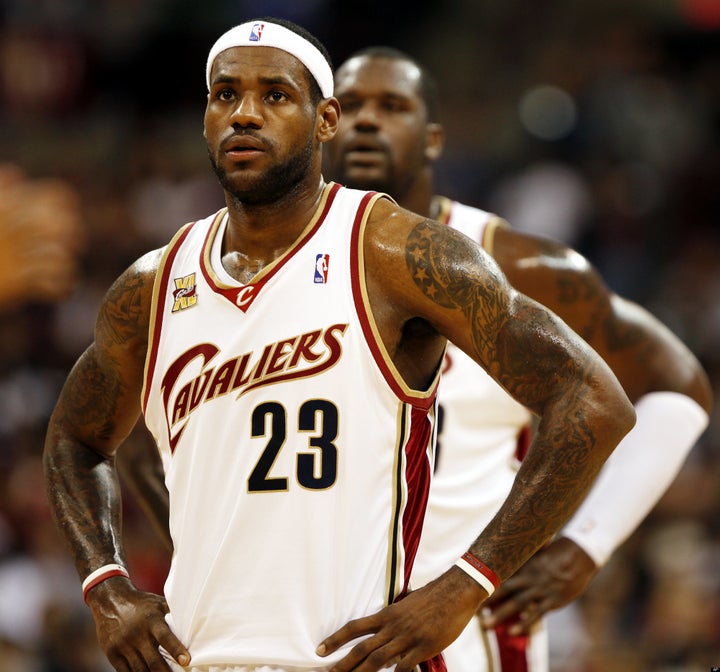 *** SCROLL DOWN TO SEE LEBRON EXPLAIN THE DECISION ***
(AP) CLEVELAND -- LeBron James wants NBA players to give up their No. 23s to honor Michael Jordan.
The Cavaliers superstar, who has worn 23 since he was a high school sophomore, believes players should pay tribute to Jordan for the Hall of Famer's impact on the game.
"I just think what Michael Jordan has done for the game has to be recognized in some way – soon," James said. "There would be no LeBron James, no Kobe Bryant, no Dwyane Wade, you name all the best players in the league right now and the last 10 years, there would be none of us without Michael Jordan."
James made the comments following the Cavs' win in Miami on Thursday night. The news was first reported by The Plain Dealer.
James said he has been considering the change for some time. He's willing to switch to No. 6 – his U.S. Olympic team number – and wants to start a petition to get every player in the league wearing 23 to give up the number.
"It's time," James said. "He's the best basketball player we've ever seen. Mike does it on the court and off the court. If you see 23, you think about Michael Jordan. You see guys flying through the air, you think about Michael Jordan. You see game-winning shots, you think about Michael Jordan. You see fly kicks, you think about Michael Jordan. He did so much, it has to be recognized, and not just by putting him in the Hall of Fame."
Jordan sat courtside on Thursday when James scored 34 points to lead the Cavs to their sixth win in seven games.
"He can't get the logo, and if he can't, something has to be done," James said, referring to the NBA logo that's modeled on a silhouette of Jerry West. "I feel like no NBA player should wear 23. Nobody. If I'm not going to wear No. 23, then nobody else should be able to wear it."
James must formally notify the NBA by early March if he plans to change numbers. He has not done so yet. Players generally must wear a number five years before they can apply to switch.
The reigning MVP frequently wears No. 6 as a practice jersey with the Cavaliers. He wears that number because his second-favorite player is Julius "Dr. J" Erving and it holds other special meaning.
"I wore 32 back in high school because Dr. J wore it at first," he said. "My first child was born on Oct. 6, my second child was born in June. If I'm not going to wear 23, I'm going to wear 6."
Calling all HuffPost superfans!
Sign up for membership to become a founding member and help shape HuffPost's next chapter