LeBron James, who has refused to heed Fox News host Laura Ingraham's advice to "shut up and dribble," had a pointed message for the watching world on Sunday — and he wore it proudly on his shoes.
The Cleveland Cavaliers star arrived at the NBA All-Star Game at Staples Center in Los Angeles wearing a pair of white Nike sneakers with the words "More Than An Athlete" emblazoned on them.
James shared a shot of his shoes in an Instagram story Sunday afternoon with a "FACTS" hashtag and the "100" emoji.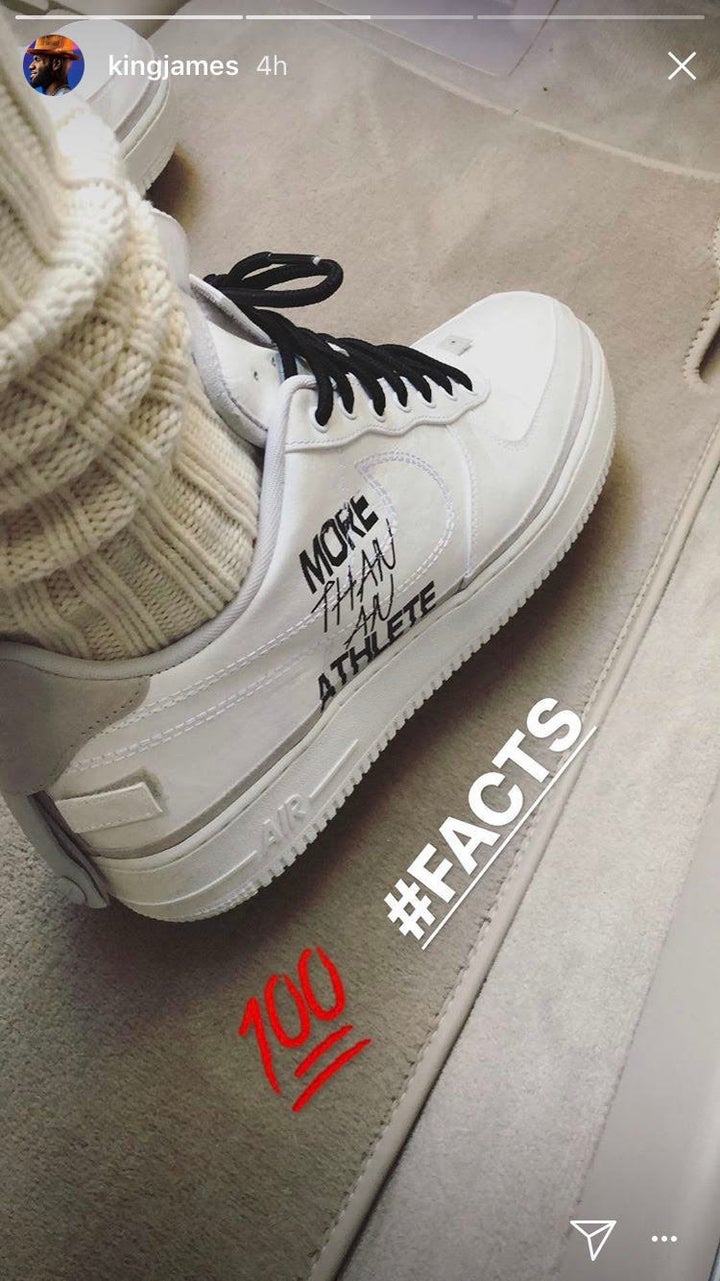 Reacting to the interview, Ingraham told the athletes to "shut up and dribble" and to "keep the political commentary to yourself."
James and Durant, however, were having none of it. Durant told USA Today that Ingraham's comments were "racist" and that while he does "play basketball, I am a civilian and ... a citizen of the United States, so my voice is just as loud as hers ― or even louder"
James stressed on Saturday that he would "definitely not shut up and dribble." 
"So, thank you, whatever her name is. ... I get to sit up here and talk about what's really important and how I can help change kids," James said at a media session following the All-Star Game practice in Los Angeles.
"I mean too much to society, I mean too much to the youth, I mean too much to so many kids that feel like they don't have a way out and they need someone to help lead them out of the situation they're in," he added.
Ingraham defended her remarks in a statement sent via a Fox spokesperson. "If pro athletes and entertainers want to freelance as political pundits, then they should not be surprised when they're called out for insulting politicians," she said. "There was no racial intent in my remarks ― false, defamatory charges of racism are a transparent attempt to immunize entertainment and sports elites from scrutiny and criticism."
This isn't the first time James has used his shoes to make a strong statement. Last year, he wore sneakers with the word "Equality" embroidered in gold to at least two games.
Explaining his decision to wear the shoes at a December game in Washington, D.C., James suggested he was wearing them in protest of Trump's divisive words and policies. 
"We're not going to let one person dictate us, us as Americans, how beautiful and how powerful we are as a people," he said at the time. "Equality is all about understanding our rights, understanding what we stand for and how powerful we are as men and women, black or white or Hispanic. It doesn't matter your race, whatever the case may be."
This article has been updated to include Ingraham's statement.
Calling all HuffPost superfans!
Sign up for membership to become a founding member and help shape HuffPost's next chapter
BEFORE YOU GO