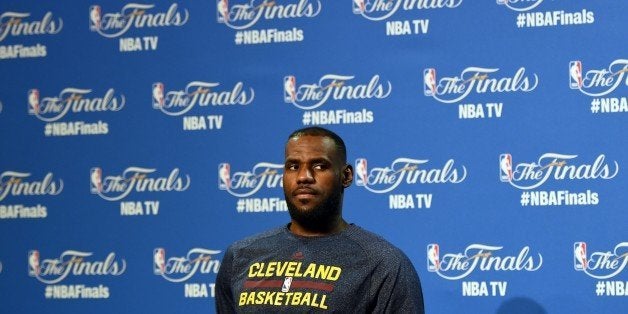 There has been a lot of talk in recent days about where LeBron James' NBA Finals performance through three games ranks amongst the best finals performances ever. By now, you probably know the stats. More points through three games than any player in the finals ever, at an average clip of 41 per game. Twelve rebounds per game. Eight assists. A block and 1.7 steals for good measure.
LeBron has been averaging more than 47 minutes per game and, in that time, accounting for more than half of all the team's assists, two-fifths of its points and a quarter of its rebounds, the latter two statistical feats never matched by Michael Jordan. In fact, he needed just two games to eclipse MJ's assist and rebounding totals in the GOAT's legendary 1998 finals against the Utah Jazz.
LeBron has only missed 12 minutes of game time total through three games, despite two of them going into overtime. He's been responsible in one way or another -- scored, assisted, created -- for 200 of the teams 291 total points. His usage rate -- "An estimate of the percentage of team plays used by a player while he was on the floor" -- is 44 percent, which is high enough to make Kobe Bryant ashamed.
If you look at this breakdown by Synergy Sports Technology, you'll realize just how ridiculous the situation has become.
Essentially, LeBron has been everywhere this series, a monstrous talent who is realizing a state of basketball genius that even the most casual basketball fan can appreciate. He is playing so well that people have begun to whisper words that are basketball sacrilege: that right now, LeBron might be eclipsing Jordan.

Obviously, all of the above is monumentally impressive. LeBron is doing things on the basketball court that few players have done before, if at all. He has almost single-handedly kept his team alive on offense, playing with a level of precision and skill that has taken the basketball world aback. He has reached basketball nirvana, the likes of which we might not see again for along time, and he is doing it against one of the most dominant regular season basketball teams ever.
But more impressive than LeBron's individual performance has been what he has created out of his ragtag crew of teammates. After Kevin Love sustained a season-ending injury, we thought the Cavaliers' best potential outcome was a loss in the finals. After Kyrie Irving sustained a season-ending injury in Game 1 once they got there, a lot of people whispered the word "sweep."
Two Cavaliers victories later, it's easy to forget how ridiculous it might have seemed just months ago that any member of the Cavs' starting lineup, sans LeBron, would be playing serious minutes in June. LeBron's four other running mates on the opening night of the season are all gone for the year, three to injuries and one to Oklahoma City. That's left LeBron with only five other players able to really play major minutes, and a couple veterans who can chip in a few minutes here and there.
LeBron's backup crew is playing hard and should be applauded for it. But do you remember what we thought of these guys just a little while ago? These are LeBron's other teammates, in descending order of minutes played this series:
1. Tristan Thompson (131 minutes total in the series) -- A good rebounder who seemed lost on terrible Cleveland teams before LeBron took him under his wing.
2. J.R. Smith (104 minutes) -- Former Knick who was so despised by his team that he was given away basically for nothing. He has the most fun of anyone in the league, and that's part of the problem. The butt of one million jokes.
3. Iman Shumpert (103 minutes) -- Former Knick who loves to rap. Sometimes decent. Sometimes still a little Knicks-like. Think of him as J.R. Smith lite.
4. Timofey Mozgov (95 minutes) -- All the larger context you need comes via this Bill Simmons quote from January: "If Timofey Mozgov is the answer, then I don't want to know the question."
5. Matthew Dellavedova (90 minutes) -- Admit it, you had no idea who Matthew Dellavedova was last week. And you know someone is an unlikely finals hero when Kendrick Perkins is saying stuff like, "Delly gives all kids hope about making it to the NBA." This is the perfect example of a backhanded compliment, my friends.
That's basically it! After that, the only other Cavaliers to play this series besides Kyrie have been resident old men James Jones and Mike Miller. And yet, LeBron has formed a cohesive, championship-caliber team from this motley crew of Knicks, Australians and soon-to-be retirees. They are playing hard, and they are playing hard because LeBron simultaneously inspires them and cares about them. That is a more impressive feat than any combination of points, assists and rebounds he could record. It's also a more clear path to LeBron truly defining his legacy and truly dividing himself from Jordan.
LeBron will never convince the entire world that he's on the same level as MJ, but he could eclipse Jordan and Magic Johnson as the the player who made better use of his teammates' limited talents than anyone else in NBA history.
Remember, none of these players ranked higher than 30th at their position this year in player efficiency rating, a per-minute measurement system that should adjust for them not getting as much playing time in the Love and Irving era of the season. Forget stars, many of these players might not start on other teams. But (cliche alert!!!) they have come together to form something greater than the sum of their parts, and if you don't think that's because of LeBron's leadership, you're wrong. He has them believing in themselves, he has them focused and he has them sticking to the game plan.
The caption accompanying that Vine is comical, sure, but what you're seeing is tangible leadership. The Cavs are working in time, executing a beautiful defensive plan out of nowhere that has the Warriors scrambling. They are locked in, diving for balls, working together cohesively and doing it for LeBron. Yes, because he demands they be at their best, but also because they know he cares about them.
"'Bron is the best teammate you can ask for, because on the court he's going to give you everything and off the court he's always going to be considerate and do whatever he can to show his gratitude," Jones recently said, according to Cleveland.com.
"Just the way he demands us to be great every play," Shumpert said separately of LeBron after Game 3. "Of course he's going to lead the way. He's going to dominate the ball to make sure things go as planned, but he definitely breathes confidence into everybody."
"He's one hell of a teammate," Thompson said. "He takes care of his team. He takes care of us with Beats, Samsungs. Everything that he's part of that he can give for the team, he's done that all the time and it shows how much he cares for us."
"[LeBron's] experience down there [in Miami] clearly made him a much better leader and it's showing," Chris Broussard said on the radio recently. "He's engendering confidence in these guys and he's making them believe."
Those are the type of sentiments that keep players in line, keep them playing selflessly and keep them diving on the floor for their team, and LeBron knows that. "I don't know if I can continue to put up these type of numbers," LeBron said after Game 3. "But I know i'll continue to lead these guys every single night."
LeBron can score. He can pass. He can rebound and defend. But when we look back on the 2015 NBA Finals, we won't remember the statistics. We'll remember the time when one of the greatest players ever made that weird combination of players believe they were a team, and a team that could win it. And against all odds, they just might.
Calling all HuffPost superfans!
Sign up for membership to become a founding member and help shape HuffPost's next chapter