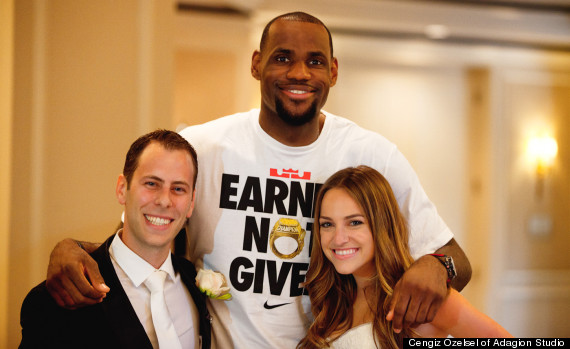 It would be tough to upstage a bride as pretty as Jamie Kolnick, but the glowing Heat fan met her match Saturday in Miami's freshly crowned narrative-slayer, LeBron James.
The NBA champion of all of two days happened to be meeting a Sports Illustrated reporter at the Ritz Carlton Coconut Grove just before Kolnick tied the knot on the property, and the Miami native and new husband Shaun were able to snag the pre-wedding snap of a lifetime -- never mind that eager onlookers uploaded cell phone photos of the bride to Facebook before she'd even walked down the aisle.
"I was like, 'Who cares? It's a photo with LeBron!' It was really unexpected and exciting," said Kolnick. "Shaun was like, 'That's enough! We don't need to get married anymore.'"
Buzz had begun building hours before the ceremony that James was at the Ritz, said wedding planner Jen Schwartz of Anje Soirees, but no one was sure they'd actually spot the city's new hero.
"It was funny, because the bride's brother was just dying, he was beside himself with excitement," Schwartz said, laughing. "And at some point, she looked at him and said, 'Okay, you're more excited that LeBron James is here than you are for my wedding!'"
But once James was spotted in the hotel's courtyard, the group would not be denied. Kolnick said she and Shaun had just enjoyed her reveal -- when the groom sees the bride in her dress for the first time -- and had gathered in a hallway for pre-ceremony wedding party photographs when James had to move through the room to leave the hotel.
"He said, 'Yeah, yeah, no problem,'" Kolnick said. "The crazy part for me was that we had the wedding photographer taking our picture, plus 50-60 people taking pictures right next to our photographer!"
The newlyweds, who met at the University of Texas-Austin, have even more reason to cheer King James. Not only did he deliver an NBA title to the avid Miami fans in the wedding party -- many of whom attended the game Thursday night while the others watched in the hotel bar -- but by winning the Finals in 5 games, he ensured the Kolnicks' guests wouldn't be bailing on the Saturday evening service to watch a possible Game 6.
"We were actually terrified [the final game] would be on our wedding day," Kolnick said. "And no one would come!"
Instead, for a flash, she had the most exciting guest of all: "He was really nice. And then he disappeared into the tall man abyss."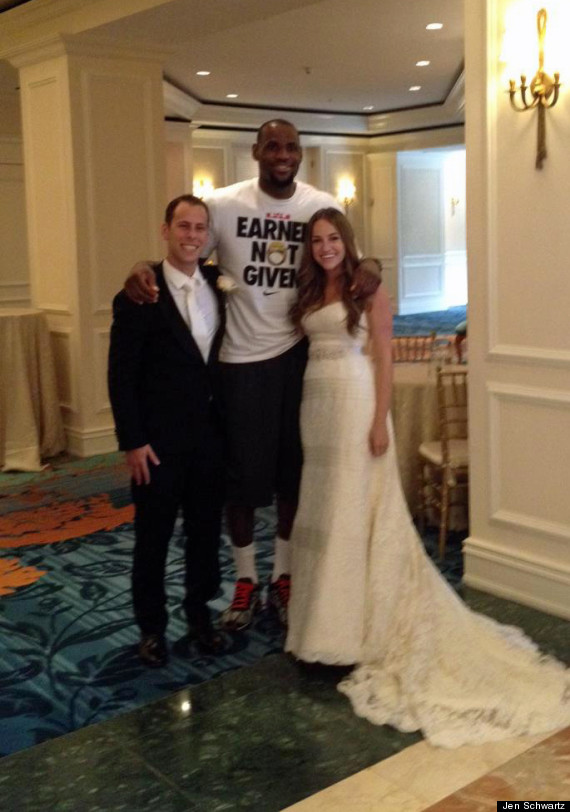 Support HuffPost
The Stakes Have Never Been Higher
Related
Before You Go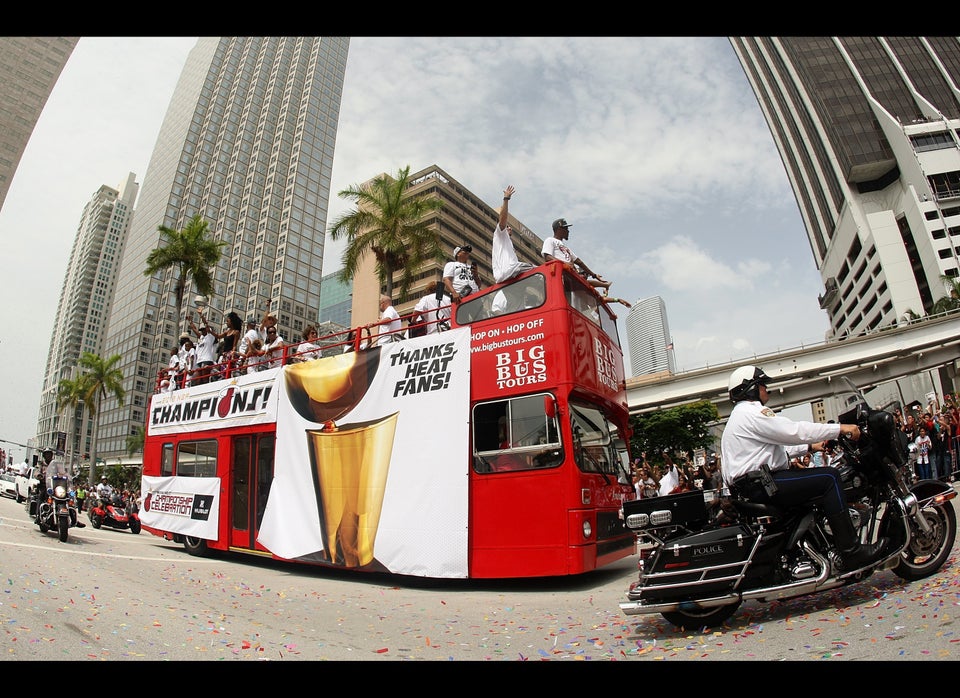 Miami Heat On Parade
Popular in the Community