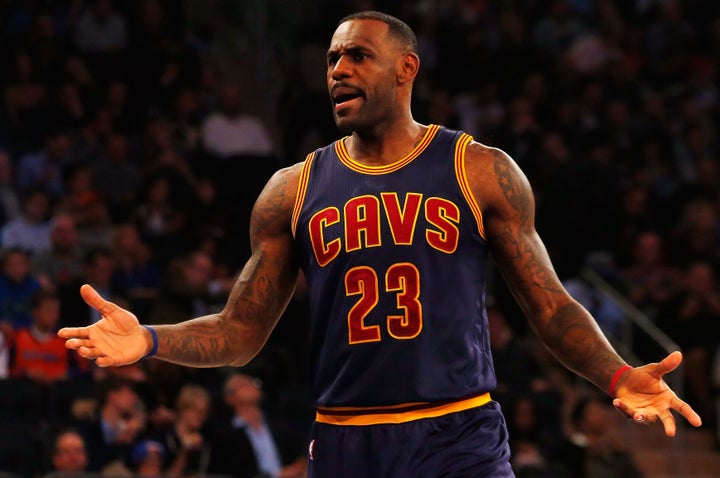 After two straight losses to inferior Eastern Conference opponents, LeBron James lashed out at his teammates through the media on Tuesday, questioning their hearts and comparing them unfavorably to the 12-0 Golden State Warriors.
"We're not a very good team," James said following his Cleveland Cavaliers' 104-99 loss to the Detroit Pistons. "It's just that simple ... We have the ability to be a great team, but right now, we're not a very good team."
While Cleveland currently sits atop the East's standings, it hasn't won a game by double digits in two weeks, as it continues to tiptoe around lesser teams rather than sweep by them as it has done in the past. In James' view, the reason for this backslide is a lack of passion -- a complacency that is missing entirely from the reigning champs, the Warriors.
"We haven't done anything," James said. "We didn't win anything [last year]. We lost. We lost in the Finals. So that's enough motivation for myself … And the team that beat us looks more hungry than we are. So it shouldn't be that way." 
"You can't play down to the competition at this point, because we're not better than no one in the league," he added. "We're not entitled to win … and until we figure that out, we're going to continue to put ourselves in positions to lose basketball games."
Starting forward Tristan Thompson and head coach David Blatt each echoed James' words on Tuesday, citing Cleveland's need to step up its physical game.
"Teams think they can beat up on us, and that's not acceptable," Thompson said. "We got to play tougher and meaner … Anything short of that, we're wasting our time." 
Blatt, for his part, said that the "toughness" the Cavs showed in their 2014-2015 campaign has been missing as of late. And he's right. Detroit big men Andre Drummond and Ersan Ilyasova combined for 45 points on 16-of-25 shooting Tuesday, and Drummond alone grabbed nearly as many rebounds (18) as the Cavaliers' entire front line (21). 
"We're too relaxed and too nice," James summed up. "We're just too nice."
For years, the main critique of James was indeed that he was too nice -- that he lacked the killer instinct that drove players like Michael Jordan and Kobe Bryant. If this reared-up James is here to stay, verbal lashings and all, then the rest of the Eastern Conference better brace itself for a nightly fight whenever it takes on the King.
PHOTO GALLERY
Monster Dunks From The 2015-2016 NBA Season
Calling all HuffPost superfans!
Sign up for membership to become a founding member and help shape HuffPost's next chapter