It's not that the Cleveland Cavaliers aren't going to score points. Newly minted head coach David Blatt should be able eventually to get his three superstars -- including young point guard Kyrie Irving, who understands pick-and-roll as well as anyone -- in sync with his tricky offensive scheme.
No, the Cavs are 1-2 right now not because they aren't scoring, but because one of the league's youngest teams is getting shredded at the defensive end.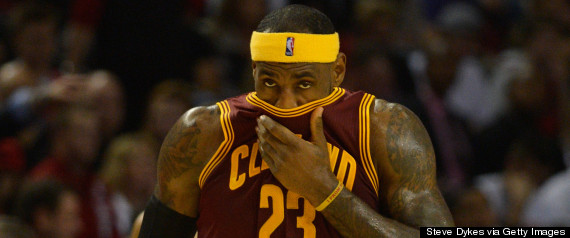 NBA coaches often preach defense as a mentality focused on consistently making stops. LeBron James hasn't figured out how to get his new teammates to buy in to that concept, and neither has Blatt.
"I don't think we brought any type of mindset to defend," Blatt said after his team's 101-82 loss in Portland on Tuesday. "We never took a stand defensively tonight at all."
Granted, it's only three games, which means no one is in panic mode yet, but the small sample size offers a glimpse into the team's early issues. The Cavs have allowed more than 101 points per game and rank 26th in field goal percentage against and 24th in 3-point percentage allowed, respectively.
Bringing in a couple of superstars like James and Kevin Love to a roster -- even one as talented as Cleveland's was -- does not instantly address problems that existed prior to their arrival. Bad habits form easily, especially among young players who haven't learned how to win on a regular basis, as James was quick to point out.
"We have to understand what it takes to win," he said. "It's going to be a long process, man. There's been a lot of losing basketball around here for a few years. So a lot of guys that are going to help us win ultimately haven't played a lot of meaningful basketball games in our league."
One of those guys is Irving, who at 22 years old is in many ways the team's most important piece after James. He is the one who will be responsible for setting the tone on defense. Last year, as a third-year pro, the former No. 1 pick and Rookie of the Year ranked 45th in defensive efficiency for all point guards, according to Synergy Sports Technology. That number has to improve significantly, and one of the ways to do that is for Irving to develop a better rapport with his teammates.
Before the season started, Irving told The Huffington Post that he wasn't sure when exactly that would happen. "Honestly, I have no idea," he said. "It can happen the first day I get back, it can happen end of the season, mid-week in the season. We just have to develop an identity. I think that's the most important thing, is find out who we want to be and exactly what we want to accomplish."
What these new-look Cavaliers want is to win a title right out of the gate, a difficult challenge given the rise of Chicago and Washington in the Eastern Conference, and the return of an intact defending champion in the San Antonio Spurs in the west. Surely this Cavaliers roster is talented enough on paper to make a run -- but they also have a rookie head coach facing a steep learning curve, a Big Three who have yet to play their best basketball together, and several ancillary players who are unfamiliar with playing a winning style every night.
During the loss to the Blazers, James seemed to take the unusual step of fading into the background; instead of demanding the ball in the second half, he watched as Irving played isolation basketball, vaguely reminiscent of his Uncle Drew ads. Ultimately, Irving went 3-17 from the floor, while James took just four shots and went scoreless after halftime. It seemed as much a teaching moment as anything else, almost as if to say, This is what happens when we do it your way.
Irving has said he wants to get on the same page as James and the team. "Teams play different ways," he told HuffPost in September, "and if you find that way to win and it works, then I don't think you should change it. So we just have to find our identity, and that's what I've learned."
One might point out that in 2010, the first year of the Miami Heat's Big Three, that team also stumbled to an unimpressive 9-8 start before making its run to the finals. Clearly, the Cavs' identity is still developing -- the big question now is: How long will it take?
Email me at jordan.schultz@huffingtonpost.com or ask me questions about anything sports-related at @Schultz_Report, and follow me on Instagram @Schultz_Report. Also, be sure to catch my NBC Sports Radio show "Kup and Schultz," which airs Sunday mornings from 9 to 12 EST and 12-1 for fantasy football, right here.
REAL LIFE. REAL NEWS. REAL VOICES.
Help us tell more of the stories that matter from voices that too often remain unheard.