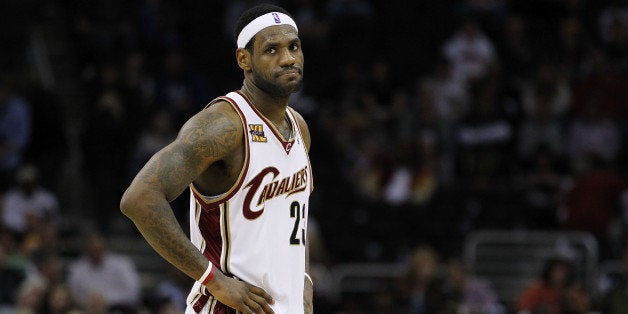 After four years with the Miami Heat, LeBron James has returned to play for his hometown Cleveland Cavaliers. He's once again working with team owner Dan Gilbert, who famously called James' 2010 departure from the Cavs a "shameful display of selfishness and betrayal." (James says he and Gilbert have since patched things up.) He's coming back to play for fans who burned his jerseys when he left for Miami. It's clear James has learned from the public scorn that accompanied "The Decision" in 2010 -- hence the humble tone of his Sports Illustrated soliloquy last week. But this latest move proves nothing about his character.
Perhaps it is time for us to simply accept James for who he is: a hired gun. One of the best, but a hired gun all the same. James escaped from Cleveland when it was clear he couldn't lead his team to a title, and now he's departed Miami under the same circumstances. Our generation's best talent is also a 21st-century Houdini. James, who grew up in Akron, Ohio, is spinning his return to the Cavs as a heroic move, and many fans and sportswriters alike seem willing to go along with that. But James has given us no real reason to think of him as a hero.
What we know is that James is staying in the moribund Eastern Conference and headed to a team with three No. 1 picks and the possibility of attaining three-time All-Star Kevin Love. The Cavs have Kyrie Irving and Andrew Wiggins under contract for the next five years, and they could get as many as three first-round draft picks in 2015. Surely that didn't hurt when James was making his choice.
"Before anyone ever cared where I would play basketball, I was a kid from Northeast Ohio," James told Sports Illustrated on Friday. "It's where I walked. It's where I ran. It's where I cried. It's where I bled. It holds a special place in my heart. People there have seen me grow up. I sometimes feel like I'm their son. Their passion can be overwhelming ... My relationship with Northeast Ohio is bigger than basketball."
OK. But where was all the walking and running and crying and bleeding when James took off for Florida in 2010? It was only 10 months ago that James was telling ESPN, "I would love to spend the rest of my career in Miami with this great team and great organization as we continue to compete for championships. That's ideal."
James is often mentioned alongside titans like Johnson, Jordan and Bird. And he deserves to be. But all three of those men stayed in one city for the bulk of their careers. So have Kobe Bryant and Dwyane Wade. So did Julius Erving, Reggie Miller and Isiah Thomas. James, who's a bit of an armchair historian of b-ball, is probably aware of all this. Johnson, Jordan and the rest are players who deserved to be recognized for their fealty. LeBron's in a different category, and he must know it.
It would be pointless to deny that James shows unparalleled artistry on the court. But let's not mistake that for loyalty to the fans and city of Cleveland. James has shown us before that he's willing to jump ship if that's what makes sense to him. Before we all hail to the king and pay homage to his throne, let's keep in mind that LeBron James might not be so much a king as an emperor with no clothes.
Email me at jordan.schultz@huffingtonpost.com or ask me questions about anything sports-related at @Schultz_Report and follow me on Instagram @Schultz_Report. Also, be sure to catch my NBC Sports Radio show "Kup and Schultz," which airs Sunday mornings from 9 to 12 EST, right here.
Popular in the Community