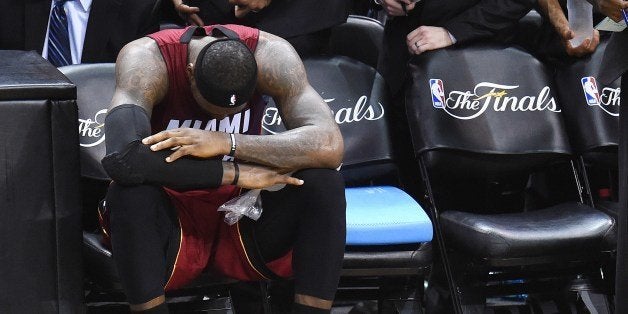 LeBron James is, apparently, human and the Internet is, predictably, ruthless so #LeBroning is now a social media sensation.
With the air conditioning malfunctioning at AT&T Center in San Antonio and temperatures soaring on the court during the opening game of the 2014 NBA Finals on Thursday night, James suffered severe cramps that would force him to leave the game early as the Spurs surged past the Heat for a 110-95 win. It didn't take long after the four-time NBA MVP needed to be carried to the Heat bench before #LeBroning began taking over Twitter timelines the way the Spurs took over the fourth quarter.
Whether it was reenactments of James being carried to the Heat bench, pointed Star Wars references or just riffing on some preexisting memes, many reliably ruthless and hilarious folks on Twitter went at James. Here are some of the most memorable #LeBroning tweets, so far:

This isn't the first time that #LeBroning has become a trending term due to people mocking James. In January, an especially dramatic flop by James inspired a different version of #LeBroning.
Popular in the Community