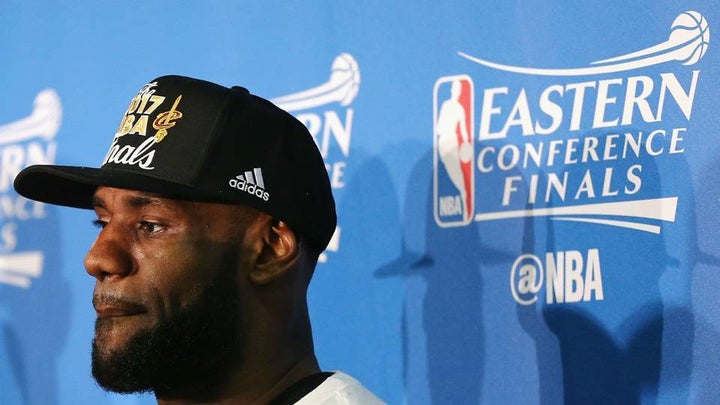 Prior to the start of the 2017 NBA Finals, LeBron James had one goal in mind: to cement his legacy as arguably the greatest basketball player in NBA history. Instead, his focus has shifted to commenting on issues all too common to Black people in America.
On May 31st, James' Los Angeles home was the target of a hate crime when someone spray painted the N-word on the front gate. When he addressed the media concerning the incident, he explained that, "No matter how famous you are, no matter how many people admire you, being black in America is tough."
This is not the first time that LeBron has made it known that these issues must cease. During the 2016 ESPY awards, he along with NBA superstars Carmelo Anthony, DeWayne Wade, and Chris Paul opened the award show with a call to eradicate issues of racism and inequality in America.
Since that time, more athletes have taken a stance against issues of racism and inequality. The most recent stance was when former San Francisco 49er quarterback, Colin Kaepernick, led a season long protest against the national anthem.
While these efforts of protest are necessary and understandable, the $6 million-dollar question to many is: When is racism going to stop?
In LeBron's response to his vandalism, he not only expressed his exasperation for being black in America, he also confessed that, "racism will always be a part of the world, a part of America."
Not temporary, but always.
While James' thoughts on racism may seem disheartening to some, it is a thought that is all too familiar for those who are victims of it. In addition to James' home being vandalized, three prominent areas in Washington's National Mall were vandalized with hate crime symbols.
The first crime to occur was on May 27th when a noose was found in a tree near the Hirshhorn Museum. Just four days later, a noose was found near an exhibit at the National Museum of African American History and Culture. On June 2nd, a piece of rope was found near a bench at the Martin Luther King, Jr. Memorial.
Whether these were isolated incidents or works of a serial vandal, the issue of racism has once again reared its ugly head.
Where does America, in fact the world, go from here?
The truth is, we should not blame athletes such as James and Colin Kaepernick for using their platform to enact positive social change. Instead, the onus should be placed on those not willing to eradicate issues of racism all together. Many athletes are criticized for engaging in activism, with many people saying that political issues have no place in sports. But what good is blaming athletes, whose families could and have been affected by racial injustices, when perpetrators of these incidents seem to go free without atonement?
Is LeBron James the most vocal athlete when it comes issues of racial inequality? No, he is not. But to expect athletes to not express their thoughts on matters that hit close to home is asinine. What if his family was at home? Then what? Would we accuse him of race baiting? I certainly hope not.
Suffice it to say, if athletes are continuously blamed for their thoughts on racism without actually addressing racism, then LeBron's sentiments on racism always being a part of the American fabric may very well be true.
As a country, we cannot continue to run from our past and ignore what is presently quite visible in this country. What happened to LeBron's L.A. home should not come as a surprise considering that hate crimes, especially, in California are presumably on the rise.
Sport has and always will be a vehicle to engage in social change in our society. While we continue to praise athletes for their entertainment value, let us not discredit them for standing up for basic civil rights. Yes, let's enjoy the 2017 NBA finals but let's not forget that being black in America is tough.
Support HuffPost
Every Voice Matters
Popular in the Community