Being a startup haven today is "the new black." From software technology to biosciences and everywhere in between, cities worldwide are jockeying to brand themselves as startup towns, seeking to attract investment, young workers and new real estate development assets.
In bioscience specifically, Boston and the San Francisco Bay area frequently grab the headlines. But around the turn of the new Millennium, one city in the U.S. heartland — St. Louis — decided it had the organic assets to hang its hat on bioscience vertical, as regional leaders invested hundreds of millions of dollars in research, infrastructure and support mechanisms focused on building a robust ecosystem.
"To be competitive in the 21st century, we took a deliberate approach to building a bioscience cluster that capitalized on St. Louis' strengths, which are grounded in medical and plant science," said Donn Rubin, President & CEO of BioSTL, a non-profit agency leading of the bioscience and innovation economy in St. Louis. "We started from scratch by creating physical space, including rehabbing abandoned buildings and constructing free lab space for up-and-coming companies. We followed it up with capital formation, pushing public policy conducive to growing research and technology, deliberating increasing diversity and equity, and generating and investing in new companies from the ground up to build a new St. Louis economy."
The gambit, and more importantly, the long-term planning, appears to be paying off. In his 2015 Forbes story, "The Right Way To Build a Tech City," reporter Christopher Steiner noted, "The city's tech players have seized on some of the area's inherent strengths in healthcare and biotech. Washington University, which has one of the top medical schools in the country, is constantly throwing off ideas and graduates who have new ideas in the space. DuPont's bioscience arm is based here, as is Monsanto, the king of engineered macro-crops."
Where does today's success trace its roots? St. Louis economic development officials point to a number of stops along the road starting with the 1997 Peirce Report – a stunningly candid examination of the region's challenges at the time. That was followed an examination by The Battelle Memorial Institute commissioned in 2000 by the St. Louis Regional Chamber and then-Washington University in St. Louis Chancellor Bill Danforth among others, and ultimately the creation of BioSTL.
Arguably one of the most important steps was somewhat of a one step back, two steps forward event — a significant set of layoffs by Pfizer in 2010 which drove the creation of biotech incubator and company-creator BioGenerator. Its creation helped keep those unemployed Pfizer Ph.D.s in St. Louis to launch what now amounts to some 50 bioscience companies that have raised some $500 million in capital located inside 12,400-square-feet of free lab and office space in St. Louis's Cortex Innovation Community.
"If you have layoffs in a city and you don't have this kind of infrastructure in place, you're not able to take advantage," David Smoller, a venture capitalist at St. Louis' Cultivation Capital who also has been part of several biotech exits, told Forbes. "A lot of the best intellect in the area is now at these biotech startups."
Just two weeks ago, BioGenerator's first lab tenant, Confluence Life Sciences, was acquired by Aclaris Therapeutics in a deal valued at $100 million – one of St. Louis' bigger bioscience exits. The drug discovery company's founders are ex-Pfizer execs who grew their company and research inside BioGenerator.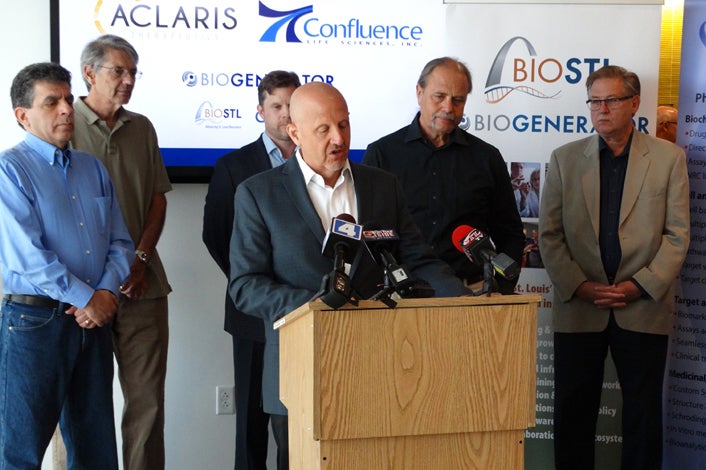 Throughout the past 15 years, BioSTL has been a principal driver. The organization was recently recognized by the Brookings Institution for its GlobalSTL initiative, which works to attract foreign companies to St. Louis. Its work has also led to the relocation of five Israeli startups to the region and recruiting inroads across Europe and South America.
"We have to connect globally to take St. Louis's innovation economy to the next level," Rubin added. "Because St. Louis is in the middle of the country, businesses often do not think of or are aware of its strengths. Not only are there tremendous assets in St. Louis, but we put entrepreneurs on a pedestal here and give them the attention and access they need to connect with strategic partners and decision-makers in a timely way instead of somewhere like Silicon Valley or Boston, where they might spend six months or a year and not get the kinds of meetings we can facilitate for them in 48 hours. And, because costs are lower in the middle of the country, opportunities are much more capital efficient."
With a strategic roadmap in place, St. Louis has doubled down on its foundation in biosciences and it certainly seems to be paying dividends.
Related
Popular in the Community