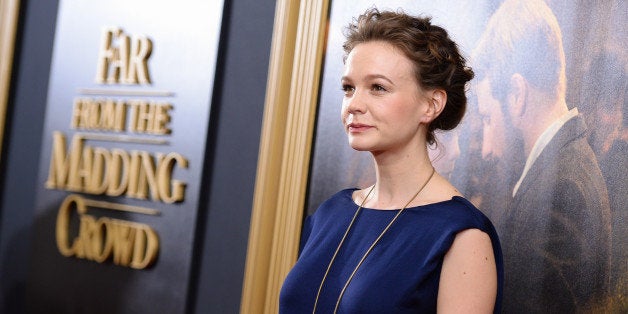 Far from the Madding Crowd, a new film adaptation of Thomas Hardy's beloved classic, works its magic on multiple fronts. Helmed by Danish Thomas Vinterberg, it's one of those escapist movies with a great romantic sweep, set among the lime-green hills of Dorset (which Hardy famously named Wessex). By exalting such old-school values as steadfastness and goodness, it offers the perfect antidote to the prevailing cynicism.
The crackerjack cast, led by Carey Mulligan as headstrong Bathsheba Everdene, brings Hardy's impassioned, conflicted characters richly to life. Bathsheba is a protofeminist leagues ahead of her time, a Victorian who viewers today will find amazingly modern. As Mulligan said at the press conference, she was drawn to the project because "the book starts with a woman who turns down a proposal. Other Victorians novels start with a girl looking to get married." With its celebration of female strength, the film's a welcome departure from the noisy testosterone-fueled films assaulting viewers from today's screens.
"Madding Crowd," as you'll remember -- perhaps from John Schlesinger's 1967 version starring Julie Christie -is the story of a young woman who prizes her independence, and comes into money when she inherits her uncle's farm. Bathsheba is courted by three very different suitors. Gabriel Oak (hunky Belgian Matthias Schoenaerts) a loyal sheepherder, solid like his name, stands by her through her disastrous choices and those reversals of fortune so dear to Hardy. William Boldwood (Michael Sheen, in an awards-worthy turn) is a prosperous landowner who has everything but the conviction that he's an attractive man. And Sergeant Frank Troy (sizzling Tom Sturridge), the dashing badboy in a scarlet uniform, who courts her with phallic swordplay in a scene that must have sent Hardy's peers reaching for the smelling salts.
At times Vinterberg's film slyly suggests that no man in the vicinity is whole enough to merit the heroine, so assorted male traits are divvied out among the three suitors.
Following the presser I got to chat with the director Thomas Vinterberg, who corralled all this talent -- including a female DP -- for the season's most romantic film. He speaks idiomatic English and is handsome enough to be on screen himself.
How did you deal with the shadow of John Schlesinger's beloved movie with Julie Christie?
I watched twenty minutes of it, then I switched it off. I felt slightly intimidated. I'd been in love with Julie Christie since I was a child. More than anything I'm a huge fan of Nicholas Roeg, the DP. This was a dream team that could have become confusing to me.
It was my love affair with Thomas Hardy that spurred me on. I fell in love with the novel, I'm moved by it, I find the emotional world of these characters is enlarged to a degree that's dramatic in an old way, and I loved the sweep. So I decided, let me do my own film, completely and purely, with only a deep humble loyalty to Hardy.
As a Dane, you're an unexpected choice to direct this quintessentially English story. Did you get push-back?
No. Maybe they wanted a Dane to do this film to avoid that old cultural heritage. They
wanted me to dust off the thing. Period movies are such a heavy tradition in British cinema, and coming in without any baggage they saw as an advantage.

Talk to me, please, about the casting. I found it unexpected, counter-intuitive. Carey Mulligan seems to me very British and contained, without Bathsheba's feral, wild streak. And Matthias Schoenaerts as Oak is another surprise pick.
To some degree you read your own passions into a book. What stood out for me was Bathsheba's combination of wanting to be so independent and strong, while remaining so fragile and vulnerable. That's why Carey was an absolutely natural choice I cast Carey on page ten.
I always cast counter-intuitively. A character has two sides: what they show to the world, and what they hide, which is more important. And it's so interesting to play around with that duality. In "The Celebration" the father was a big Danish star, an elegant charming wonderful man. So making him a child molester was confusing to people, it left them defenseless.
I found Gabriel Oak a man who's humbling himself to a degree that I found unattractive. He's obeying orders, he's been humiliated, yet he's still waiting. But I set out to make this movie with Oak as the right man for Bathsheba. I cast Matthias because I felt he could be a role model, and project a combination of being able to listen to a woman and embrace a woman -- and still be so much a man. He's very sexy and also sensible.
Weren't there a lot of British candidates for the role of Gabriel Oak?
Not that many Brits have that natural manliness. Brits are either bullies or boy scouts -- well, maybe that's too general. Listen, it was always risky business. Because I'm a Dane and Matthias is Belgian, and we're dealing with the British national cultural heritage. We were on thin ice. But we like it there.
I wanted more of Sergeant Troy and Tom Sturridge.
Me too. As a good journalist you find the problematic areas. My dad's a film critic so I know how you guys work. The main challenge, as with any adaptation, is the huge amount of material. We had to make choices.
Did Sturridge do his own sword work?
Yes, he was taught by some sword-dude. Did you like the film?
[Matthias Schoenaerts asked me, too. I'm struck by the insecurity of creative people] I loved the film and can't wait to see it a second time at tonight's premiere.

It's hard to combine a romantic sweep and a certain truthfulness in the characters.
REAL LIFE. REAL NEWS. REAL VOICES.
Help us tell more of the stories that matter from voices that too often remain unheard.