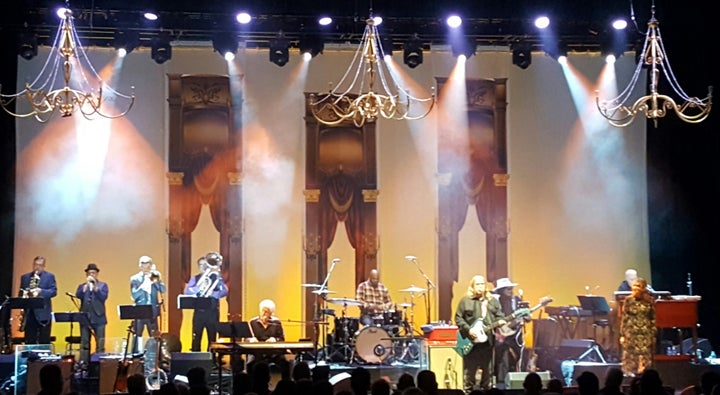 Martin Scorsese' 1978 documentary "The Last Waltz," which captured the Nov. 25, 1976 Thanksgiving Day farewell concert of The Band, is arguably one of the greatest concert films ever made.
40 years later, can a lineup of contemporary musicians pay it proper tribute?
It can if they are Warren Haynes, Michael McDonald, John Medeski, Don Was, Terence Higgins, Bob Margolin, Dave Malone, Ivan Neville, and Mark Mullins. Add a New Orleans horn section and singer Joan Osborne ("One of Us") to the mix, and you've got some show.
The brief but powerful 11-date tour, created and executive produced by Keith Wortman and Blackbird Presents, began a week earlier at the Hard Rock Seminole Hotel & Casino in Hollywood, Florida, and wraps up on Feb. 4 in D.C.
Its genesis was a two-night, sold-out concert event held last April 29 and 30 at New Orleans' historic Saenger Theatre during last year's Jazz Festival. Blackbird Presents' "A Celebration of the 40th Anniversary of The Last Waltz" brought together Haynes, McDonald, Medeski, Malone, Was, Higgins, Neville, Margolin, Mullins, and Jamey Johnson (on the tour, but not on the Boston gig).
The supergroup memorialized the late Allen Toussaint, performing the acclaimed horn arrangements that the iconic New Orleans R&B musician and producer created for the original 1976 Last Waltz. Attendees and critics raved, and the tour followed.
The Band — Levon Helm, Robbie Robertson, Richard Manuel, Rick Danko, and Garth Hudson — are credited as trailblazers of "Americana" music, which is an acoustic and electric amalgam of rootsy musical genres that include bluegrass, blues, country, folk, R&B, rock, and roots-rock. Inducted into the Canadian Music Hall of Fame in 1989, the Rock and Roll Hall of Fame in 1994, and recipients of a Lifetime Achievement Grammy in 2008, they were listed as No. 50 on Rolling Stone's list of the 100 greatest artists of all time.
In Boston, you soon knew that their legacy would be well feted. "Up on Cripple Creek" began the love-and-jam fest, followed by "The Shape I'm In" and "Stage Fright." Haynes began capably in "It Makes No Difference," before McDonald's tenor soared. The back and forth between them worked so well that it lent no disrespect to Rick Danko's classic rendition of the sublime, sorrowful tune. Osborne's full and throaty chops only filled out the night's vocal banquet.
Pedigrees in the lineup, which performed under ballroom chandeliers, stemmed from Government Mule, The Allman Brothers and the Dead (Haynes); Steely Dan and the Doobie Brothers (McDonald); Muddy Waters (Margolin, who accompanied the blues great on guitar at the original Last Waltz); New Orleans' The Radiators (singer and guitarist Malone); Dumpstaphunk and legendary family band member Neville; and Dirty Dozen Brass Band (Higgins, on percussion). Medeski is a renowned keyboardist; Was a Grammy Award-winning producer and musician.
Trombonist Mullins (Bonerama) led the extraordinary, 4-man horn section that reproduced Toussaint's arrangements and then some, and included Bobby Campo on trumpet, Matt Perrine on clarinet and sax, and Ward Smith on one amazing tuba.
"Ophelia" began the second set, and then it was on to Van Morrison's "Caravan." The tunes often featured three keyboards, Medeski's organ adding a warmer, traditional tone. Swampy, New Orleans style was in large order. But the swamp turned muddier when Margolin was introduced.
"I'm from a city called Boston," Margolin told the cheering crowd. "I may be playing for some neighbors." He recalled Waters bringing him and the late Pinetop Perkins out to the stage, and said he regretted that the film only included one song they did. He also lamented that Waters' signature slide guitar playing wasn't in it either. By way of illustrious example, Boston then heard a recreation of "Mannish Boy" in the Chicago bluesy style, which is characterized by amplification, a strong rhythm section, and, in the cases of Muddy Waters and Elmore James, slide electric guitar work. McDonald banged and tinkled along, on his now piano-sounding keys, in apt accompaniment.
Margolin reminisced about the blues jam that followed the Last Waltz, with Eric Clapton on guitar, Paul Butterfield on harmonica, Levon Helm on drums, Ron Wood on bass, and Dr. John on piano. (Can one imagine?)
Earplugs were required — for the crowd, not the band. The roar from the audience, which remained standing throughout the show, eclipsed even McDonald's occasional eerily screeching synth segments, and the unworldly bleats often coming out of the horns.
From the smell of things, many fans brought their own herbal accompaniment. But Amarilio Rodrigues of Swampscott, Mass. brought two little metal shaky-shakes. "I saw the film many years ago," he said during intermission, after going out to buy a tour shirt. "I feel like it is part of those times, and I want to see as much of it now as I can."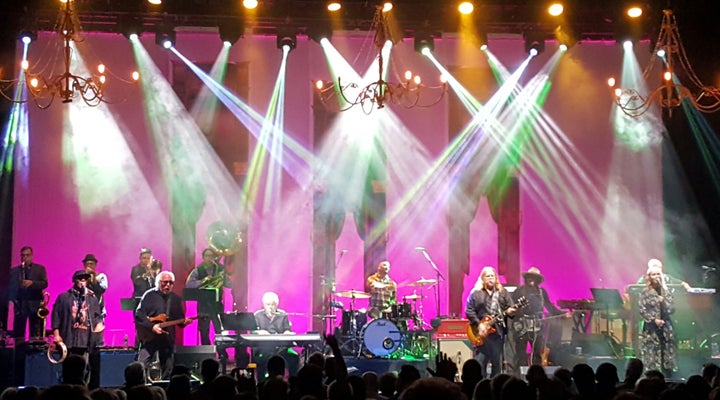 The beloved Band catalogue rolled on, as did Last Waltz-sanctioned covers that included Bo Diddley's "Who Do You Love," CSNY's "Helpless," and Robert Johnson's "Kind Hearted Woman Blues," and it all ended too soon. After a fully participatory "I Shall Be Released," the ensemble walked off and soon returned. "Thanks for helping us keep this music alive," Haynes said, after "Chest Fever," the first encore. "It's a thrill to do this," he added, before launching into the grand finale, "Don't Do It."
Musical luminaries who took part in the legendary, famed final show included Bob Dylan, Paul Butterfield, Eric Clapton, Neil Diamond, Emmylou Harris, Ronnie Hawkins, Dr. John, Joni Mitchell, Van Morrison, The Staple Singers, Ringo Starr, Muddy Waters, Ronnie Wood, and Neil Young. But the musical genius on the Orpheum stage, by measure of performance of the classics and the timeless standards, was right on par.
The Orpheum crowd would not argue.
Susie Davidson tweets at @SusieDavidsonMA.