In pop culture history, Led Zeppelin officially dethroned The Beatles on May 5, 1973, at Tampa Stadium in Tampa, Florida.
At that concert, Zeppelin attracted more paying fans than had ever attended a show by a single act in the United States, surpassing the previous record set by the Beatles at Shea Stadium in 1965.
Zeppelin drew 56,800 fans, the Beatles 55,000. For the record, there were no other acts on the bill in Tampa, though there were other bands performing at Shea; still, the Beatles gig was effectively a solo show and has been regarded as such since.
Was the 1973 Tampa Stadium gig a great Zeppelin performance? Some of it was. Guitarist Jimmy Page was in rare form and the rest of the band sounded jazzed about having broken the Beatles's record.
But Robert Plant was hoarse, a fairly substantial drawback.
I attended the show as a 15-year-old high school student, arriving at the Stadium with friends well before the Saturday night concert began. After showing our five-dollar advance tickets (six on the day of the show), we took a place on the field, around a third of the way to the stage. I even made an audiotape of the show, which I gave to a friend who gave it back to me decades later. (Most of the quotes in this story come from that tape, by the way.)
Zeppelin took the stage after 8 p.m., with the introduction: "Ladies and gentlemen, what more can I say? Led Zeppelin!" Fans screamed as if they were on fire.
Plant stepped to the mike. "Looks like we've done something nobody's done before," he said, referring to the box office record. "And that's fantastic."
Page struck a practice chord. John Bonham played a drum roll. Feedback filled the air. Then Bonham pounded out the intro to "Rock and Roll."
As Plant started singing, it became obvious he was straining to hit the high notes (due to some sort of cold), which was disappointing.
But Page more than made up for it, fluidly riffing through a stunning twenty-minute opener that included "Celebration Day," "Black Dog," "Over the Hills and Far Away" and "Misty Mountain Hop" in quick succession.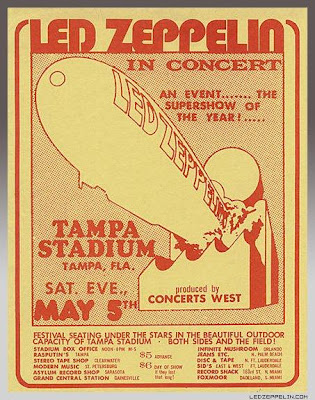 Just before "Misty Mountain," Plant chatted to the crowd again. "Anyone make the Orlando gig we did last time?" he asked.
"This is the second gig we've done since we've been back o the States and uh..." Plant seemed speechless for a moment. "And I can't believe it!"
But the lovey-dovey mood evaporated a bit after "Since I've Been Loving You," when front row fans began getting out of control, pushing against barriers and forcing Plant to play security guard.
"Listen, listen," Plant said to the unruly crowd. "May I ask you, as we've achieved something between us that's never been done before, if we could just cool it on these barriers here because otherwise there're gonna be a lot of people who might get [hurt],"Plant told the crowd.
"So if you have respect for the person who's standing next to you, which is really what it's all about, then possibly we can act more gently."
"We don't want problems, do we?" Plant asked. The crowd cheered.
Several songs later, after "The Rain Song," it became clear the crowd was now getting seriously out of control. Plant got testy.
"We want this to be a really joyous occasion," he says.
"And I'm going to tell you this, because three people have been taken to the hospital, and if you keep pushing on that barrier, there're going to be stacks and stacks of people going. So for goodness sakes... can we move back just a little bit because it's the only way. If you can't do that, then you can't really live with your brother. Just for this evening anyway."
"Can you cooperate?!" asked Plant, a bit exasperated.
There was tepid applause. "It's a shame to talk about things like cooperation when there're so many of us. Anyway you people sitting up the sides are doing a great job. [Fans cheer.] But these poor people are being pushed by somebody. So cool it. That's not very nice."
Plant also took the opportunity to publicly diss Miami.
For some unknown reason, the band was apparently still sore about a 1970 gig in Miami Beach that stands as the last time Zep played in that area.
"We played the Convention Center in Miami, which was really bad," said Plant to the crowd, just before introducing "Dazed and Confused." "The gig was good, but there were some men walking around all the time making such a silly scene." He didn't elaborate.
The crowd problems seemed to dissipate after a few more songs. By the time the group roared into "Whole Lotta Love," near the end of the almost three-hour set, Plant shouted, "We've got 57,000 people here and we're gonna boogie!," segueing into "Let That Boy Boogie Woogie." The crowd went nuts.
Unfortunately, I had to be home by around 11 p.m., which meant missing encores "The Ocean" and "Communication Breakdown."
The highlight of the night, judging from a tape of the show and from memory, was "Over the Hills and Far Away," if only because of Page's incendiary solo, which was quite unlike his solos in other live versions of the song. That alone is worth searching the Internet for a bootleg CD of the show.
Calling all HuffPost superfans!
Sign up for membership to become a founding member and help shape HuffPost's next chapter