Arkansas carried out its first execution in 12 years on Thursday night following a flurry of court filings.
Ledell Lee, 51, was pronounced dead at 11:56 p.m. CDT, just minutes before his death warrant expired. Lee had no last words, according to the Arkansas Department of Corrections.
Throughout his more than two decades on death row, Lee maintained his innocence. He was convicted of the 1993 beating death of 26-year-old Debra Reese in her Jacksonville home.
Lee's execution came after a flurry of last-minute appeals for more time to test DNA evidence that his lawyers hoped could exonerate him. The Innocence Project and the American Civil Liberties Union represented Lee in his final court battles.
"Ledell Lee proclaimed his innocence from the day of his arrest until the night of his execution twenty-four years later," the Innocence Project said in a statement following Lee's execution. "During that time, hundreds of innocent people have been freed from our nation's prisons and death rows by DNA evidence. It is hard to understand how the same government that uses DNA to prosecute crimes every day could execute Mr. Lee without allowing him a simple DNA test."
It added: "While reasonable people can disagree on whether death is an appropriate form of punishment, no one should be executed when there is a possibility that person is innocent."
Lee's attorneys had raced to court Thursday with a string of filings that raised various issues about Lee's trials and his representation over the years. Among them, attorneys noted that Lee's lawyers in his first trial provided inadequate counsel and that the presiding judge didn't disclose an affair with the assistant prosecutor, whom the judge later married. Lee's post-conviction counsel showed up in court appearing drunk and slurring his words.
"Arkansas set out to execute eight people over the course of 11 days. Why these eight? Why now?""
Lee's current attorneys further argued that Lee had an intellectual disability, which made him ineligible for the death penalty under the Constitution.
Other legal petitions surrounded Arkansas's use of midazolam, the controversial sedative that has been blamed for botched executions in states including Arizona and Oklahoma, and others questioned the state's hasty execution schedule, which shortened the defendants' time for measures such as clemency reviews.
The U.S. 8th Circuit Court of Appeals voted against granting Lee clemency Thursday.
Notably, the U.S. Supreme Court's newest justice, Neil Gorsuch, voted with the 5-4 majority that refused to reverse the 8th Circuit's decision to allow the execution to take place.
Justice Stephen Breyer, who was in favor of granting Lee a stay, lamented that Arkansas's driving factor ― the expiration date of the drugs ― seemed arbitrary.
"Arkansas set out to execute eight people over the course of 11 days. Why these eight? Why now?" Breyer wrote. "The apparent reason has nothing to do with the heinousness of their crimes or with the presence (or absence) of mitigating behavior. It has nothing to do with their mental state. It has nothing to do with the need for speedy punishment."
Lee's execution was first effectively put on hold Wednesday due to a temporary restraining order put in place by a Pulaski County Circuit judge. The judge blocked the state from using its supply of pancuronium bromide, the second drug in the state's three-drug cocktail. The drug supplier objected to the drug's use in executions and said the state misleadingly obtained its product and refused to return it despite being refunded by the supplier.
On Thursday, the Arkansas Supreme Court lifted the judge's restraining order.
Just before 7 p.m., when Lee's execution was scheduled to take place, the 8th Circuit issued a temporary stay ― followed later by a temporary stay from U.S. Supreme Court Justice Samuel Alito ― to take additional time to consider his case.
Alito's stay was set to expire at 9:30 p.m. or by a subsequent order, whichever was later. By 9:30 p.m., the 8th Circuit had denied all of Lee's requests, but Alito's stay remained in place pending the final order. The Arkansas Department of Corrections said the lethal injections were started at 11:44 p.m., and Lee was pronounced dead at 11:56 p.m. with no reported complications in the execution process.
An ADC spokesman told The Associated Press that Lee requested Holy Communion as his last meal.
Arkansas Attorney General Leslie Rutledge (R) had aggressively sought Lee's execution and called his death a "lawful sentence ... carried out."
"The family of the late Debra Reese, who was brutally murdered with a tire thumper after being targeted because she was home alone, has waited more than 24 years to see justice done. I pray this lawful execution helps bring closure for the Reese family," Rutledge said in a statement.
Amnesty International USA, which opposes capital punishment, called Thursday's execution a "shameful day for Arkansas."
Support HuffPost
The Stakes Have Never Been Higher
Before You Go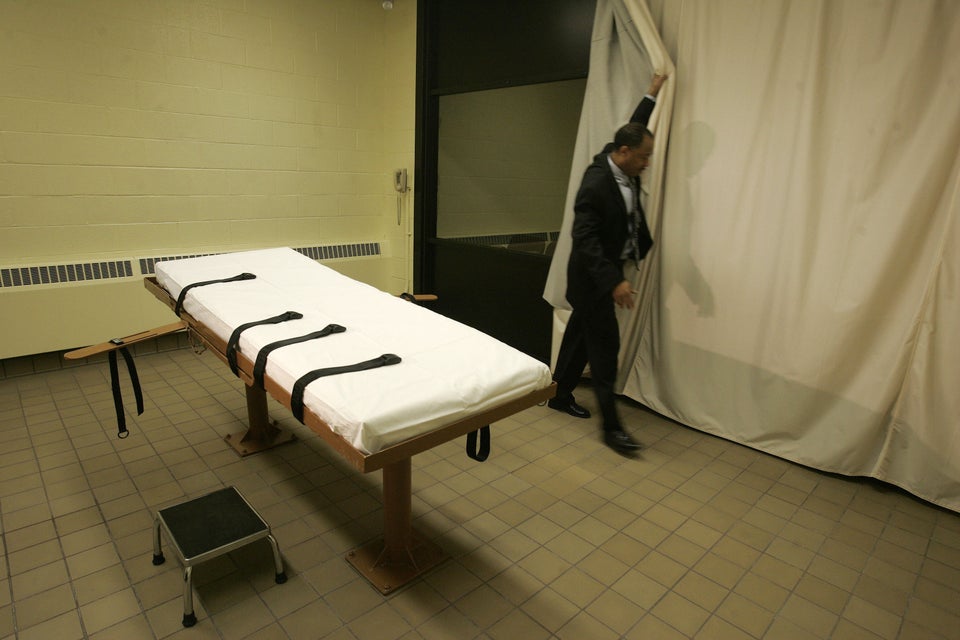 Capital Punishment Methods Through History
Popular in the Community