A mother is suing her daughter's teacher and school administrators after she said she found the 7-year-old special education student locked inside a makeshift cage in the classroom.
In a suit filed on October 16, Ledelldra Brooks alleges that in late May, she "made an unannounced visit to her daughter's classroom" at Viking Elementary School in Fresno, California, according to court documents obtained by the Fresno Bee.
When she got there, she says her daughter — who is mentally disabled and is diagnosed with a seizure disorder — was "locked inside of a cage" with "dried feces on her body which had caused a skin rash" and "was wearing a soiled diaper."
A photo of the "cage" shows a makeshift enclosure composed of toddler and crib gates spread between two bookshelves that are pushed against the wall.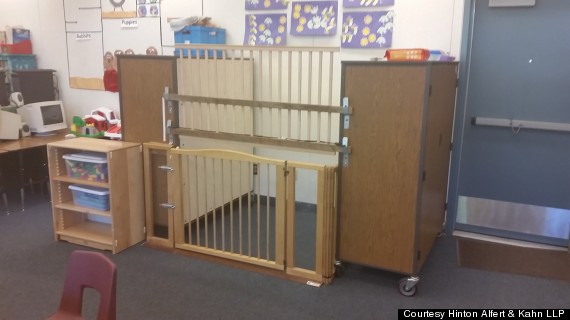 Brooks removed her child from the classroom, told school administrators about the situation and also called police, who showed up and dismantled the structure.
School officials allegedly knew the teacher had been "placing her disabled students into the cage," and had previously sent a memo around instructing staff not do that sort of thing.
The police report was sent to the Fresno County DA as a potential child abuse case, but as of last week no charges had been filed, officials told the Bee. The teacher, Teresa MonPere, was placed on administrative leave in May but told the paper this month that she is now working at a different elementary school.
Micheline Golden, spokeswoman for Fresno Unified School District, told CBS that she could not comment on pending litigation.
Another school within the Fresno Unified School District was in the news last year for alleged mistreatment of a student. The aunt of a fifth-grader at Backman elementary school reported to local authorities that her nephew had been tied to his chair with yarn four days in a row.
Like Us On Facebook |

Follow Us On Twitter |

Contact The Author
Related
Popular in the Community