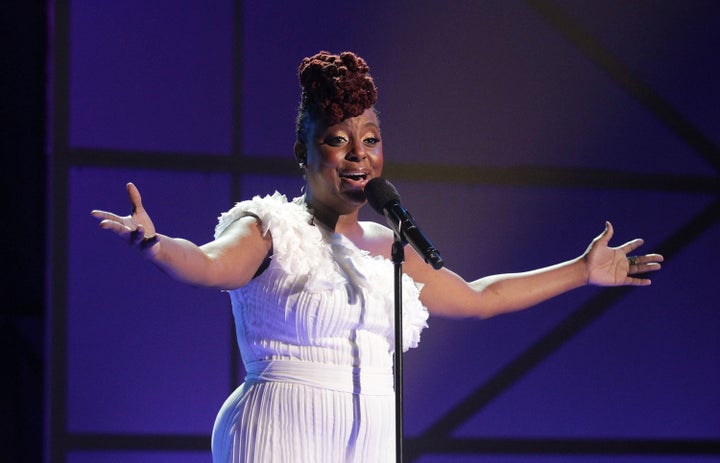 As previously reported , four-time Grammy Award-nominated singer-songwriter Ledisi (full name Ledisi Young) is set to embark on her first headlining North American tour, beginning Oct. 20 in Raleigh, N.C. Although the New Orleans native and "Leatherheads" actress is no stranger to life on the road, having featured alongside R&B crooner Kem earlier this year on his "Intimacy" tour, but preparing for her very own "Pieces of Me" tour has been a bit more of an undertaking, according to the songstress.
"I never worked with lights before, and I never had costume changes. So there's a lot of wonderful little surprises in the show that I don't want to truly give away," Ledisi told The Huffington Post earlier this week. "But it is different just coming up performing with the band. I'm still going to give every performance like it's my last; it's just going to have more imagery involved. And then just picking the songs, it's a longer set, so you have to pick songs from different parts of your career and also be current with what's going on with you now. So it's a big compromise in figuring out which songs to pick because everyone has their favorites. And I'm fairly a new artist compared to the mainstream, but I have a lot of albums out already."
This past June, in addition to releasing her latest album, Pieces of Me, Ledisi also scored her debut Top 10 hit on Billboard's Adult R&B chart with the album's title track. After spending 20 consecutive weeks on the charts, the ballad is currently at the 24 slot on Billboard's R&B/Hip Hop charts, according to their site. The chart-topping album's follow-up single hasn't been officially announced yet, but in certain markets the Jaheim-assisted "Stay Together" has been in heavy rotation. But don't get too excited: The singer doesn't have any plans to shoot a video to accompany the track.
"I haven't heard 'Stay Together' on the radio, I've just seen it charting, so I guess it is," she explained. "I know I'm not shooting a video for 'Stay Together.' But I did shoot a video for another song that I'm not going to say. And I shot that video because I wanted to, not because 'Oh, we want another single and this, that and the other.' I just shot a video for a song that I love from the album ... (The record label) didn't know anything about it, I did it on my own. And then when they saw it, they loved it. So I don't know what's going to happen. I don't get into the singles thing, I just like shooting videos for stuff I like."
Having such a natural talent in front of the camera might lead one to expect Ledisi to release a live DVD of her musical performance, but she says it's not in the cards -- or at least not yet. "I just want people to come see me first before I put it out everywhere. There's nothing like experiencing it for yourself and being there," she explained. "But as far as recording a DVD and all of that, I don't have any qualms about not doing it. I want to do it when I'm ready, not just because the demand is there. (My fans) have been asking me to do that since 2000. But I'm going to do it, I just don't know when."
The "demand" among her fans extends to a lot of other things, not least of which is a pairing of Ms. Young with Ms. Patti LaBelle. In recent months, LaBelle has anointed the rising star as her successor, leaving fans eager and impatient for a collaboration. "I would love to work with Ms. Patti. Whenever she needs me, I'm there. And I'm sure if I called her and I needed her, she'll come through for me," Ledisi said."Nothing has been planned other than our performance that we did at the United Negro College Fund, and that was a fun time. And just to have her as a friend and a mentor is everything me. Whether it is about business or just being there on a personal level, she's just an incredible lady. If it happens, then I'll be ready, but nothing has been set in stone."
Another relationship that Ledisi cherishes is that with Ashford & Simpson. Following Nick Ashford's untimely death earlier this week, she took to Twitter to express her condolences for the fallen Motown icon. "Nick Ashford and Valerie Simpson, they're legends. And they've created a body of work that's just timeless, and it's all expressed through their love for one another," she elaborated to HuffPost about her Tweet. "They taught us how to sustain love, how to love. I mean, it's just amazing that I had the opportunity to sit and talk and get to know them on a more personal level. And then to see how they support up-and-coming artists at their club, The Sugar Bar. It's just amazing. They've always stayed current and supported a lot of the younger artists and a lot of the younger writers.
"Just to have that small bond with them -- I'm really sad. I don't know what to say to him being gone. You're used to two and now there's only one. I don't know what to say. This woman lost her husband and best friend. So it's a sad time and I'm going to be praying for them. But their music and their love for each other will always live in the songs."
Outside of prepping for her North American tour, the Verve Forecast artist is also preparing a foray into the literary world. Though she's still in the beginning stages, the singer feels that her new book project lends itself to "different kind of voices."
"I won't deliver too much information about the book that I'm writing, which is really awesome. It's a different voice," Ledisi hinted. "It's not too far from songwriting, but it's still is a different kind of voice to have, and I've never done it before in public. So it's going to be different for me. I don't want to talk about it until it's done, edited and out there getting ready to go."
WATCH:
Support HuffPost
Every Voice Matters
Popular in the Community