There's no logical reason Lee Andrews didn't become a major singing star, except that logic and talent aren't always the driving forces in the music business.
Andrews, who died March 16 at the age of 79, was the lead singer of Lee Andrews and the Hearts, a 1950s vocal group that had a couple of modest hits with "Tear Drops" and "Long Lonely Nights."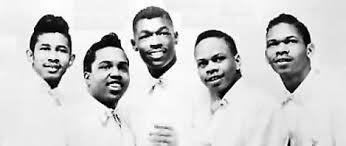 Those tunes are good samplers for the Hearts's sound. They had satin-smooth harmonies, the kind that make you want to close your eyes, lean back and let it all just wash over you.
They were pop love songs, or lost-love songs, that drew on classic vocal group styles updated into a 1950s rhythm and blues.
In a world where the Platters deservedly scored multiple hits, there was no reason the Hearts shouldn't have done the same.
While Andrews didn't have the same voice as Platters' lead singer Tony Williams, it was just as distinctive and engaging.
Andrews's records sound lovely today. They just didn't burn up the sales charts 60 years ago.
Lee Andrews, born Arthur Lee Andrew Thompson, came from a singing family. His father, Beechie, performed with the Dixie Hummingbirds, and Lee's first vocal group, which formed at Philadelphia's Bartram High School when he was 16, sang gospel.
That group also included Roy Calhoun, Butch Curry, Jimmy McCallister and John Young.
But gospel didn't seem like the coolest route for teenage boys in high school, not when rhythm and blues was becoming the sound of the day. Philadelphia would soon become a hot spot for young R&B vocal groups, like the Castelles.
After a short run as the Dreamers, Andrews and his friends discovered that name was already taken. They became the Hearts and in 1954 scored three releases on the Rainbow label: "Maybe You'll Be There," "White Cliffs of Dover" and "The Fairest" backed with "The Bells of St. Mary."
They're wonderful records, prized for decades by collectors. Unfortunately, they didn't sell, nor did three more releases two years later on the Gotham label: "Just Suppose," "Lonely Room" and "Bluebird of Happiness."
Radio personality Jocko Henderson thought they were too good to ignore, so he had them record "Long Lonely Nights" for his Main Line label.
It was enough of a hit that Jocko sold it to Chess, which could give it national distribution and pushed it to No. 11 on the R&B charts. "Tear Drops" followed and did even better, peaking at No. 4 on the R&B charts and squeezing into the top-20 on the pop charts.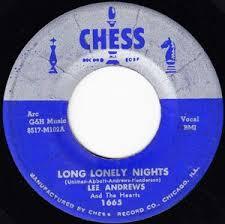 And that was that. The Hearts split up, as groups were prone to do, and they never had another hit. Andrews went solo, did some more recording and re-formed the Hearts on and off for the next 30 years.
He got some of the respect and admiration his music deserved. He just never got the success. In later years he opened a dress shop in Philadelphia.
But in the meantime, he had performed the crucial task of extending extend a musical chain.
He picked up the music from his father and popular singers like Nat King Cole. He passed it down to his daughter Dawn, who sings as Donn T, and his son Ahmir "Questlove," the drummer for the Roots.
Both Dawn and Ahmir sang in later editions of the Hearts, and after Lee Andrews died, Questlove remembered him on Instagram.
"The Greatest Teacher in my life," he wrote. "I love you. For every backstage experience. For every drum lesson. For giving me your tireless work ethic. For our father & son record binging expeditions. For our arguments over the summer I discovered 'It Takes a Nation of Millions.' For the look on your face when I told you 'imma give this rap thing a try.' "
It worked out for Questlove.
It also worked out for Lee Andrews.
REAL LIFE. REAL NEWS. REAL VOICES.
Help us tell more of the stories that matter from voices that too often remain unheard.