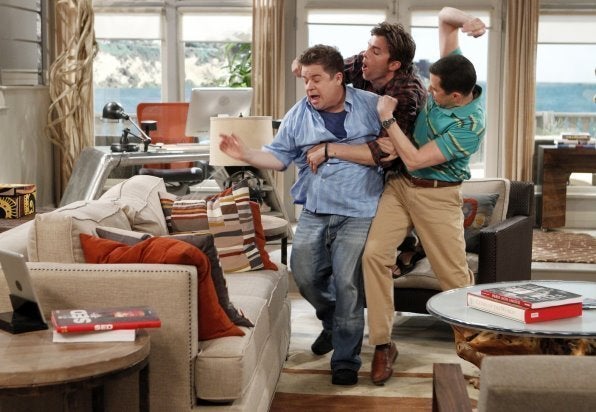 Lee Aronsohn, co-creator of the sitcom "Two and a Half Men," thinks that there are just too many women on television these days.
"Enough ladies, I get it. You have periods," he said. "But we're approaching peak vagina on television, the point of labia saturation."
Unfortunately, he didn't stop there.
Aronsohn's comments provoked a backlash on Twitter, possibly because they are inaccurate. While women make up the majority of TV-watchers, as of last year, they only made up 15 percent of its writers. After the interview went up this morning, actress Martha Plimpton tweeted:
Vulture's Margaret Lyons wrote that Aronsohn's remarks were indicative of a larger issue -- women feeling alienated in comedy writing:
Time and time again we hear that part of why women are underrepresented in comedy writers rooms is that they simply don't apply for as many positions as men do. Gee, we can't imagine what could be keeping them away.
Aronsohn initially responded with sarcasm, tweeting "Ladies, look up irony," reported The New York Times. (That tweet has since been removed from his account). He has now backpedaled, saying:
LOOK: Twitter Reactions To Lee Aronsohn's Comments About Women-Centric TV
Support HuffPost
The Stakes Have Never Been Higher
Related
Popular in the Community