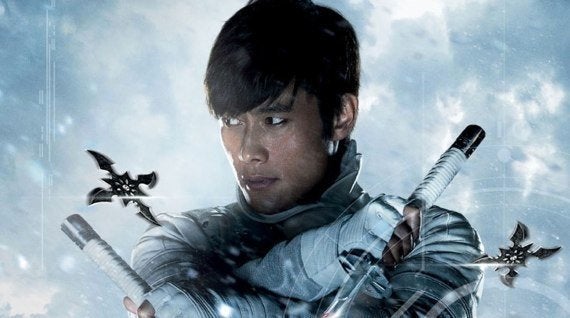 No character quite piques the interest of G.I. Joe fans like the ninja Storm Shadow does, especially when it concerns fellow ninja Snake Eyes.
The complicated relationship between Storm Shadow (played in "G.I. Joe Retaliation" by Lee Byung-hun) and Snake Eyes (Ray Park), according to the comics, started as a friendship during the Vietnam War and later led to both men being trained in martial arts -- only one (Snake Eyes) would become a G.I. Joe and the other (Storm Shadow) would join the terrorist group Cobra.
In "G.I. Joe: Retaliation," the story between the two has been updated, but still remains quite complicated, which results in more than one showdown between the former friends. Byung-hun is one of the few actors in the sequel who's reprising his role from the first film. Here, the acclaimed South Korean actor discusses his return to "G.I. Joe," what he tries to bring to Storm Shadow and his role in another sequel (also staring Bruce Willis), "Red 2."
After the first movie, did you always know that there would be a sequel?
Actually, when I first heard they were going to make a sequel, I was so excited. But I didn't expect that.
Did the negative critical reception to the first movie surprise you?
It was kind of an introduction of G.I. Joe. It was the first try at making a movie with the cartoon of G.I. Joe, so it was an introduction movie. Maybe that's why people are disappointed a little bit.
I feel that you have a lot more to do in this movie then the first one.
Storm Shadow had to show his character: cynical and independent and has some sort of bad past -- and a secret between Snake Eyes and Storm Shadow. But there were only so many ways I could show my emotions and those kind of things. But, in part two, I could show my emotions and could explode in my anger and emotions a lot.
Does this movie feel different to you, compared to the first?
Of course. Basically I had to keep my environment and character so far. But, as I told you, I could express a lot of my emotions in part two. Yeah, those were the differences.
Before you did the first movie, did you know much about Storm Shadow or G.I. Joe?
G.I. Joe is not shown in Korea at all, basically, so a lot of people didn't know about G.I. Joe and I also didn't have the information about G.I. Joe. So when I was first cast, I asked [director of "G.I. Joe: The Rise of Cobra"] Stephen Sommers and [producer] Lorenzo di Bonaventura if I should watch the cartoons so that I could learn about G.I. Joe. But they didn't want me to do that, because they wanted me to create a character. So I just learned the basic story about G.I. Joe and the characters of Storm Shadow and Snake Eyes and the history between them. I just got that basic type of information, and I tried to make it a creative character.
In the movie, there are so many jokes made at the expense of North Korea. Being from South Korea, how do you perceive those jokes?
Actually, it was kind of uncomfortable for me that the movie involved the North Korean thing. But, you know, the situation is really complicated in North Korea these days.
You're also going to be in the sequel to "Red."
Yes, I already finished it.
What's your character in "Red 2"?
My character is Han -- he's supposed to be Chinese, but I changed it. He used to be an agent, like Bruce Willis, in that movie. But Bruce Willis framed him so he couldn't work as an agent at all, so he changed. And I have a lot of fights with Bruce Willis in that movie.
You've won acting awards in Korea, but in Hollywood films you've been in a lot of action roles. Would you like to do something else?
In Korea, I do different kinds of genres. So, like that, I would like to do a lot of good acting films. But also I'd like to do a lot of various kinds of genres here.
Mike Ryan is senior writer for Huffington Post Entertainment. You can contact him directly on Twitter.
PHOTO GALLERY
Celebrity News & Photos
Calling all HuffPost superfans!
Sign up for membership to become a founding member and help shape HuffPost's next chapter
BEFORE YOU GO