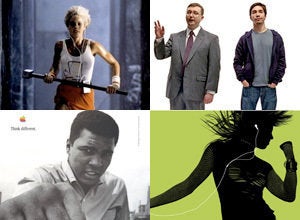 *See video below*

Lee Clow, chief creative officer at Apple's longtime ad agency TBWA/Media Arts Lab, announced that he will be stepping down from his post as chief creative officer.
Clow contributed to some of Apple's most famous and successful advertising campaigns, including the "1984" commercial that introduced the Mac computer, Apple's "Think Different" campaign, its iPod ads, and the "Mac vs. PC" commercials. (Watch them below)

Media Arts Lab was founded in 2006 to serve Apple, as well as embody Mr. Clow's vision of a new type of ad agency that makes culture, rather than just commercials.

In his more than 40 years in advertising, he is best known for his work for Apple, which includes what many have called the best commercial of all time, "1984," that launched the Macintosh computer; the now iconic dancing silhouettes for the iPod; and the more recent "Mac vs. PC" campaign featuring actors John Hodgman and Justin Long.

According to Print Magazine, Clow said, "The Apple Store was probably the best ad we ever did.... Everything a brand does is advertising."
By relinquishing the creative lead on the account that has distinguished his storied career, Clow, 66, appears to be moving toward retirement.

See some of Apple's most iconic ads below. Vote on your favorite!
WATCH:
WATCH:
WATCH:
WATCH:
Related
Popular in the Community