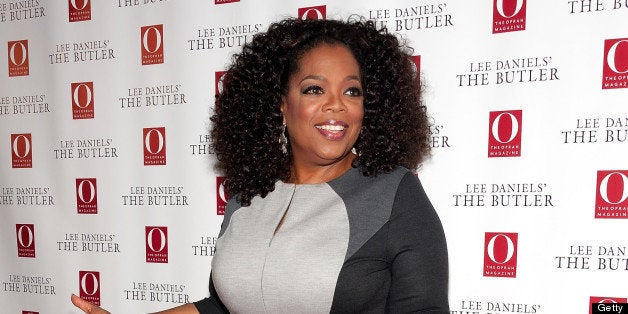 A cross-section of the media and movie worlds convened on Wednesday night at New York's Hearst Tower for a screening of and conversation about "Lee Daniels' The Butler." It proved to be a night full of laughs, tears and multiple standing ovations.
Stars Oprah Winfrey (whose O Magazine hosted the event) and Forest Whitaker joined Daniels, who directed the movie, at the special event. Morning show host and O Magazine Editor-at-Large Gayle King hosted a question and answer discussion after the screening, which was also attended the likes of Barbara Walters (who told HuffPost that "anything Oprah does is a class act"), Vera Wang, Rachel Roy, Monika Chiang, Gloria Steinem, and Sanjay Gupta.
The movie -- which is based in part on the life of Eugene Allen, a White House butler who served through decades of presidential administrations from Dwight D. Eisenhower to Ronald Reagan -- soars in its emotional honesty and historical worthiness. (Whitaker plays Allen's screen avatar, Cecil Gaines.) Wednesday's audience was audibly affected by the highs and lows of the fact-based storyline, and many were seen wiping tears as the lights came up.
It's no secret that the Trayvon Martin/George Zimmerman case has lent new urgency to films like "Fruitvale Station," and "The Butler" also feels strikingly present under the weight of recent news events. But to Daniels, Whitaker, Winfrey and King, the movie serves a historical purpose as well. "It's time to pull the scab off [of the true story of civil rights in America] and really look at it," Daniels said, noting that his own children who go to expensive schools in Manhattan "know more about Anne Frank than black history."
"The film has been made and it now exists," Winfrey said. "I kept telling Lee that he had to get this right because this will be history for so many people who don't read books."
"The Black Panther Party was around the corner from my house," Whitaker, who was bused two hours for school, noted. "It's time for people to stand and have their voices heard."
Daniels revealed that it was "a very hard movie to get made," and said it was also incredibly difficult to get Oprah to star in it. "I beat her into submission," he said with his trademark comedic timing.
"Security would pick up the phone and just say, 'It's him again,'" Winfrey, who was busy setting up her OWN television channel when the movie was coming together, said. Eventually, she relented and even signed up for an acting coach. "Lee told me acting was like an instrument that I hadn't picked up in years," she said, admitting that she worked Tom Cruise and Nicole Kidman's former instructor. "I have a big problem crying [on screen], which is weird because everyone thinks I'm a huge crier."
Though Winfrey said that she "lost money being in the movie," her hard work paid dividends on screen. Winfrey's turn as Gloria, the wife to Whitaker's Cecil, is sure to rack up lots of attention come awards season. It's not easy for a celebrity of Winfrey's stature to fade into a movie, and watching the TV host and executive melt into her character is a delight. "Jane [Fonda] said to me, 'You disappear,' which was a great compliment to me," Winfrey said when King asked her if it was hard to "get past the Oprah thing."
Winfrey's transformation even shocked Whitaker. "It was unsettling to me but that's what it's about -- it's about finding the truth of the story," he said. "He'd come into makeup as Forest and leave as Cecil, so I thought, 'I'm going to do that too,'" Winfrey said to great applause.
The hard work didn't end once filming began. To hear Daniels tell it, Winfrey was inquisitive to a degree that approached annoyance. "She asks too many damn questions," he said, referencing the filming of a love scene. "Oprah wanted to know what time it was. I was like, 'It doesn't matter what time it is. You're getting laid.'"
Love scenes were pared down from an original edit of the film. "He would have me in my bra and panties," Winfrey said. Daniels admitted that cuts were made ("I wanted it all -- this is Lee Daniels!") and said he ultimately agreed with Winfrey's decision to remove the "making out" from the movie.
What's left is, as Winfrey said, "a great American story, drama, history but also a love story." Winfrey spoke at length about the lack of black families in film, noting that "African-Americans are not used to seeing other African-Americans represented as families, but that is who we are. We love our kids, we want the best for them."
"Gloria is my mom and your mom," she continued, revealing that she was once driven to tears when she "saw tenderness between black characters" on "The Cosby Show."
Barack Obama, who is featured heavily in the movie via news clips and audio, does not actually appear in the film. "It was more powerful to not have Obama in it," Daniels said. "But we did go back and forth."
"Why did you decide not to include him?" King asked. Daniels' reply had the crowd in stitches: "We couldn't get him!"
Calling all HuffPost superfans!
Sign up for membership to become a founding member and help shape HuffPost's next chapter
BEFORE YOU GO
PHOTO GALLERY
"The Butler" In New York