Now that Shakespeare in Love has officially opened in the West End and been hailed by the critics as " ... a grand adaptation" and " ... a swooning delight," Lee Hall is ready to talk about how tough it actually was to translate Marc Norman & Tom Stoppard's Academy-Award winning screenplay to the stage. In an essay that Hall originally wrote for the Times of London (but has now given the Huffington Post permission to reprint), the opportunity to tackle this project came about ...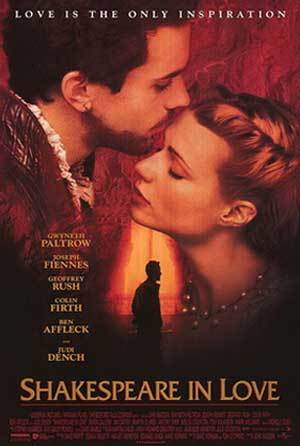 ... a year or so ago I was in the office of Sonia Friedman, the amazingly successful West End producer who seems to hoover up armfuls of Olivier and Tony Awards every awards season. We'd been catching up on the usual theatre gossip when, as I was leaving, she mentioned she was working with Tom Stoppard to bring Shakespeare in Love to the stage. To my horror I heard myself involuntarily blurting out: "Oh my god! What a brilliant idea. I'd love to do that'. It seemed extremely ungallant to attempt to usurp Tom Stoppard from his own project especially as my whole career was actually due to Tom. My stage debut was in the school hall in 1980 where I played a telephone box in his early play If you're Glad, I'll be Frank. Being adapted from a radio play the telephone box did not actually have any lines but I was smitten anyway. Just being a silent part of a production was enough. I knew right then my life was to be in the theatre.
I shuffled off rather shamed faced at my temerity but to my absolute amazement two weeks later I received a call from Sonia to say she had talked to Tom and they would both like me to do the adaptation. Delight turned to absolute panic when I realized that not only would I have to rewrite probably our greatest living playwright, I'd have to find a convincing theatrical form for an Oscar Winning screenplay and I would be juggling an ensemble of around thirty actors.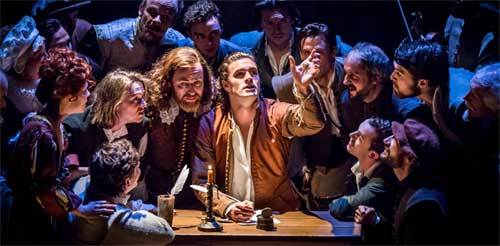 My generation of playwrights have grown up writing for studio theatres and so the task of writing for more than ten or so actors is a huge challenge. Logistically it's like doing an enormous suduko. Making sure everyone is in the right place at the right time in the right order instantly sends me into a cold sweat. In a film you never have to worry about where anyone is. You can go from person to person in an instant, you can move from wideshot to close up to cover up a multitude of sins. However, in the theatre you are dealing with real bodies who have to move on and off the stage, change costumes in real time and each have a proper journey through the play. To make matters worse there are several times in the story when Shakespeare's Company are playing Romeo and Juliet 'on stage' whilst simultaneously there is a whole other scene is going on backstage and a third unravelling on the balcony above. The whole thing was dizzying. I had to draw several large charts that were pinned above my computer as I worked.
I originally loved the screenplay because it is a wicked satire on the writer's role in contemporary Hollywood. Yet the more I worked I realized became evident that this was Tom's love letter to the theatre. He had distilled a life time in rehearsal rooms, chatting in green rooms and anxiously pacing around on first nights. The chaos, calamity, complexity and chagrin of putting on a show was all here. So it became clear that we needed a creative team that intimately understood what it means to be in a company making Elizabethan Theatre.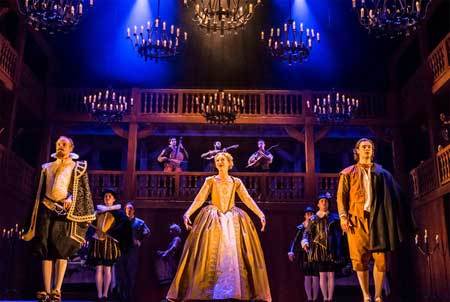 Declan Donnellan and Nick Ormerod perhaps better known as the theatre company Cheek By Jowl have spent the last thirty years touring brilliantly imagined versions of Renaissance plays. They have been huge heroes of mine since I first saw their work as a student. I remember being stunned by the freshness and immediacy they brought to these old plays. The detail of the performances, the elegant simplicity of their staging, the energy and commitment of the entire company was always breathtaking. To my absolute delight they read the script and agreed to come on board. Which is when the real work started.
Spending an hour in their company is like being in a hothouse graduate seminar on Elizabethan Theatre. They are constantly comparing the quarto to the folio from memory, quoting variants from History Plays, explaining the politics of Shakespeare's green room during As You Like It, say, compared to Troilus and Cressida. It seems there is nothing they don't know about Renaissance Theatre.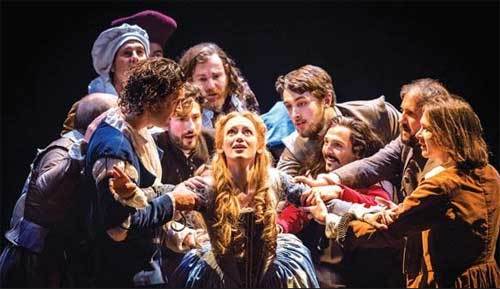 Much of the play is about the hilarious rehearsals for the first production of Romeo and Juliet and, of course, this was completely home turf for Declan and Nick. It quickly became obvious that this was a story about the Theatre and the model for the play had to be Shakespeare's theatre itself. The mirror to teeming London, high and low squashed Cheek by Jowl, full of sword fights, dances, music, laughter, sentiment, old jokes, purloined poetry, bravura performances, the virtuosic versatility of the company and perhaps a dog. The question of finding a dramatic form for Marc Norman and Tom Stoppard's screenplay really answered itself. We had to tell the story as if we were at the Rose Theatre in 1597. The solution to the problem of transferring a piece of work from one medium to another vanished and the opportunities to use the conventions of Elizabethan Theatre to do things you can't do on film became very clear.
One thing cinema does not deal with well is poetry. The film had to be very economical when quoting Shakespearean verse as heightened language is notoriously difficult in a naturalistic setting. However on stage it makes complete sense to have the characters perform all that wonderful poetry. Indeed I saw that we could have a wonderful potted version of Romeo and Juliet running along side the story of Shakespeare and his muse.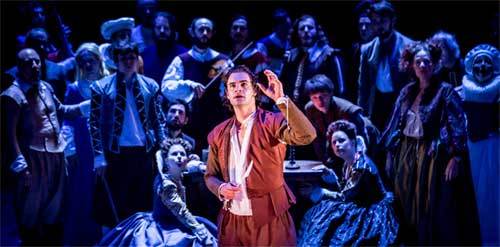 Several people have asked me if the project is a Musical - and I say in a way it is. However, in our show the 'numbers' are amazing chunks of Shakespearean poetry. In many ways the whole process has not been dissimilar to making Billy Elliot the Musical. There is something very warm and expansive both about the story and about Declan's extraordinary staging. He has worked with the brilliant Paddy Cunneen and Jane Gibson to bring a whole world of music and dance to the piece. This is not something grafted on but an absolutely integral part of the play - just as it would have been in Shakespeare's theatre.
There are always puritan voices worrying that stories which started off on screen have no place on the stage but I have yet to meet a theatre maker who shares these concerns. The theatre has always been voraciously omnivorous. Dramatists have always raided every medium to find grist to their mill: myths, folk tales, newspapers, novels, films, works of Art of all kinds. The point of theatre is transformation: to make an extraordinary event out of ordinary material right in front of an audience's eyes. Where the germ of the idea came from is pretty much irrelevant. What matters to every theatre maker I know is speaking clearly to the audience 'right now'. What matters is the power of theatre to move and to change people. That is what Shakespeare in Love is about. It is about a place which can allow a common player to be a Queen, boys to be girls, where we make the miraculous out of the mundane. So as much as we are all great fans of the film I think we're very proud to have rescued Shakespeare in Love from the cinema and put it on stage exactly where it belongs.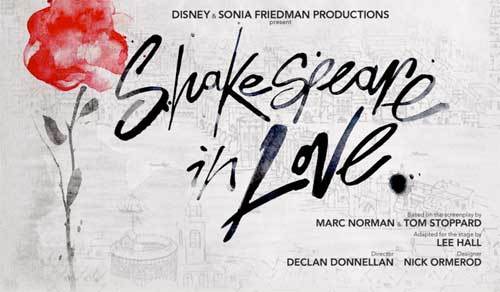 Lee Hall's adaptation of Shakespeare in Love opened at London's Noel Coward Theatre on July 23rd. Directed by Declan Donnellan and designed by Nick Ormerod, this produced-by-Disney-and-Sonia-Friedman production received universally strong reviews and is now expected to hang on in the West End at least through (to borrow a phrase from The Scottish Play) " ... tomorrow and tomorrow and tomorrow."
Popular in the Community