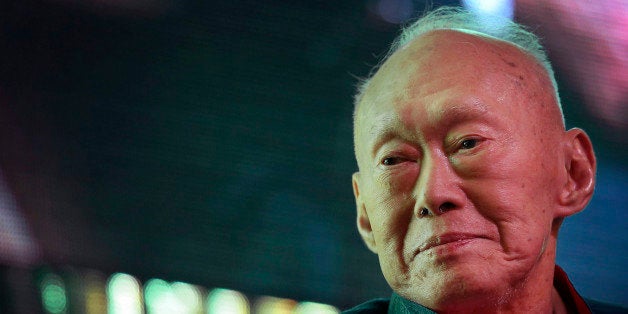 A couple of days ago in Singapore, I drove past Lee Kuan Yew's modest house on Oxley Road and wondered how he was. Rumors were rife that he was unwell, and I was tempted to break protocol and pay him a visit. Had I done so, I wouldn't have found him there. The country's founding father had been at Singapore General Hospital since early February, suffering from severe pneumonia.
I had last seen Mr. Lee at a celebratory banquet in Singapore several months ago. It was a formal affair, but he showed up in a windbreaker and casual trousers, and he spoke with a firm voice and then took questions from the audience. I raised my hand, more to seek his attention than anything else.
My question was somewhat naïve: "What explains Singapore phenomenal economic growth, its reputation as a corruption-free society?"
It was a question that Mr. Lee had surely been asked many times before, including by me in previous one-on-one interviews he'd given when he was Singapore's prime minister until 1990.
And just as surely, his response was predictable: "We took the world as we found it, and then we built on our dreams. We wanted to build a prosperous nation in a sea of poverty."
This year, his beloved Singapore will mark its 50th anniversary of independence from the federation that once joined it with the erstwhile Malaya. The official anniversary will be celebrated on August 7, but Mr. Lee will not be present at any of the plethora of events.
He died on Monday at the age of 91. And with his demise, modern Asia has lost all of its postwar political wizards, men and women who carved entire countries from the clangor of colonial rule or from disputes with neighbors.
They were men and women who fought for independence, often at grave risk to themselves. They gave shape to their respective polities. They imprinted their special stamp of governance -- democratic or dictatorial -- on the nations they helped create.
They attracted the attention of the world's superpowers to the possibilities of military alliances and market development. After all, as the United Nations notes, Asia is the world's most populous continent, with its 4.3 billion inhabitants accounting for 60 percent of the world population of more than seven billion.
They are all gone now, felled by old age or assassins' bullets: India's Mahatma Gandhi, Jawaharlal Nehru and his daughter Indira Gandhi; China's Mao Zedong and Deng Xiaoping; Indonesia's Soekarno and Suharto; Sri Lanka's Solomon and his wife Sirimavo Bandaranaike, and Junius Richard Jayewardene; Pakistan's Mohammed Ali Jinnah; Bangladesh's Sheikh Mujibur Rahman; and Malaysia's Tunku Abdul Rahman.
Each was a political titan, of course. But Lee Kuan Yew was arguably the only one of this galaxy of giants who lived to see his nation transformed from a third world country into one of the world's wealthiest one. With a population of 5.4 million, its per capita income is $81,000; neighboring India, with a population of 1.3 billion, has a per capita income of barely $2,000.
As Mr. Lee -- widely known as "Harry Lee," a moniker he acquired while a law student at the University of Cambridge -- often explained, Singapore's economic success was the consequence of three interrelated factors: total commitment to free enterprise; total commitment to a rules-driven society; and total commitment to a corruption-free system.
When pressed, Mr. Lee would acknowledge that a restrained press was an advantage in Singapore's development velocity.
"I had to do some nasty things, locking fellows up without trial," Mr. Lee said in an interview with The New York Times published in September 2010. "I'm not saying everything I did was right. But everything I did was for an honorable purpose."
It may have been honorable, but it also intimidated proponents of democracy. Mr. Lee's ruling People's Action Party has been in power for the last 50 years, and it was only in the 2011 "elections" to the 84-member national parliament that an opposition grouping raised its presence to six seats from the previous two seats it'd won in 2006.
That meant nothing, of course. Harry Lee ran Singapore as a family fiefdom -- albeit a clean one: One of his sons, Lee Tsien Loong is prime minister; a younger son, Lee Hsien Yang, is the chairman of the Civil Aviation Authority of Singapore; a daughter, Dr. Lee Wei Ling, runs the National Neuroscience Institute; and the prime minister's wife, Ho Ching, is executive director and chief executive of Temasek Holdings, a government holding company. She's widely considered one of the most influential executives in the global corporate world.
In the coming days, encomiums will most certainly come cascading in about the scrupulous -- if authoritarian -- life that Lee Kuan Yew led. Singapore is widely considered as a role model for developing countries yearning to establish more prosperous societies, and surely that role model's ethos couldn't have been created by anyone other than a man possessing Mr. Lee's determination and steely will.
What may be overlooked in these encomiums is Harry Lee's emphasis on a society with 100 percent literacy. And that emphasis also led to broadening the notion of what many Singaporeans called the "literacy of governance."
It resulted in the establishment of the Lee Kuan Yew School of Public Policy at the National University of Singapore. Its first -- and continuing -- head was the former diplomat Kishore Mahbubani.
The school trains current and future leaders, mostly from developing countries. The idea is to inculcate in them values such as clean government, attentiveness to everyday people's concerns, and effective municipal management.
That may be Harry Lee's greatest legacy.
Popular in the Community