Lee Moyer's lifelike illustrations have donned album covers and Laurel & Hardy box sets. Last year, he made his first-ever literary pin-up calendar, with profits going to Patrick Rothfuss's literary-themed charity Worldbuilders (Rothfuss is a co-author of the project) and this year he's back with more illustrations. But this time there's a twist - rather than illustrate the works of long-dead authors, he's gone for modern-day fantasy writers, including Neil Gaiman, Patricia Briggs, George RR Martin, Terry Pratchett and Jim Butcher, who approved the concepts and illustrations of their own characters.
According to Moyer's assistant Venetia Charles, Neil Gaiman allowed Lee to go further:
"After the 2012 calendar came out last year, Lee sent one of the calendars to Neil Gaiman as "proof of concept"... Lee also wondered if "Mrs Neil Gaiman" could be model for "Miss Neil Gaiman" in the calendar. Neil loved the idea, agreed to be part of the 2013 calendar, and asked his rockstar wife Amanda Palmer who said yes to modeling."
Other authors got involved by creating detailed scenarios for pin-up versions of their creations.
After fielding some Harry Dresden-related thoughts from Lee, Jim Butcher sent us a scenario that was far more specific and interesting than we'd suggested...

Patricia Briggs is another author with whom we worked closely. Because her character, Mercy Thompson, works as a mechanic, Lee was inspired by the old-school garage calendars and the piece is a homage to George Petty. Mercy is rather a subversive pin-up; Briggs described her as "a modern 'Rosie the Riveter'" and Lee decided not to put her in a particularly coy or revealing pose but instead a pose that shows off her strength and capability...

With other authors, like Terry Pratchett or George R.R. Martin, we sent them a numbers of concepts inspired by their works and they signed off on one which Lee then went with. Terry Pratchett in fact, approved both the concept of his pin-up and also the model, who is the talented model and actress Clare Grant of Team Unicorn.
Click below to see some of the images from the calendar: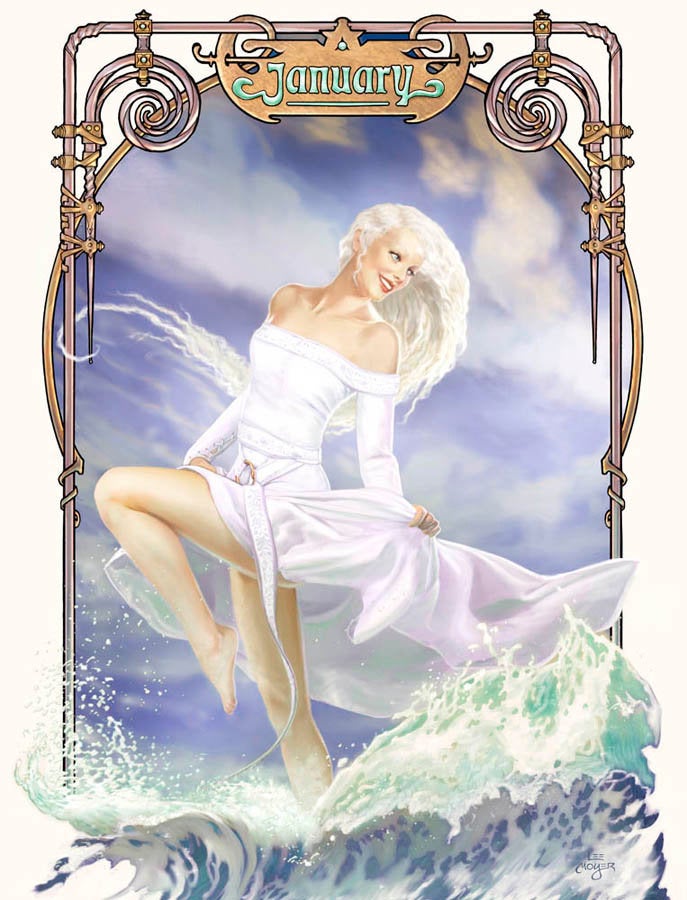 Lee Moyer's Literary Pin Up Calendar
Correction: The article originally stated that Heifer International was an animal welfare charity. That has been corrected.
Popular in the Community