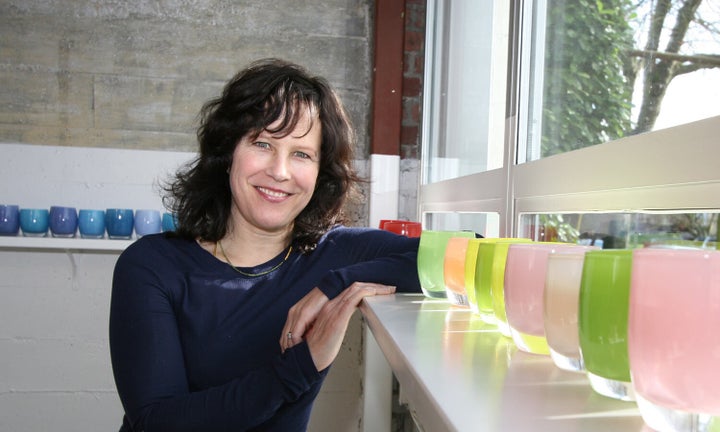 Healing can come from unlikely places. When Lee Rhodes dropped a votive into a small blown glass bowl, the warm light emitted some much-needed comfort -- Rhodes, then 32, was battling lung cancer and raising three children with her husband. That feeling of relief also paved the way for a flourishing business.
Over a decade later, Rhodes is supporting the needs of fellow cancer fighters and a burgeoning artistic community through Seattle-based glassybaby. "We're a mission company," Rhodes says, describing the unusual business model of her company, which donates between 8 and 10 percent of revenue to a host of charities and funds and earned her the distinction of Entrepreneur of 2011 by Entrepreneur.
Nearly 70 local artists help create the colorful votives, whose names and descriptions, like Cabo and Wet Dog, evoke personal memories. "There are very few things that you can count on to consistently make your day better, and a glassybaby is that," Rhodes says. "It's simplicity."
Selfless to a fault, the company has given over $875,000 to special funds that help provide care that health insurance overlooks. "No one can tell you what you're going to need to get well," says Rhodes, recalling her time spent recovering from chemotherapy. "This money is available for day to day needs -- food, clothing, whatever -- and there are no questions asked."
While many told her she wouldn't succeed selling a single, American-made product, Rhodes knows that is exactly why she has had so much success. "glassybaby allows you to feel -- it's fire, light and movement, the things that are at our core."
glassybaby was built off of a feeling and your own battle with cancer. Where does the continued inspiration to create come from?
We have an incredible group of people that we work with, and they have all been touched by cancer, illness or a life experience that makes them conscious of the people around us. When I see the artists working, creating something that's special to them, it makes me love what I do.
We have been growing steadily, about 40 percent each year, so clearly people are buying into us. It's a great and unusual business model, and I don't think it would work for everything, but for us, one thing becomes millions of things, which only means we can give more. Giving 10 percent of our revenue doesn't sound like a great business plan, but it's a wonderful community builder and makes us unique. We give to all different types of funds and charities -- unrestricted cancer care being the primary -- but we all have different experiences and we want giving partners that we're close to. It's a true, altruistic form of giving.
In the beginning, a lot of your business was by word of mouth, but then you landed a spot on "The Martha Stewart Show." What did that experience do for you and the business?
Martha was given glassybaby as a birthday gift, and she sent one of them back to us after she had drawn a circle around a line of color, and asked us to make one in that specific shade. She ended up painting her dining room the exact color, which she named "Bedford Brown," and sales of that paint actually benefit her elderly care foundation. She invited me on the show, which was her first one after she was released from prison, and the experience was incredible. It was my first time on national TV, and she was so gracious and kind. The business and our website went crazy. It put us on the map, but it didn't wipe us out. It really just sent us on a different trajectory for a while.
glassybaby is a huge part of the local artist community in Seattle. Why did you choose to do things locally instead of commercial production?
We actually experimented in 2006 and had glassybaby made in China. We ordered something like 10,000, imported them and they just sat in our studio because there was no where to put them. The core of glassybaby is giving back to the community, and with them coming from China, we didn't know that community or those people. We make glassybaby in Seattle with local artists, who we partner with, respect and let them do their own art, which is really important to us. It takes four artists about 10 minutes to create one glassybaby, and we pay our artists well. This is a living for them -- they give us 30 hours of their time in our studio, and they have the rest of their time to create their own art. It's a part of our story. Would it be cheaper to make it in China? Yes. Would we be making a lot more money? Of course. But it isn't about coming up with a story and selling it, it's about what glassybaby really is.
How did Jeff Bezos of Amazon get involved? What is it like working with such a big name investor?
His people reached out to us initially in January 2008. I didn't know who he was, and we get crazy calls all the time, so I didn't call him back. They called again, and told me that he really loved glassybaby and wanted to be a part of it. The fact that someone wanted to invest in glassybaby was hilarious to me, because this is not a business plan that smart people want to invest in, but he thought I was an authentic entrepreneur.

At first, I was apprehensive and told them we weren't for sale, so he came by the studio for a while and was so gracious and asked a lot of questions. He is really a brand guy, and that's one thing we've got is a great brand. He became a partner in September 2008, and he's wonderful. He's really smart and thinks out of the box, and doesn't do anything small. They are completely hands off, so it's really incredible to have partners that totally believe in you.
Where do you want to see glassybaby in the next five years?
Well, we've finally hired a president and he's been a wonderful addition, and we've made a lot of good hires especially in branding and marketing, so those holes are filled. I want to keep expanding to new markets, where we can make the product there and spoke out and create new partnerships. There is a $16 billion industry in flowers and gifts, and I really think we can move into that, and have flower bouquets delivered in glassybaby. glassybaby stands for celebration and memory building -- I want to be the go-to gift for your valentine. If we could get into that, we could give away $100 million and save the oceans.
What does glassybaby really represent?
We really have somehow created a language that speaks to people during terrible and wonderful times of their lives. My story started glassybaby, but that same emotional response has continued to flow naturally. That experience really elevates us above just being in retail and makes us into something experiential and life changing.
Name: Lee Rhodes
Company: glassybaby
Age: 49
Location: Seattle
Founded: 2001
Employees: 110
Projected 2012 Revenue: $8.5 million
Website: www.glassybaby.com
Related
Popular in the Community