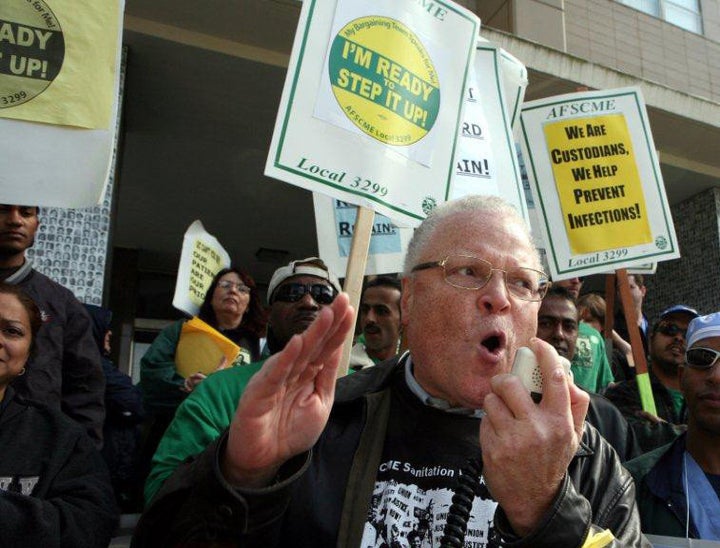 WASHINGTON -- The labor movement could witness a historic change at the very top this June with the election of a new president to American Federation of State, County, and Municipal Employees, the powerful public sector union.
On Wednesday night, Lee Saunders, AFSCME's Secretary-Treasurer, is set to announce the long-expected: he will be running to be the union's president, a post being vacated by long-time leader Gerald McEnttee.
Unlike elections past, Saunders won't run unopposed. Reflecting the policy and political schisms that exist between state and federal chapters, Danny Donohue, president of the largest AFSCME local in the country -- the 265,000-strong New York State Civil Service Employees Association -- has also launched a bid.
But should Saunders find himself elevated up the ranks, he would become the first black president of the 1.6 million-member AFSCME and one of the highest union officials of African-American descent ever.
"It would be historic," Saunders said in an interview with The Huffington Post, previewing the candidacy he was set to announce. "I mean, I'm African American but I'm also a trade unionist. I think it just bodes well for unions ... I think it's an exciting time for us. I think our members are excited about this. There is going to be give and take. There is going to be dialogue and discussion. This is democracy in action with this election."
Known as driven, organized and politically deft, Saunders was elected to his current position in June 2010 (defeating Donohue). Upon ascension to that post, he outlined a vision for the union's future growth, one based predominantly on keeping allies committed and accountable labor's cause.
Since then, the political dynamics have changed dramatically. Gubernatorial and congressional wins by Republicans in 2010 have only worsened the climate for unions, particularly those in the public sector. The focus that AFSCME was placing on keeping recalcitrant Democratic members of Congress in line soon turned to far more hostile Republican governors.
Efforts were made to stop the stripping and paring back of collective bargaining rights in Wisconsin, Ohio and Indiana. When that failed in Wisconsin, resources were devoted to recall efforts. Only recently has the organization begun donating major money to the presidential campaign, with a slew of ads that are designed to portray Mitt Romney as out of touch. Always politically active, there is a strong possibility that AFSCME will end up spending $100 million during the 2012 cycle.
A longtime McEntee protégé who served as his executive assistant, Saunders is already helping to organize these efforts. And in an interview, he explained that he wanted to build upon the current strategy, confident that a drastic change in course wasn't needed.
"I think Gerry has done wonders for this union," he said. And I am convinced that we've got to build upon a very strong foundation that we already have. We are a changing union. We've got to continue to organize like never before. That's our number one priority: to organize new members into our union."
Saunders did not draw major distinctions between federal and state-based legislative priorities, arguing that it was AFSCME's role to fight legislative and political battles wherever they arise. He did, however, stress that as president he would try to expand AFSCME's partnerships, both with other unions and with progressive, civil rights and faith-based organizations.
"We're developing those kinds of necessary coalitions where people understand that unions have an important function in today's society," he said. "When we bargain collectively, we improve benefits, we improve wages."
Saunders will be making his campaign announcement in Columbus, Ohio, where he served as a state employee and AFSCME-affiliate member before entering the national stage. The union's next president will be chosen at its June convention in Los Angeles. Its members are currently in the process or electing delegates to the convention, who in turn will choose the next president.
Calling all HuffPost superfans!
Sign up for membership to become a founding member and help shape HuffPost's next chapter
BEFORE YOU GO