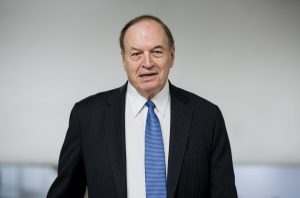 The money candidates raise and spend during the heat of a campaign are pretty good predictors of the outcome. In 2016, for instance, the candidate who spent more won in 94 percent of Senate contests and 96 percent of House races.
But now that Election Day has come and gone, another set of figures can provide clues to lawmakers' future plans: how much cash they've stockpiled.
"Members sitting on a lot of cash may be thinking of running for higher office, or some of these people in safe seats could be trying to launch a leadership bid, so it can signal a lot to other members of Congress trying to read the tea leaves," said Aaron Scherb, director of legislative affairs at Common Cause.
The median amount that lawmakers who won races in 2016 have stashed away is about $367,000; for House candidates, it's $361,000, and the 34 Senate winners have about double that at $747,000.
Party leaders, who are expected to raise money to help their colleagues, predictably lead the way of those with the fattest warchests: House Speaker Paul Ryan (R-Wisc.) had the highest cash on hand in the House with $9.1 million, while Senate Minority Leader Chuck Schumer (D-N.Y.) kept $10.7 million in the bank. Ultimately they may transfer large sums to their parties.
Those on the top 10 lists of both the House and Senate are all incumbents. Sen. John Thune (R-S.D.) ranks No. 2, sitting pretty with $10.6 million. Thune, who is third in the Senate GOP leadership as Senate Republican Conference chair, won his safely red seat against Democrat Jay Williams last year, outspending him 100-fold. He also heads the Commerce, Science and Transportation committee, another draw for donors. Thune made waves back in 2004 after defeating then-Senate Majority Leader Tom Daschle (D), and was rumored back in 2012 to be mulling a run for the White House. (Though he later said 2012 "might have been the window" to run for president, Thune still could be someone to watch.)
Sen. Richard Shelby (R-Ala.) ended the year with $9.9 million, continuing his saving streak. Historically, Shelby has ended the year with the most cash on hand since 1989, holding $18.1 million in 2014, $17.7 million in 2012 and $17.2 million in 2010. He defeated Democrat Ron Crumpton in 2016 to keep his safely-Republican seat, spending more than 200 times as much as his rival. The 82-year-old former Democrat (he switched parties in 1994) has higher ambitions than his current chairmanship of the Rules Committee. The Washington Post reported last year that Shelby told a crowd he'd chair the powerful Appropriations Committee "if things go right!"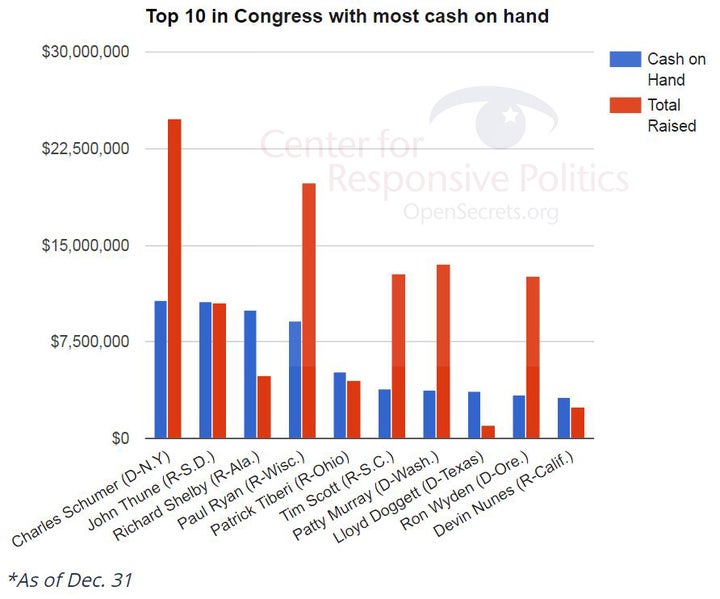 On the House side, Rep. Patrick Tiberi (R-Ohio) ended the year with $5.2 million, more than all but three of 2016's Senate candidates. He's grappling with some major responsibility this cycle: The Plain Dealer reported in early January that Ryan, the House speaker, said Tiberi would "quarterback" efforts to create a replacement for Obamacare. He's also been named as a potential candidate for the Senate in 2018, possibly running against Democrat Sherrod Brown (who has $3.2 million in the bank) and possibly Ohio Treasurer Josh Mandel (with $1.7 million). So far, Tiberi seems to be winning the cash game.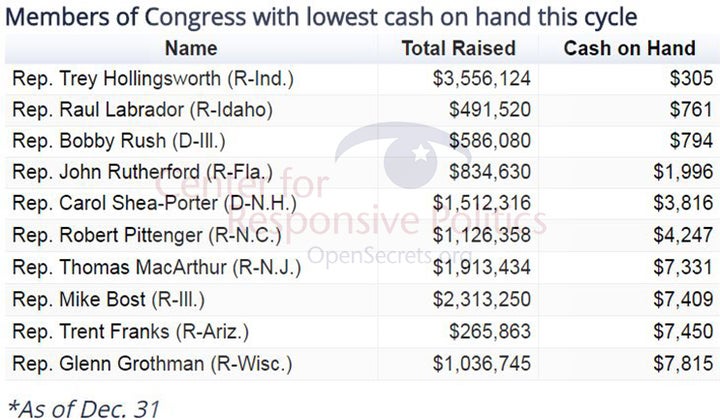 Then again, for all those who are flush, there are a few who have a mere three digits of funds left over.
"The typical pattern is that campaigns that are in tough reelections or open seat battles will almost never have any money left," said Caleb Burns, a partner at Wiley Rein LLP. "But conversely, the opposite is also true, where members of Congress have extraordinarily safe seats and don't feel the pressure of having to raise a lot of money."
Some of those who faced highly competitive races and have little left in the bank to show for it include Reps. Carol Shea-Porter (D-N.H.) with $3,800, Jason Lewis (R-Minn.) with $9,800, Jacky Rosen (D-Nev.) with $15,000 and Ruben Kihuen (D-Nev.) with $16,000.
Lowest on the list is freshman and 33-year-old businessman Trey Hollingsworth (R-Ind.), left with a meager $305, made even worse by the fact that 88 percent of the money he raised, a total of $3.5 million, came from his own wallet. (He probably doesn't mind, being worth upwards of $58 million, most of which comes from real estate holdings.) The Tennessean transplant had the help of $285,000 from PACs and about $118,000 of large contributions over $200. He might use those few hundred left to start paying off the $823,000 he still has in debt, as of Dec. 31.
"Freshman almost always go into debt, because what's the point in saving money if they don't win the election?" said Burns. (We found the median amount of debt for a freshman representative is $73,893.)
Rep. Raul Labrador (R-Idaho) spent almost double what he raised this cycle, $857,000 compared to the $491,000 he brought in, using cash from past years to help supplement his spending. Labrador has shown money isn't necessary to succeed: He bested incumbent Walt Minnick in the 2010 Tea Party wave, despite spending about one-fourth the amount Minnick did. A founder of the conservative House Freedom Caucus, Labrador made an unsuccessful bid to be House majority leader in 2014, and may have higher hopes for 2018.
"Labrador is often mentioned as a possible Idaho gubernatorial candidate," said Kyle Kondik, with the University of Virginia Center for Politics. "If these candidates are going to be leaving federal races and going to state-level races, generally speaking, they are two separate pots of money. He may have stopped raising money because he's going to try to move on to another job."
And indeed, Idaho law prohibits the transfer of more than $5,000 in funds raised for a federal race to a candidate's state campaign committee.
While we focused on the winners of last year's congressional races, no story on stockpiles of campaign cash is complete without a mention of Evan Bayh (D-Ind.), who retired from the Senate in 2010 with more than $10 million in his war chest. When he decided to have another go-round for the Senate seat this year, he was able to tap into that sum for his campaign; he raised only about $4.8 million more. He lost to Republican Todd Young, though Bayh now has about $950,000 left if he wants to run yet again.
He can also use the funds to wind down his campaign apparatus, refund contributors, make charitable donations, give to other candidates or pay for legal fees, Burns said. Basically anything goes, with the broad exception of spending the cash for personal benefit.
Senior researcher Douglas Weber contributed to this post. 
Calling all HuffPost superfans!
Sign up for membership to become a founding member and help shape HuffPost's next chapter
BEFORE YOU GO