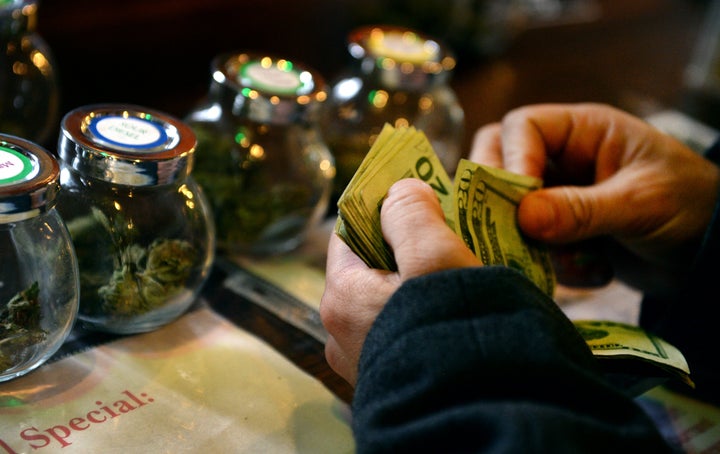 A new report estimates consumers spent $53.3 billion on cannabis in North America last year.
The first-of-its-kind analysis, compiled by ArcView Market Research, spans legal, medical and illegal marijuana markets across both the United States and Canada. At around $46 billion, the illegal market constituted 87 percent of marijuana sales in 2016 (a decrease from 90 percent in 2015), dwarfing both medical and legal sales.
The marijuana investment and research firm provided a 25-page executive summary of its fifth annual State of Legal Marijuana Markets to The Huffington Post Tuesday, ahead of the full report's release in February.
Arcview projects the legal marijuana market will expand from its current $6.9 billion to $21.6 billion by 2021, as California, Massachusetts and Canada expand their cannabis sales, and medical sales begin in Florida. The $6.9 billion figure is itself a 34 percent increase in just one year from 2015.
Assuming the projections hold, the five-year growth rate for legal marijuana from 2016 to 2021 would fall just short of that seen by broadband internet providers from 2002 through 2007, which expanded at around 29 percent per year, from around $7 billion to north of $25 billion.
Unlike most of the billion-dollar industries that preceded it, marijuana is in a unique position, ArcView argues, because the market doesn't need to be created from scratch ― it just needs to transition from illicit to legal channels.
"The enormous amount of existing, if illicit, consumer spending sets cannabis apart from most other major consumer-market investment opportunities throughout history," Arcview Market Research CEO Troy Dayton explained in an emailed statement.
"In contrast to comparable markets with fast growth from zero to tens of billions in recent decades such as organic foods, home video, mobile, or the internet, the cannabis industry doesn't need to create demand for a new product or innovation ― it just needs to move demand for an already widely-popular product into legal channels."
In states that have moved to tax and regulate the drug, the black market has decreased rapidly, the report found. Colorado's black market, for instance, accounts for about one-third of all cannabis sales, with the majority having transitioned to legal marketplaces.
ArcView found the cashflow going to drug dealers and cartels has diminished accordingly, helped in part by the shrinking "illegality premium" for the product once demanded by the black market.
Before You Go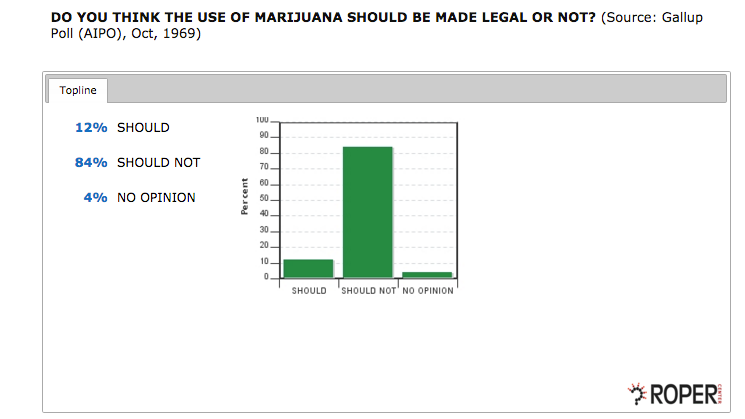 50 Years Of Marijuana Polling
Popular in the Community