 Does marriage matter? In Rwanda it does. The issue is especially vital for impoverished, socially excluded women, many of whom have lived with their "husbands" and children for years without the protections afforded by a civil union.
Recently, 52 couples were married in a communal civil ceremony in Kigali, the capital of Rwanda. The Mayor of Gasabo presided over the mass wedding, and it was attended by over 300 witnesses and guests. Given the importance of legal marriage in securing women's rights, economic security, family stability and community status, Women for Women International (WfWI), a global development organization that has served over 40,000 female survivors of war in Rwanda since 1997, helped to organize the event.
Last month, several participants in WfWI's rights-based training and economic development program spoke openly about the problem. Shantel, a soft-spoken woman in a pale yellow dress, said she has been living with her "husband" for two years, raising their three-year-old daughter. When she tried asking her husband about formalizing their marriage, he said he was "still thinking about it."
Lydia has also been living as "husband and wife" with her partner for four years; they have a son together. Lydia knows that if she is not legally married, she has no rights to property ownership or recourse if her husband decides to "marry" another woman.
Lydia added that women who are legally married and victims of domestic violence can report the abuse to community leaders, who will take action. Without legal marriage, they will do nothing. Legal marriage is described in the constitution as a civil union between one man and one woman where each partner enjoys full and equal rights.
In the absence of a civil union, these women may be viewed as concubines or visitors in the home. If the relationship ends, the women have no legal standing on issues ranging from land registration and property ownership to child custody and inheritance rights, even loan collateral. There are also health implications through greater exposure to high risk behaviors including multiple sex partners and unprotected sex, lack of family planning and child spacing, and increased risk of domestic violence.
Legal marriage is a priority for the Rwandan government owing to the frequency of family conflicts and domestic violence cases resulting from cohabitation without legal marriage.
There are a host of cultural, social and economic dimensions to the legal marriage debate. Some men may be resistant given the protections afforded to legally-married women and the implications for their personal accountability and freedom. Husbands may also dismiss the idea of legalizing their marriages so that they are free to "marry" as many wives as they want.
For poor women and couples, legal marriage may be cost prohibitive given the tradition of gifting cows or the equivalent in other assets to the woman's family and the obligation to host expensive engagement and wedding celebrations.
The issue is widespread throughout Rwanda. In the Gasabo District's Ndera Sector alone, 40 percent of the adult population are not legally married. For the majority of women, this is not by choice.
Women for Women International addresses the issue directly through its training on "women's rights and gender equity" and by educating women and men on the benefits of legal marriage. Women learn about the specifics of Rwanda family law in the context of their rights. The approach is designed to create awareness of the issue, promote behavior change and ultimately, enable women to take action.
In the lead up to the mass wedding, a community meeting was held where women were encouraged to bring their partners. More than 100 women and about 20 men attended to hear the Sector's Legal Affairs Officer and local staffs extol the benefits of legal marriage and tackle common objections -- men's freedom and control, the expense, and inheritance rights. "Women are doing everything -- if she were to receive pay for what she has done for you and the family, how much would you pay her?" asks the Legal Affairs Officer to the men in the group.
Afterwards, 52 couples registered for legal marriage, all participants or graduates of WfWI's program. One of the couples, Francoise and Fidele, explained their decision, "We have been 'married' for nine years and have two children together. We've wanted to do it but thought it was too expensive."
The official ceremony was a formal event with local officials offering both legal advice and premarital counseling to the assembled group. When it came time for "I dos," the couples collectively came forward to make their commitments; first the men and then the women raised their hands in affirmation, all touching the Rwandan flag as they said their vows. The ceremony was followed by a brief reception with toasting and several wedding cakes; instead of a miniature bride and groom on top, each of the cakes read "Civil Marriage Ceremony."
For Florance and Emmanuel, the wedding was everything they had hoped for. The beaming bride in a traditional white gown says she feels "valued now that she is legally married."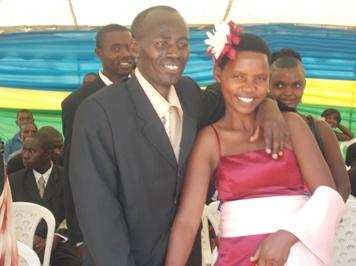 Photo credit: Women for Women International
This blog is part of our #GivingTuesday series, produced by The Huffington Post and the teams at InterAction, 92nd Street Y, United Nations Foundation, and others. Following Black Friday and Cyber Monday, #GivingTuesday -- which takes place for the first time on Tuesday, November 27 -- is a movement intended to open the holiday season on a philanthropic note. Go to www.givingtuesday.org to learn more and get involved.
Popular in the Community