WASHINGTON ― About two weeks ago, as the White House Office of Management and Budget was reaching out to federal agencies about their budget proposals, the head of the Legal Services Corporation began to worry. The LSC, an independent nonprofit established by Congress in 1974, provides legal assistance to impoverished Americans, funding 134 civil legal aid programs across the county. As other federal agencies were in communication with the Trump administration about their budgets, LSC had been in the dark.
"We didn't hear anything, we got no response at all to our request," said LSC president Jim Sandman. "It seemed to be a signal, and it turned out it was."
The Trump administration unveiled its budget proposal on Thursday, suggesting Congress fully eliminate funding for LSC. Legal Services Corporation had requested $502 million for fiscal year 2017, and had been given $385 million in the 2016 fiscal year. That works out to just over $1.20 per American per year.
The American Bar Association said the organization's leaders were "outraged" that the funding was eliminated in Trump's proposed budget. "LSC provides civil legal aid to people who desperately need help to navigate the legal process. Without this assistance, court house doors will slam in the faces of millions of Americans, denying them equal access to justice," the ABA said in a press release.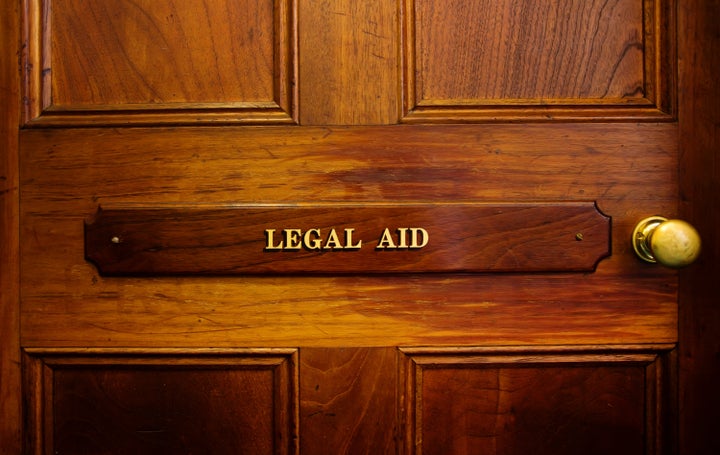 Christine Hines, the legislative director of the National Association of Consumer Advocates, said it would be "cruel" to eliminate LSC's funding. "LSC programs across the country help Americans with serious troubles ranging from domestic violence, housing and foreclosure, and harm caused by predatory financial services practices, such as abusive debt collection and debt traps," she said.
Sandman said the LSC ensures "fairness" in the justice system.
"We fund the provision of legal assistance to people who can't afford to pay for a lawyer and are facing significant legal issues: things like needing a protection order against an abuser, people facing wrongful eviction or foreclosure, survivors of disaster who need legal assistance in restoring their legal documents and getting access to federal benefits; representing veterans who have been denied the benefits they earned through their service in the military," Sandman said.
"We have a legal system that requires legal assistance to be able to access it in a meaningful way," he added. "It was a system created by lawyers, for lawyers, that assumes you have a lawyer, and if you don't, the system doesn't work for you."
Legal aid is all about getting legal assistance to people "who don't have the means to be able to afford a lawyer," Sandman said.
Sen. Patty Murray (D-Wash.), the top Democrat on the Senate Committee on Health, Education, Labor and Pensions, said she was troubled by Trump's proposed elimination of the LSC. "Every person in our country should be treated equally under the law — so it is deeply disappointing that President Trump's proposed budget would make it even harder for our most vulnerable populations to navigate the justice system. This is yet another step away from justice by an Administration that has taken far too many," Murray said.
"We're as American as the Fourth of July."
Sandman told The Huffington Post that the percentage of funding LSC provides to civil legal aid programs varies across the country, meaning certain areas would feel the impact of the LSC's elimination much more severely ― including in parts of the country that went for President Donald Trump.
"On average, they get about 38 percent of their funding from us, but that percentage varies tremendously across the country. In 12 states, our grantees get more than half their funding from us. In a place like Alabama, our grantee gets more than 80 percent of its funding from us. So yes, our impact is felt disproportionately in rural areas," Sandman said.
Artur Davis, a former member of Congress who now serves as the executive director of Legal Services Alabama, recently wrote that his group serves roughly 11,000 people per year.
"They include veterans who have drifted into homelessness: a few weeks ago, five of our lawyers in Birmingham devoted a day to a clinic for these ex-servicemen who are facing very hard times," Davis wrote. "The single largest share of our attorney hours are spent on victims of domestic violence, and the largest section of this group is mothers who need court intervention to make their abusers stay away from them and their children."
Sandman said his office had been in constant contact with congressional offices this year, and will be making the case to protect their funding. "We have good relationships and we have been meeting with a number of members of Congress and their staffs this year, and the feedback that we've gotten is very positive," Sandman said.
Sandman said LSC will work to highlight the role it plays to the public and members of Congress as the budget process plays out.
"People need to understand that what the Legal Services Corporation is about is fairness in the justice system, whether we mean it when we say we're a nation with justice for all," Sandman said. "We're as American as the Fourth of July."
This story has been updated to include comment from Murray.
Support HuffPost
The Stakes Have Never Been Higher
Popular in the Community