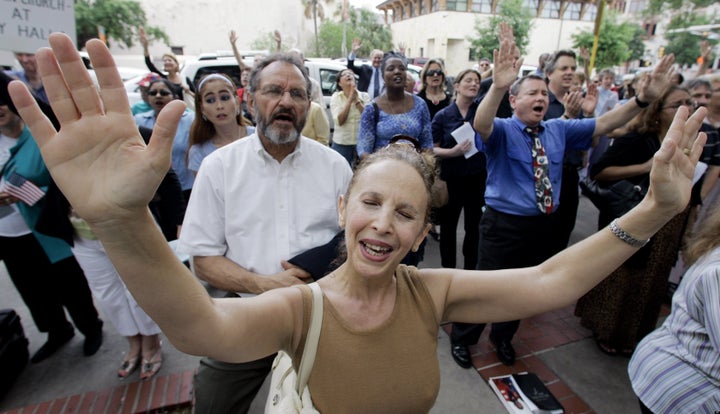 By Adelle M. Banks
Religion News Service
WASHINGTON (RNS) As Rep. Randy Forbes sees it, the decision by a Wisconsin federal judge that the law creating a National Day of Prayer is unconstitutional is little more than one person's opinion.
Millions of Americans, Forbes said, think otherwise.
"That's not what the Constitution says," the Virginia Republican declared Wednesday (April 21), surrounded by other members of the Congressional Prayer Caucus. "That's what one unelected judge says the Constitution says."
On Thursday (April 22), the Justice Department said it would appeal the decision, capping a week of political uproar from conservatives after Judge Barbara Crabb of Madison, Wis., issued her April 15 ruling.
Since then, lawmakers and conservative Christian groups had pushed President Obama to appeal the controversial decision. Interfaith organizations that say evangelicals have "hijacked" the prayer day, meanwhile, hope politicians will take a more inclusive approach to the observance.
With yet another legal skirmish in the offing, the political debate over whether Americans should pause for a collective day of national prayer on the first Thursday of May has now reached a fever pitch.
The Freedom from Religion Foundation, the small Wisconsin-based organization that Crabb vindicated with the decision, is planning to contact all 50 governors and mayors of major cities to dissuade them from participating in observances, scheduled for May 6 this year.
"It's a David and Goliath fight, but we're readying our slingshot!" said foundation co-president Annie Laurie Gaylor, with not a hint of irony as she pulled a metaphor straight out of the Bible.
The National Day of Prayer Task Force, the Colorado Springs, Colo.-based group that plans tens of thousands of events each year, has already launched a "Save the National Day of Prayer" campaign.
"This is an attack upon our religious freedoms, and it is a sad day in America when an atheist in Wisconsin can undermine this tradition for millions of others who simply wish to join their fellow citizens in praying for their country," the petition reads.
Shirley Dobson, leader of the task force and the wife of Focus on the Family founder James Dobson, issued a statement Wednesday decrying the "unrelenting assault" on the nation's "heritage of prayer."
In addition to Crabb's ruling, she criticized the Military Religious Freedom Foundation's demand that the Pentagon disinvite evangelist Franklin Graham from speaking at its National Day of Prayer event.
"It is time to say, 'Enough is enough," Dobson said. "We can be silent no more."
Graham, who angered Muslims by calling Islam an "evil and wicked religion" after the 9/11 terrorist attacks, is this year's honorary chairman of the prayer task force. The Council on American-Islamic Relations has also asked the Pentagon to remove Graham as a speaker after he told Fox News on Thursday that Muslims are "enslaved by Islam."
The Alliance Defense Fund, which successfully removed Shirley Dobson as a defendant in the case that landed in Crabb's courtroom, has sent an update to mayors saying Crabb's ruling "should not disrupt your local observance" of the prayer day.
J. Michael Johnson, a senior legal counsel for the ADF, said he hopes his legal advice will be the same after the appeals.
"I think observances like this can and will continue, but it would be a real shame if the government couldn't acknowledge the importance of it," he said.
Jews on First and the Interfaith Alliance, two groups that have accused the National Day of Prayer Task Force of hosting exclusionary Christian events, sent a joint letter to Obama asking him to issue a proclamation that promotes inclusive observances.
"We're certainly going to encourage people to have interfaith, inclusive events but the line that we're going to take now is it's important for there to be a healthy separation as well as a healthy respect for religion," said Rabbi Haim Beliak, one of the co-directors of Jews on First.
The Interfaith Alliance says it has plans for such events in Oklahoma, Pennsylvania and California.
Hours after Crabb's decision, the White House announced via Twitter that President Obama "intends to recognize a National Day of Prayer," as he did last year. In 2009, he issued a proclamation, but did not host an observance at the White House, as his predecessor George W. Bush did throughout his presidency.
The judge noted that her decision cannot be enforced until the appeals process is exhausted, making the observances scheduled for May 6 able to continue this year.
Whatever the appeals court decides, First Amendment Center scholar Charles Haynes predicts politicians will embrace the debate--and probably show up at more events this year.
"It's like waving a red flag in front of politicians, and who wants to say we don't support prayer?" said Haynes, who agrees with the ruling but doubts it will be upheld. "That's like being against apple pie and motherhood."
Calling all HuffPost superfans!
Sign up for membership to become a founding member and help shape HuffPost's next chapter