Marijuana legalization is going smoothly in Colorado and Oregon, state officials recently told the Justice Department as it prepares for a shift in federal law enforcement priorities that could include changes to marijuana policy.
But Attorney General Jeff Sessions, a staunch drug opponent, nevertheless is considering reversing the Obama administration's relaxed approach to state legalization, and may resume strictly enforcing federal laws, which still regard all marijuana use as illegal.
Sessions in February named a task force to review U.S. enforcement of laws surrounding immigration, drug trafficking and violent crime. Colorado and Oregon, among the first states to legalize recreational marijuana, submitted lengthy reports to Justice Department officials, detailing well-regulated legal marijuana industries that generate vast tax revenue and no measurable increase in crime or health problems.
The task force forwarded its proposals last week, Sessions said, but the Justice Department wouldn't disclose what they are.
"Those recommendations went to the AG," spokeswoman Sarah Isgur Flores said. "We'll make announcements on policy changes when we have announcements to make."
Colorado and Oregon ― among eight legal-weed states that know the issues best ― produced detailed reports on their experiences, officials said.
A 140-page report from Colorado Gov. John Hickenlooper's (D) office contains data and analysis from six state agencies, showing that the state's 2012 marijuana legalization didn't significantly increase youth drug abuse, school dropouts or juvenile arrests.
Statistics do show a rise in car crashes and fatalities involving motorists testing positive for cannabinoids. But Colorado's report notes the statistics may not prove more drivers are intoxicated, because inactive marijuana compounds can be detected for more than a month in some individuals. Marijuana DUIs have declined 21 percent in the first six months of 2017 from the same period a year earlier.
Colorado reported collecting $459.5 million in marijuana taxes as of May, and used the money for school construction, regulation and enforcement of marijuana laws, youth prevention programs, substance-abuse treatment programs, and public education campaigns.
Legalization has "facilitated the transfer of hundreds of millions of dollars into the Federal Reserve System that would otherwise exist outside of the nation's banking system," the report says. Even though federal banking regulations continue to force the industry to rely on cash, the report says, legalization helps ensure the money is "not diverted to criminal enterprises."
A 19-page report prepared by Oregon Gov. Kate Brown's (D) office gives a positive view of legalization that safeguards public safety, and describes the state's robust system tracking weed from seed to sale. The document was first made public in June following a records request by Oregonian reporter Noelle Crombie.
Oregon's report acknowledges the continued existence of a marijuana black market. It also notes legalization's hiccups, including "overproduction" and new laws it needed to place limits on growers and to increase penalties for marijuana-related crimes.
Oregon reported collecting more than $60 million in marijuana taxes in 2016.
"We passed legislation to tighten down seed-to-sale tracking in the medical arena," Brown told HuffPost in an interview late last month. "My staffers on this are working very closely with the U.S. Attorney's Office."
Brown said Sessions' Justice Department hadn't yet done anything to undermine the state's laws.
"It is just making everyone nervous," Brown said. "I haven't seen anything ― it's just different."
Oregon and Colorado are among eight states that have legalized recreational marijuana. Twenty-nine states, the District of Columbia, and the U.S. territories of Guam and Puerto Rico have medical marijuana laws (17 other states have laws allowing limited use of cannabidiol, or CBD, the non-psychoactive ingredient in pot that some say has therapeutic properties).
It's unclear whether other states submitted reports to Sessions' office or met with task force members.
Washington state, which also began selling legalized recreational marijuana in 2014, has sent Sessions' office three letters defending the state's legalization scheme under current federal policy, and requested a meeting with Sessions, a representative from Gov. Jay Inslee's (D) office told HuffPost.
Inslee's office received a reply from Sessions on Wednesday expressing skepticism of the state's marijuana legalization. Sessions' letter cites a 2016 law enforcement report that he says "raises serious questions about the efficacy of marijuana 'regulatory structures' in your state."
States have pressed forward with legalization under Obama administration guidance urging federal prosecutors to refrain from targeting state-legal marijuana operations. But that guidance could be reversed or altered by Sessions in ways that could doom thriving industries many states now consider legal.
National support for marijuana legalization has risen dramatically in recent years, reaching historic highs. A Quinnipiac poll from earlier this year found that 94 percent of Americans support allowing adults to use marijuana for medical purposes if their doctor prescribes it.
Advocates said the Colorado and Oregon reports confirm the success of state laws.
"This huge compilation of data shows that legalization is working very well," said Tom Angell, chairman of drug policy reform group Marijuana Majority. "Legalizing marijuana is not only overwhelmingly supported by a growing majority of voters, it also protects public health and safety in the ways we always said it would."
Mason Tvert, vice president of public relations and communications with VS Strategies, a Denver-based communications and government relations firm focused on marijuana policy, who was also instrumental in the passage of Colorado's recreational marijuana ballot measure, said that if the Justice Department goal is to promote public health and safety, "it would be entirely counterproductive to dismantle the thoughtful state and local regulatory frameworks that have been established in states like Colorado."
"The DOJ can either support state and local officials and work with them to control cannabis, or they can support criminals and cartels by forcing cannabis back into the illegal market," Tvert said.
Jennifer Bendery contributed reporting.
Before You Go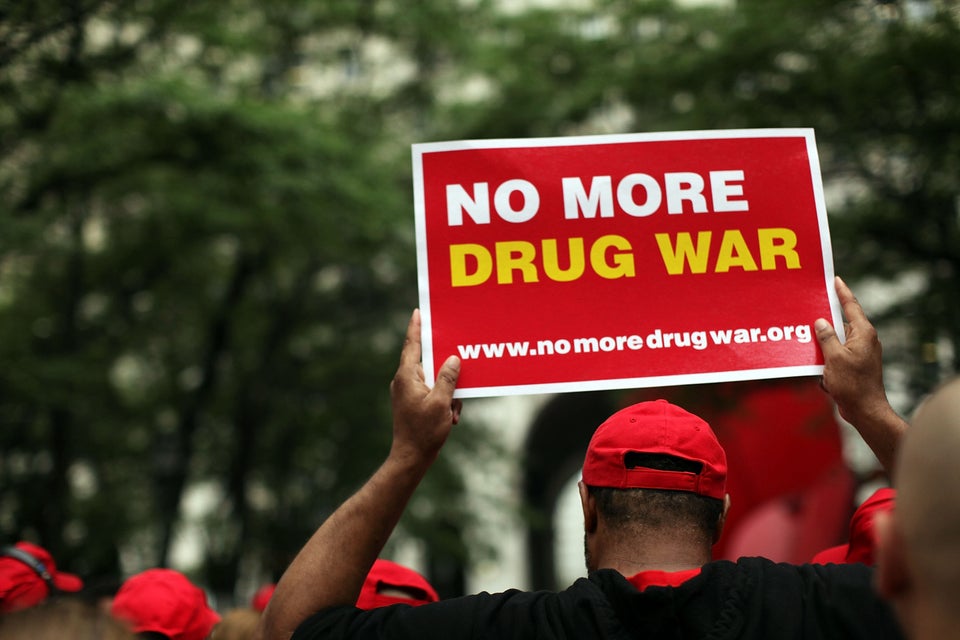 27 Reasons Why U.S. Shouldn't Lead War On Drugs
Popular in the Community