Warning: This post contains images that may not be suitable for work environments.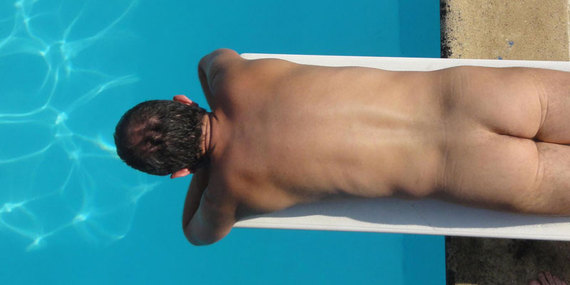 What? Yes, you heard that French people are no prude, after all, they invented sunbathing in the topless mode. But this is different - this is with no tops, and no bottoms!
The origins of nudism are traced back to 1893 in Germany. In France, the first nudists' colony appeared around 1903, with the first official club created in 1920. From then on the movement grew to lead to the creation of the Fédération Française de Naturisme in 1950 which defined the concept and rules of nudism, and the differences between nudism and naturism.
Since the 1930s in France, nudism has been practiced as a therapeutic way to benefit from the exposure to air, sun and nature in general. It was reported to be beneficial to weak people and sufferers of various ailments, and was supposed to be practiced in a group.
Of course, our very far away ancestors were naked too, we know that. And they in fact started to cover their bodies for various reasons: camouflage, weather harshness, rituals and ceremonials, distinction from others - in what became early fashion.
We are today wearing clothes because Yves Saint Laurent and the GAP make them. Also possibly because we have marks on our bodies that we don't want to share with others. And finally because it's more hygienic to sit on fabric than to use public benches with our nude bottoms.
But now you can return to primal habit when you visit Paris and claim you were swimming naked there, at a certain point in a specific place. Not everybody can say that!
You must have realized that I am talking about swimming pool activity, as Paris has very few beaches (none in fact), besides the strange concept reborn each summer of dumping truckloads of sand on the banks of the river Seine to create somewhat of a seaside effect.
The disruption of urban traffic required during those two months of semi-summer taste might not be worth the trouble, but then again, quite a lot of people come to recline in the canvas beach chairs under the large umbrellas, to watch the dirty waters of the river and the commercial traffic of the tugboats and other flat bottomed péniches.
Some Parisian dogs truly enjoy the freshly raked sand.
So in fact, you can legally swim naked in Paris. A few nudist clubs offer nights of undressed frolic in a number of suburban pools. In Eve (or Adam) attire, you can jump and dive, stroke or paddle in the costume you were born in.
This one is in Paris proper, and the nudists, as they are called in French as well (les nudistes) can meet three times a week at 9 p.m., in the 12th arrondissement of the capital. The Roger le Gall Piscine boast a large basin for laps, exercise rooms, a fitness area, aqua gym sessions, and a hammam - the humid version of a dry sauna.
All this is accessible in the nude. The co-ed locker rooms might turn off a few prudes, but really, if you're going to swim naked with a crowd, I don't see how this would be a deterrent! Although gender-mixed most of the times, it has to be said that the regular aficionados are mostly males.

Admission price is 10 Euros; Free for all under the age of 27. Your first visit is free of charge. You must bring a bathing cap (see the irony here?)

If you (really) want to go:
Piscine Roger le Gall
34 boulevard Carnot, Paris 12th.
Nudists evenings: Monday + Wednesday + Friday
9 p.m.-11 p.m.
Métro stop: Saint Mandé.
Popular in the Community