It's been nearly two years since Chi Chi LaRue left behind her West Hollywood home of over a decade for a serious stint in a Minneapolis rehab. Now alcohol- and drug-free, the drag and gay porn icon has inspiring words for anyone battling similar demons.
"If you're embarrassed, you'll never do anything again," said LaRue, sharing her personal experience on Party Foul Radio with Pollo & Pearl. "You did that shit. It's over. It's done. It's passed, and you can't dwell on it."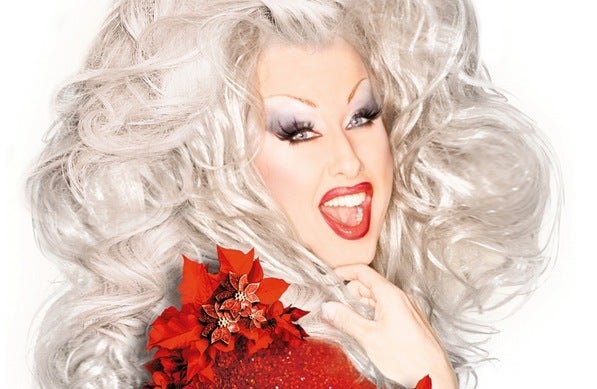 What's important, the multi-faceted personality and entrepreneur indicated, is one's actions going forward. For her, that includes returning to the rich life a long-time struggle with chemical dependency slowly stripped from her.
"I fucked up a lot when I was drinking," admitted LaRue. Since much of her spiral out-of-control happened publicly, the superstar is the first to acknowledge it as a form of moving on.
"I talk about myself and make fun of myself and dig at myself before really anyone else can," she pointed out. "I'm part of the joke.
Now LaRue is able to make light of what, as many witnessed, was a rather dire decline into addiction. In a series of extremely personal Facebook posts, LaRue shared her ongoing battle with alcohol, in particular, with friends and fans in 2015.
Shortly after making her struggles so well-known, she admitted herself into the highly-acclaimed Hazeldon Betty Ford Foundation Recovery & Rehab Center in Minneapolis, often documenting her experience via social media. Though she was making personal progress, LaRue shared, self-doubt and concerns her past would forever tarnish her professional reputation lingered.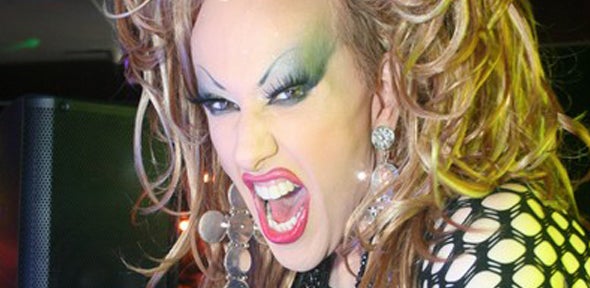 Fortunately, LaRue was wrong. Since arresting her drinking and cocaine habit 21 months ago, the entertainer has resumed a full schedule as both an internationally recognized DJ and gay adult film legend.
LaRue recently returned from spinning at Sydney Gay Mardi Gras. Over the coming weeks, she already has similar dates lined up throughout the United States and in Canada.
As a trendsetter in the porn industry, LaRue also has several new films in the works, including NakedSword's Grabby Award-nominated Scared Stiff. Calling the parody of '80s style slasher/horror films like Friday the 13th "probably one of the best movies [she's] ever done," it was written by fellow drag legend Jackie Beat over a decade ago.
"It feels really good to be back with the Falcon family," said LaRue, some of whose ties to the company extend back to nearly the beginning of her three-decade-plus career. "They welcomed me back with open arms, which is pretty awesome."
In addition to again working with long-time friends in adult films, she is beginning to revisit other places where she did a fair amount of wreckage while drinking. An upcoming gig at Oil Can Harry's in Austin, TX, LaRue said as an example, is one of many opportunities to rectify past wrongs.
"I did some pretty demoralizing shit there," LaRue continued. "And they still want me back. I'm pretty fucking lucky; I'm a blessed fucking bitch!"
Amid much laughter, outrageous stories and a significant amount of obvious gratitude, the boisterous diva finally concluded, "I'm living the drag queen, porn dream, honey!"
LISTEN: Chi Chi LaRue Discusses Gay Porn's Hottest New Stars, Teases a Returning Major Porn Star and Her Recovery on Party Foul Radio.
Popular in the Community