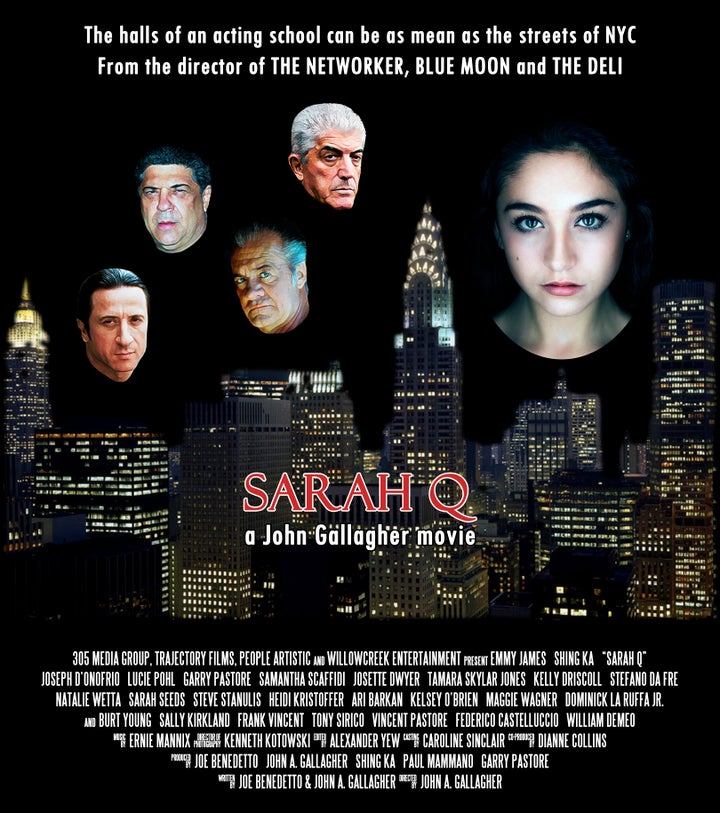 Most Indie Film Makers would frolic just to have one of these stars in their film, New York Film Maker John Gallagher boasts and ensemble cast that includes: Sopranos stars Tony Sirico ("Paulie Walnuts"), Frank Vincent ("Phil Leotardo"), Vincent Pastore("Big Pussy"), and Federico Castelluccio("Furio") they will reunite in director John Gallagher's new feature film Sarah Q. Written by Gallagher (The Deli, Blue Moon, The Networker) and Joe Benedetto (Hide the Sausage), the movie is described as a seriocomic tale of a young girl's struggle to succeed as an actor at a Manhattan conservatory.
Gallagher was just honored with a 20th-anniversary screening of his indie cult comedy The Deli, sponsored by the Long Island International Film Expo. He most recently directed The Networker which launches from Sony's The Orchard on September 12. Sarah Q also stars Academy Award nominees Burt Young (the Rocky films) and Sally Kirkland(Anna), with Shing Ka (Revenge of the Green Dragons), Lucie Pohl (Fantastic Beasts and Where to Find Them), Joseph D'Onofrio (Goodfellas), Garry Pastore (HBO's The Deuce), Doug Plaut (The Unbreakable Kimmy Schmidt), and Jaime Zevallos (The Summoning).
Emmy James (UNWANTED from Suicide Squad's Jay Hernandez) stars in the title role, with Samantha Scaffidi (Terrifier), Tamara Skylar Jones (American Fango) and Josette Dwyer (Impossible Monsters) in support. All four are alumni of Gallagher's popular acting classes at One on One NYC.
Gallagher and Benedetto produce Sarah Q with Paul Mammano, Shing Ka, and Garry Pastore, Randall Krongard and Chad Schulte are Executive Producers, Dianne E. Collins Co-Producer, John Bruno the Line Producer and Kenneth Kotowski Director of Photography. Ernie Mannix is the Music Composer, Alexander Yew the Editor, and Caroline Sinclair is Casting Director. Arthur Schweitzer and Cinevest Interactive serve as Producers' Rep. Principal photography commences in New York City in September 2017
Popular in the Community