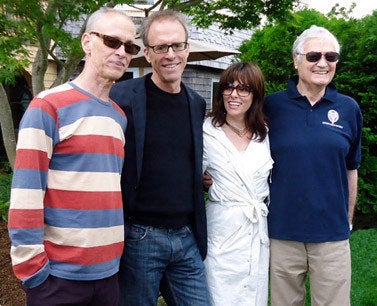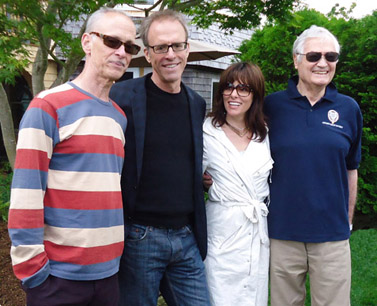 John Waters, Kirby Dick, Parker Posey, and Roger Corman
I had a fabulous time covering the Provincetown International Film Festival (PIFF), where I had candid conversations with celebrities and filmmakers being honored this year.
First I chatted with director John Waters (Hairspray, Serial Mom), who's always generous when it comes to sharing his hip insights regarding his work and LGBT issues.
John presented the 2012 Filmmaker on the Edge Award to legendary producer/director Roger Corman, whose films Pit and the Pendulum, The Trip, and The Little Shop of Horrors are cult classics. I talked with Roger Corman about being honored at the PIFF, his films, and LGBT issues.
Next I chatted with actor/screenwriter Craig Chester (Swoon, Adam and Steve), who presented actor Parker Posey (Price Check, Party Girl, Best in Show) with the Excellence in Acting Award. Chester is Posey's "gay husband" of 20 years and has a lot of admiration for her. He is currently working on a biopic on actor Montgomery Clift and developing some projects for Showtime. He also talked about how independent filmmakers are finding new life in television and offered his spin on issues facing the LGBT community.
Parker Posey talked about accepting her award and her spin on gay marriage and the anti-LGBT bullying epidemic.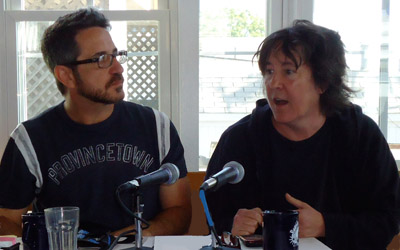 Craig Chester and Christine Vachon
Documentary filmmaker Kirby Dick (This Film Is Not Yet Rated, Outrage) received the Faith Hubley Career Achievement Award. Kirby is an Academy-Award- and Emmy-Award-nominated documentary director whose most recent film, The Invisible War, is a groundbreaking investigation of the epidemic of rape within the U.S. armed forces and the related cover-up. The film won the Audience Award at the 2012 Sundance Film Festival. Kirby talked about his new film, the independent film community, and LGBT issues.
I concluded our audio montage with producer Christine Vachon (Far from Heaven, Boys Don't Cry) about the future of queer cinema and LGBT equality. She talked about her upcoming films, including Kill Your Darlings, which stars Daniel Radcliffe as a young Allen Ginsberg. Christine has had enormous success as an independent filmmaker. When asked how she continues to succeed in this difficult market, Vachon said, "You know, really, I think the secret to my success is that I'm not very self-reflective. So along with that, besides being reasonably shallow, is, you know, I just don't sweat stuff that much."
This was my sixth year covering the festival for OUTTAKE VOICES™. The Provincetown Film Society, Inc. (PFS) is a year-round organization dedicated to showcasing new achievements in independent film and honoring the work of acclaimed and emerging directors, producers, and actors. They achieve this through a five-day festival in June and a year-round theater operation, the Whaler's Wharf Cinema. PFS is equally devoted to expanding the audience for independent film and to serving the Provincetown and Outer Cape community by filling the void for annual film programming and reflecting the community's rich diversity in selected films and honorees. An integral part of PFS's mission is to contribute to the economic and creative vitality of America's oldest art colony.
For more information on the Provincetown International Film Festival, visit ptownfilmfest.org.
Listen to more interviews with LGBTQ leaders, allies, and celebrities at OUTTAKE VOICES™.
REAL LIFE. REAL NEWS. REAL VOICES.
Help us tell more of the stories that matter from voices that too often remain unheard.