Judgments about someone's sexuality have no place in professional wrestling, said Hulk Hogan. During a recent interview, the legendary grappler -- arguably the biggest name in sports entertainment history -- stated the industry has moved past the "barbaric mindset" which once made it unsafe for athletes to be openly gay.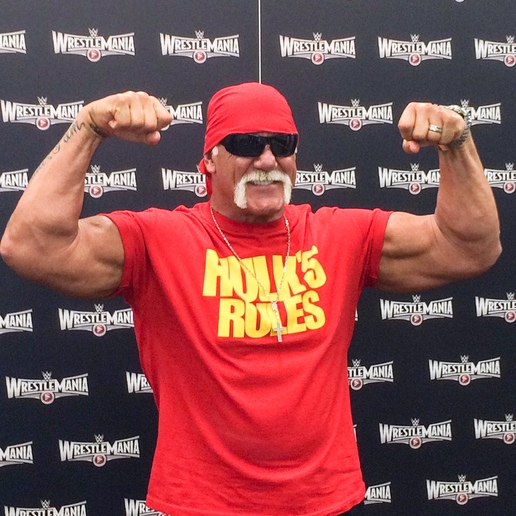 "I think everybody's been reeducated, so it's not that big a deal," said Hogan when asked about the spate of professional athletes, including World Wrestling Entertainment superstar Darren Young, who have come out in recent years.
"At least for me -- and I can only speak from my heart -- I've got people all around me who are gay, so it's not an issue with me," shared Hogan during an in-person meeting at the new Santa Clara, California-based Levi's Stadium, which will house WrestleMania 31 next March 29. "I think the whole world feels like that now."
Unfortunately, that optimistic perspective is not entirely accurate. However, Hogan does reflect growing support for LGBT individuals in sports. Jason Collins continued his career with the NBA after coming out in April 2013. Michael Sam, GQ's Man of the Year, has bounced around the NFL. Likewise, WWE's Young revealed his sexual orientation just last year.
Not long ago, though, sports -- including big-time wrestling -- were less accommodating for gay competitors. Only recently have most pro athletes remained active in their chosen careers after coming out. Though he didn't deny this reality, Hogan decried the prevailing thoughts of that time.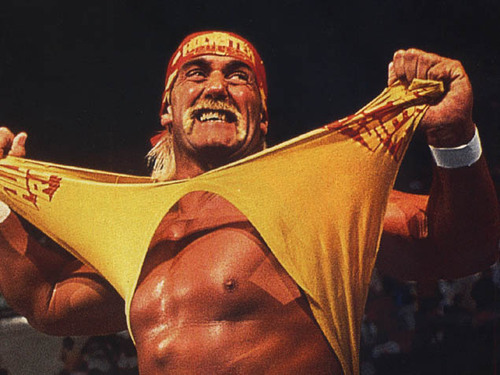 "For me, and professional sports, if people lost their jobs before, that's a crime to me," he said, "That's not something that would entertain anybody's thought process that I work with now."
Fans of the grappling icon, a combined 12-time World Heavyweight champion in WWE and World Championship Wrestling, first became aware of his acceptance of the LGBT community on the televised reality series Brooke Knows Best. On this spin-off of the popular Hogan Knows Best, viewers learned one of daughter Brooke's roommates and eventual best friends, Glenn Douglas Packard, is gay.
"He's one of my best friends too," Hogan said of Packard. "Brooke was in New York the other day for an interview, and Glenn sent me a text about it. She didn't; he did."
As Hogan noted, Packard is only one of several key people in his life who are out. According to the star, his interactions with the LGBT community -- particularly in the context of professional wrestling -- extend back to when he first met eventual WWE legend Pat Patterson.
"I knew Pat was gay back in 1976, when he helped me start wrestling," Hogan stated. "Whenever I see Pat, I give him a big hug and kiss. He's my guy!
"There are several wrestlers in Japan who are gay," he continued, "I've just never looked at it as anything weird. It was normal."
After humble beginnings in the '70s, Hogan became the world's most recognizable pro wrestler in the 1980s. The "Real American" held the then-World Wrestling Federation championship consecutively from 1984-88, headlined the biggest pay-per-view events in history (starting with WrestleMania) and went mainstream through his Rock 'n Wrestling partnership with pop superstar Cyndi Lauper and a role in the blockbuster Rocky III.
The height of Hogan's in-ring success came during a time when clichéd characters dominated sports entertainment. From African savages to Caucasian hillbillies, pro wrestling reflected the most basic of stereotypes (including a flamboyant, effeminate evil "gay" -- as seen in the above video of The Hulkster facing "Adorable" Adrian Adonis).
Hogan fired off a list of once-common ethnic stereotypes -- "'Asian people are smart,' 'Rednecks are dumb,' 'Black people are fast'" -- when describing the "inherited mindset" professional wrestling operated under during that era. "It's whatever people thought," he said, "That we realized isn't true."
Now, though, Hogan says the world -- and the pro wrestling industry as a result -- has been reeducated to see people differently. The once-standard archetypes have been broken down, he said, indicating they have no place in professional wrestling... on -- or off -- camera. Indeed, the WWE frequently partners with GLAAD and even launched its own Be a Star anti-bullying campaign.
"That barbaric mindset we inherited is not a set piece in people's minds," Hogan asserted.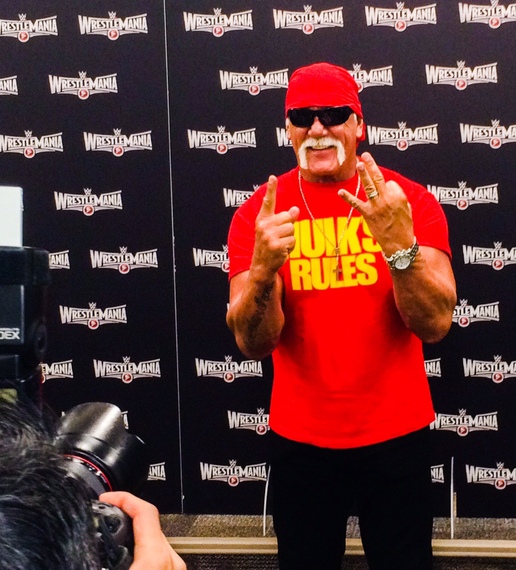 Still, the impact of those societal teachings lingers for those who experienced them first-hand, notably Hogan's friend Patterson. On the WWE reality series Legends House, the Hall of Famer tearfully shared a long-standing fear that news of his homosexuality might end his sports entertainment career. When reflecting on Patterson's emotional revelation, Hogan became somber.
"Back when Pat was wrestling, he was afraid to be who he really is -- or was meant to be -- because of all this stuff he inherited from society," he explained, "'You're supposed to be this tough wrestler.' 'You're supposed to be this good-looking, platinum blonde champion who goes out and dates the best looking women.' 'You're supposed to be this.' 'You're supposed to be that.'"
"But that's not true!" Hogan concluded emphatically, "Pat Patterson is supposed to be who he's meant to be, not who people think he should be, if that makes any sense."
For those in the LGBT community, it certainly does.