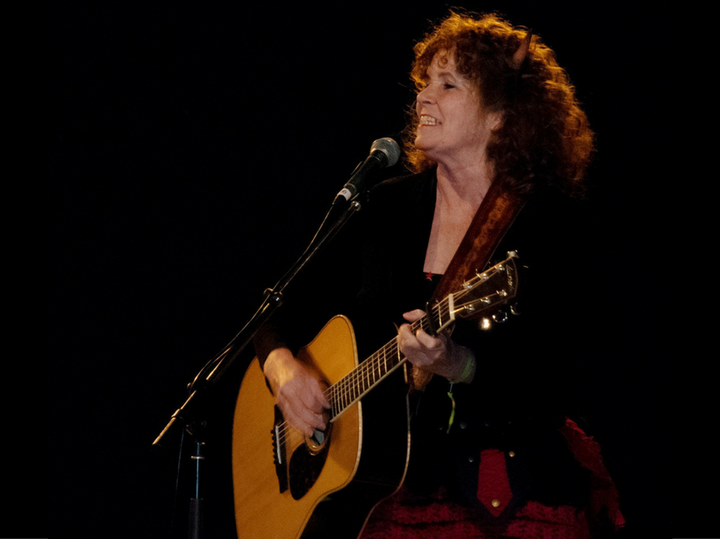 Peter Yarrow, Anti-Flag, Dan Bern, Holly Near among prominent artists covering Feeney's songs on new compilation
Anne Feeney has been raising hell for decades. As one of the foremost musicians of the past century to use music as a tool for justice, she has perfected the craft of turning her songs into an arsenal that can inspire a room full of young minds, or be hurled like projectiles at scabs crossing a picket line.
Now, group of well-known musicians from diverse genres have come together to release a new album of songs written by the rabble rousing Pittsburgh-based folksinger. After decades of relentless touring and organizing, Anne has been fighting cancer--and winning--for the past several years, making it impossible for her keep up her near constant gig schedule. Her daughter, Amy Sue Berlin, curated the compilation, titled "War on the Workers" after one of Anne's most beloved songs.
The album features new cover recordings by iconic acts like Peter Yarrow (of Peter, Paul, and Mary), acclaimed songwriter Dan Bern, folk legend Holly Near, and social justice power duo Emma's Revolution.
Anne has been a close friend, tour mate, and mentor of mine ever since she convinced me to drop out of an esteemed Liberal Arts college to become an itinerant folk musician. It wasn't the best financial advice I ever got, but it sure was one of the best decisions I ever made. Given all that Anne has done for me, I was honored to contribute a track to the album myself, collaborating with punk rock icons Anti-Flag.
In the liner notes for the album, Peter Yarrow of Peter Paul and Mary writes:
"For decades, I've held Anne in great esteem: for her determined heart, her passionate commitment to justice and the way she's lived the messages of the folk tradition (just as Peter, Paul, and Mary did) putting her life and her presence out there to speak about and sing about what needs to be shared."
Based in Pittsburgh, PA, Anne Feeney is the granddaughter of an intrepid mineworkers' organizer, who also used music to carry the message of solidarity to working people. After two decades of community activism and regional performances at rallies, Anne took her message on the road.
Since 1991 she's traveled to the frontlines in 42 states, as well as Canada, Mexico, Denmark, Ireland and Sweden. Her anthem "Have You Been to Jail for Justice?" is being performed by activists everywhere, and was recorded twice by Peter, Paul and Mary. Dubbed the "minister of culture" to the movements for economic and social justice and human rights, Anne is "the best labor singer in North America" according to Utah Phillips. Anne has played for crowds of hundreds of thousands, at some of the largest protests and rallies of the last century, and shared the stage with legends like Pete Seeger, Billy Bragg, Loretta Lynn, Danny Glover, and Peggy Seeger. Her music is regularly featured on Democracy Now.
The tribute album features an eclectic array of accomplished artists including Trout Fishing in America, Rebel Voices, Connie & Anna Cohen, John Elliott, The Hot Nut Riveters, Chris Chandler, Peter Wilde & Nancy Silvers, Brian Cutean, Collean Kattau, and Eric Schwartz. Proceeds from the album will go directly to Anne.
Related
Popular in the Community