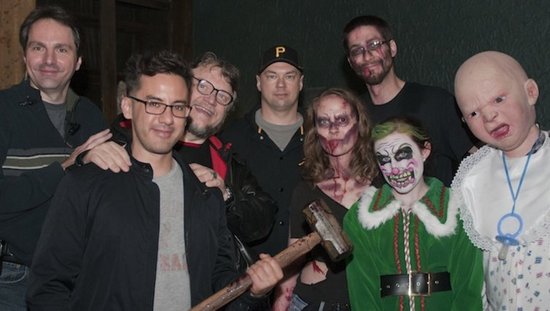 From left: ScareHouse Creative Director Scott Simmons, Mike Dougherty, Guillermo del Toro, Thomas Tull and ScareHouse designers Dejah and Christopher Gilgour, Nicole Danielle Conniff, and Aaron Parkus in 2013. Courtesy ScareHouse.
A visit to a haunted house attraction during Halloween season can be pretty scary. But the ScareHouse in Pittsburgh thinks it can be scary pretty as well, and Legendary Entertainment agrees.
The studio that produced, with Warner Bros., Michael Dougherty's seasonal cult fave Trick 'R Treat - and is behind Guillermo del Toro's gothic ghost story Crimson Peak - is supporting the haunted house in Pennsylvania in a fairly unique partnership. Legendary has allowed ScareHouse to use Sam, the creepy Jack O' Lantern-esque little boy from Dougherty's anthology, as a de facto mascot for the attraction.
It is not particularly novel to bring horror movie characters to life for haunted houses; Universal Orlando has been doing it successfully with Hollywood-level production value at its Halloween Horror Nights for more than two decades.
But Legendary is positioning itself to be more than just a patron to a Pittsburgh haunted house. Along with its ongoing YouTube competition - which launched late September and involves content creators receiving advice from del Toro as they assemble a scary movie short - the partnership with ScareHouse signals an interesting direction for the studio to be perceived as fan-leaders within horror.
"[We are] fans of the horror genre and love Halloween," said Emily Castel, Chief Marketing Officer, Legendary Entertainment. "We see ourselves as being in the experience business, and getting scared is one of the most fun experiences you can have with an audience ... [and] the team at Pittsburgh ScareHouse do a fantastic job at creating one of the coolest Halloween experiences in the U.S."
Regarding that experience, ScareHouse Creative Director Scott Simmons said, "If most haunted houses are like slasher films, which are great popcorn experiences, we embrace the deeper unsettling aesthetics of Stanley Kubrick."
This was witnessed firsthand in 2013 when Dougherty, del Toro and Legendary CEO Thomas Tull, part owner of the Steelers, took a tour of ScareHouse.
"It was love at first sight," said Dougherty about the venue. "Thomas had known about the ScareHouse for ages and was always a huge fan, and he knew Guillermo and I would have a good time walking its halls."
"They had such a good time we decided it would be fun to do something together this year," said Castel.
For his part, del Toro can be seen in a ScareHouse video walking through the attraction, laughing but also leisurely taking in the sights, as if he was in an art gallery. He later said it was so beautiful that he could live there.
Dougherty said the haunt's aesthetic is partially why he enjoyed including Trick 'R Treat in the event when they approached him and Legendary. While protective of the Sam character, the attraction "blew me away" with its homegrown passion, so he and the studio agreed to have his mascot come to life at the event and "spiced throughout the haunt."
Simmons said his event's partnership with Legendary is an honor but also makes a lot of sense.
"They get it and they get what we do," he said. "We both begin from a place of fandom, with a passion and love for scares; ScareHouse is personal for us and that has been the impression we get from Legendary, even though they make big blockbusters."
"It's not a giant, theme park style event and there's something more comfortable and cooler being an independent venue," Dougherty echoed. "There is an intimacy and attention to detail with the ScareHouse you just don't get at a lot of other attractions."
For instance, one of the jewels of ScareHouse is The Summoning, a scare area set entirely in the Jazz Age of 1932 which features more than 70 authentic seats from the era and pays homage to a darker side of cabarets and burlesques. Another section, called The Basement, uses the expertise of resident "fear researcher" and sociologist Margee Kerr, PhD, to terrify attendees. According to a ScareHouse press release, it builds from research on "on what scares people from a social, psychological, and physiological perspective ... on an interactive journey built to push them outside their comfort zone, challenge their expectations."
In this way, Castel said ScareHouse shares Legendary's perception that horror is not "disposable entertainment" but instead the playground for master craftsmen, like del Toro, who appreciate artistry and sophistication.
With big monsters movies like Godzilla, guerrilla-style found footage flicks such The Dowdle Brothers' As Above/So Below, del Toro's Crimson Peak and both Dougherty's Trick 'R Treat sequel and Christmas horror movie Krampus, it's fairly obvious they're viewing the genre as anything but disposable.
As such, Dougherty said he thinks the partnership between Legendary and ScareHouse is a natural.
"Horror is an interesting genre in Hollywood; partially my experience has been most studios know the genre can make money but don't really respect it," he said. "Legendary understands it, have a passion for monsters, have a passion for the genre of all types."
"And the [horror of ScareHouse] is absolutely an artform -- not only with the visual aspect of the planning and designing of the experience, but the performers put on a whole show and lose themselves in their characters."
"Horror is one of the primary colors of cinema, and has given audiences some of the most unforgettable moments in entertainment," added Castel.
If the partnership with the haunted house represents a studio rooting itself in a local community, its YouTube competition might represent it rooting itself in the global fan culture.
Running through Oct. 27, the "YouTube Space House of Horrors: A Legendary Halloween" competition is designed to seek out a "new voice" in the genre, according to del Toro. But instead of just calling for submissions, it provides established users (who have 10,000 subscribers or more, and are part of the YouTube Partner Program) to utilize event spaces and sets inspired by the director's work to create a short horror film. Competitors will also receive some guidance from the filmmaker, and the winner will develop the property further with Legendary.
Explains Castel, "Halloween is the perfect time for us to showcase our fandom and our commitment to horror, but also to connect with the larger fan community."
"ScareHouse is a part of that, but the YouTube partnership is a bigger, global initiative in which we are bringing together our industry-leading stable of horror creators and the next generation of storytellers in the online video space ... to celebrate the legacy of horror in all its forms."
REAL LIFE. REAL NEWS. REAL VOICES.
Help us tell more of the stories that matter from voices that too often remain unheard.