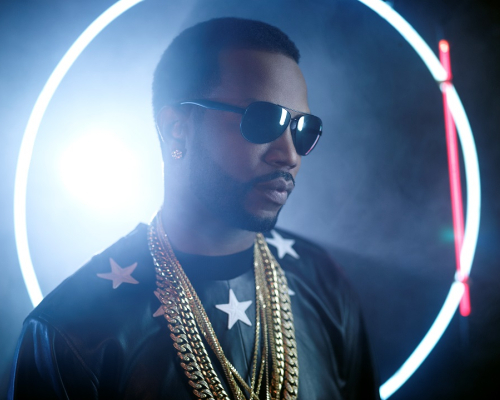 Everybody that listens to rap music has undoubtedly bumped a Juicy J or Three 6 Mafia track before. There is really no way around it, even if it was a guilty pleasure. Even from their first album, 1995's Mystic Stylez, there was something quite different about Three 6 Mafia compared to all the east coast and west coast rap we were already hearing. There was this energetic, yet dark and eerie sound from the group.
Over the years, Three 6 Mafia would become a household name in the music industry with an explosive sound, countless hits, television appearances, and even winning an Oscar for their musical contribution to the movie Hustle & Flow. They have had quite a storied past with members coming and going, and even the recent passing of one of the founding members Lord Infamous, but the most polarizing figure of the group would have to be Juicy J.
Throughout the past 20 years or so, Juicy J has been able to move swimmingly through the rollercoaster that is the music industry to still be a relevant figure as a solo artist doing the music that he pioneered back in the 1990s. Recently, I was able to talk with the Memphis native while on his current The Hustle Continues Tour about his longevity in rap music and how he was able to achieve it.
Over the past 20 years starting with Three 6 Mafia, you've been making music that's pretty much been the blueprint of what rap music even sounds today. How were you able to ride that wave for so long to continue to be relevant today?
I've been enjoying the music; it's been like harmony. Just been making music for the fans, seeing people's reaction. Even with working with new producers and other up and coming new artists, if it's not special, I won't do it. It just keeps me around. I never stop working.
You've had a unique career where you've been able to touch so many bases of pop culture and the music. How were you able to navigate through all of that?
No matter whose song I'm featured on, or whoever beat I'm rapping on, it's always me. I may sound a little different on this or that song, but it's always me. Every time you hear me, that's Juicy J right there. I haven't really tried to change up my style up or anything, because people want to hear me. They don't want me to try to be somebody else, so I just keep it the same on whatever I do.
What do you want your legacy to be?
I just want people to understand that I never gave up. I want to be inspiration to people because I've been doing this for so long. Any of my records coming up, they'll check me out, this guy has been doing it for 20 years, still doing it, still relevant, still making a name for himself. I want to be an inspiration for all artists coming up.
How important is it for you to inspire those up and coming artists in rap music?
It's very important to me because I feel like I'm an OG legendary person so I think its only right for me to help people. Anywhere, any up and coming new producer, it's almost like when you're watching basketball, you see a lot of the coaches that used to play back in the day, that used to be on the team, like Steve Kerr. Now, they are coaching teams. They are actually giving back to the youth, telling them how to make plays. I enjoy doing that and I feel its only right. If you really have the passion and really enjoy doing music like me, then you enjoy sharing the ideals of the people that's coming up just to watch them come up. I like watching, whether the person is signed to me or not, I love watching new artists come up. I've pretty much met everybody as far as new artists and I've worked with them before they had their major label deals, and it just feels good to reach back and give them some knowledge about the music business.
How do you think you have changed since the beginning of your career?
I'm smarter. I feel like I was smart back then, but I know more now. I feel like I have the capability to run a major label now. Back then I didn't, but now I feel like I've seen all the contracts and I know everybody about everything in the music business from A to Z, so feel like I could run a major label now, which I plan on doing in near future. That's my goal, to be like Clive Davis, Barry Gordy, Barry Weiss, Steve Barnett, and a lot of the CEOs that runs these companies. They are doing great, amazing jobs and I just want to following in those guy's footsteps.
What do you think is your biggest fear as an artist? What is the most difficult part of being an artist?
Sometimes, creating music. Sometimes, you can get writer's block. I feel like you got to keep your ear to the street and just keep an open mind because a lot of artists that come from my era in the 90s, some of them don't dig the new stuff and up and coming artists. I listen to everything and actually like the new music. I like the new artists and I understand it. I think that's where a lot of musicians get lost when they are still doing their own thing and they are not willing to open their ear up to what's going on now. You don't have to follow any trends but you can always listen to it, get an idea from it, and do it in your own way. I think a lot of people from my era turn their cheek to that. I'm futuristic. Whatever's new out, I'm going to listen to it. I don't have to duplicate it, but I'm always going to listen to it. It keeps my ears fresh because music doesn't sound the same, it's never going to be the same, it's always going to be different. Stuff today sounds similar to some stuff from the 90s but it's not the same thing. I couldn't come up and make the same kind of music I made in 96 and 97. I can make the music, but I have to change it up with some different elements.
Juicy J brings his The Hustle Continues Tour to Saint Andrews Hall in Detroit on Sunday, June 7th. For more information on Juicy J, visit thejuicyj.com.
Popular in the Community