Renowned for his lyrical prose, soaring fantasy, and endearing aptitude for creating earthy, relatable characters and scenarios, author Peter S. Beagle is currently on tour, and soon he's coming to a town near you (or at least not unreasonably far away). The occasion is the highly successful roadshow revival of The Last Unicorn, the wonderful 1982 animated film based on his beloved 1968 novel.

The film of The Last Unicorn has sold more than five million home video copies around the world in the last six years, all on word of mouth alone -- but since the film has been missing from theaters for more than three decades, most of its fans have never seen it the way it was meant to be seen, i.e. gloriously big. Mr. Beagle is changing that by personally bringing a pristine new 2K digital cinema print to over 400 movie houses around the world, one at a time, between now and the end of 2015, giving fans aplenty a chance to engage with him for Q&As, signings, and personal conversations.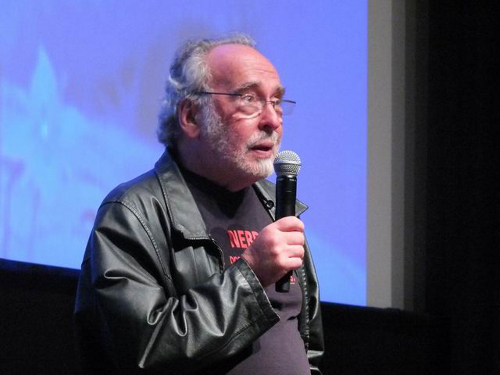 Since the massive April premiere at San Francisco's Castro Theatre, Mr. Beagle and the tour have sold out shows in Texas, Kansas, Colorado, and Maryland. This week the tour comes to Southern California with shows in Los Angeles, Orange County, Riverside County, and San Diego (ticket links below). Next month it sweeps from Virginia up the coast to New York City, and before the end of the year it will appear in more than thirty other locations all over the United States.

For this enterprise, words like "special" and "successful" and especially "unprecedented" are the stuff of understatement. Mr. Beagle's works -- his other novels such as A Fine and Private Place, The Innkeeper's Song and Tamsin, shorter works such as "Come Lady Death" and "Lila the Werewolf," plus loads of songs and stories -- have influenced the likes of Neil Gaiman and many other fantasy writers, and are vital to tens of millions of readers worldwide. He is also a screenwriter and television writer, having written the standout, moving "Sarek" episode of Star Trek: The Next Generation, as well as adapting Tolkien's The Lord of the Rings for the 1978 Ralph Bakshi movie, plus of course adapting his own Last Unicorn (a charming and gorgeous Rankin/Bass production from Topcraft, the same Japanese animation house that eventually became Studio Ghibli).
It was my great pleasure to speak with Peter, and his devoted impresario Connor Cochran, about the happy return of this animated classic, and the excited fans driving its revival.
"Ideally, although it most often works the other way around," notes Peter when I ask where neophytes can begin, "I'd prefer them to start with the novel. But in fact, the film has very often led a great many of my fans, if you will, to the book. They started with the movie, quite young, and many people have told me, 'I was 30-35 years old before I knew that there was such a thing as a Last Unicorn novel.' So I'm grateful either way.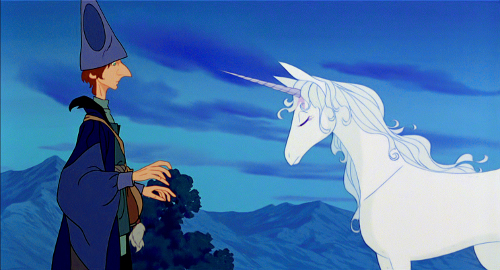 "Where the book was -- I've said often -- a nightmare to write, the movie was a comparatively smooth process. And though it took me a long time, I've come to realize that the film has developed a genuine cult, that it affected the lives of people who had seen it very young, and never forgotten it."
I ask Peter how his fans have responded to the tour screenings.
"It's been overwhelming. I don't know another word for it. I get any number of people who come up and say, 'Thank you for my childhood.' I'm not making it up or paraphrasing it -- those are the words I hear most often. And I often get criers -- people who stand there, near my table where I'm signing things, who clearly want to come up and talk -- but they're just shaking, and sometimes when they try to talk, they start to cry. And I have to get up and hold them, telling them, 'It's all right; I've become a big crier myself in my old age.'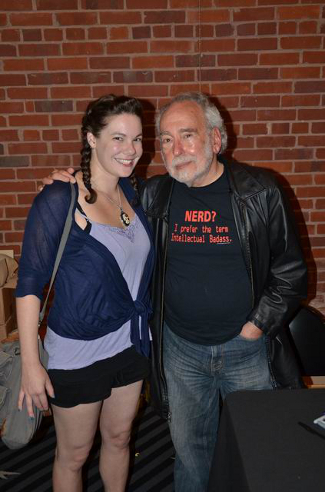 "But the thing is, to talk about it always makes me feel -- it just sounds like vanity, like self-promotion. It embarrasses me, because it feels like showing off, and I wasn't raised to show off, so it's odd. And yet it just keeps coming."
Indeed it does. The intense, wondrous affection for The Last Unicorn -- significantly in pop-culture terms, I'd posit as standing in sharp contrast to a brutal current videogame like "The Last of Us" -- does prompt these huge outpourings. Peter laughs good-naturedly when I call him a rock star.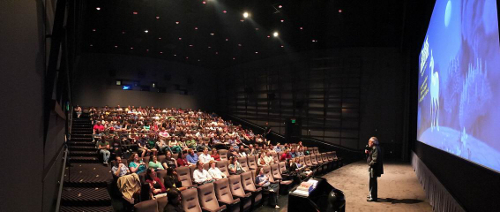 Connor lends perspective (addressing Peter directly): "One of your great charms -- and occasional headaches, when the signing line gets long -- is that whoever you're talking to is the only human being in the universe to you. You're completely unaware of anything else but that person, that conversation. And you care, and you get involved."
Okay, so maybe not exactly a rock star.
Peter calls his fans "astonishingly patient," but it makes sense: He's like a one-man Comic Con, with Connor there for backup since he knows Peter's material as well as anyone alive, from never-seen chapters taken out of published books, to songs, to poetry (high-school poetry!) to -- well, get this: "His mother saved everything. I've actually read third-grade book reports written by Peter Beagle." Pardon the hipster slang, but: How cool is that? Connor also cites a fifth grade essay Peter wrote about the dentist who worked in the ground floor of his childhood apartment building in the Bronx, titling the piece not "The Dentist," but rather "The Man With the Electric Stiletto."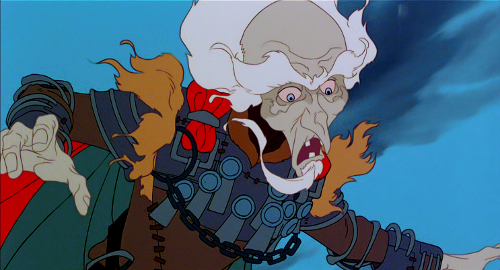 "He didn't know from Novocain," Peter firmly states. "He was an absolute butcher, and I truly believe that he scarred, warped and otherwise deformed my life. I could go on about it, but usually it's kind of a tag-team story."
"My point is that Peter was only nine when he was in fifth grade. What nine year-old writes like that?" laughs Connor. "I don't know anybody else who'd come up with a title like that, that young. So Peter is kind of unique."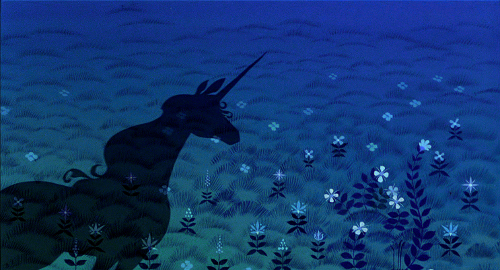 To call esteemed author Peter S. Beagle "erudite" may seem obvious, but our conversation proves wonderful and illuminating. There's ever so much more to report from this man's truly storied career. Those who get a chance to experience him on this Last Unicorn tour are in for a treat.
screening photos courtesy of Bruce Guthrie for the AFI Silver screening, August 12, 2013
The Last Unicorn stills courtesy of ITV plc.
This Week's Last Unicorn Shows:
Tuesday 8/20, 7 PM at USC, Los Angeles [SOLD OUT]
Calling all HuffPost superfans!
Sign up for membership to become a founding member and help shape HuffPost's next chapter