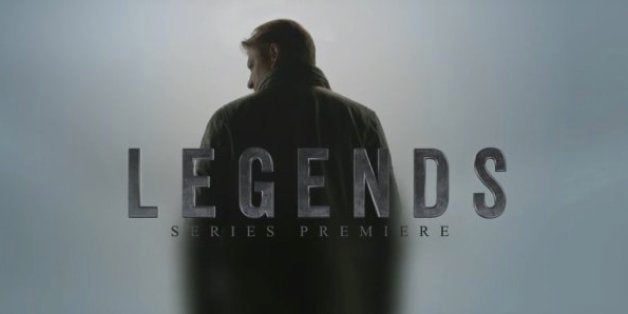 QUESTION:
Will you watch anything starring Sean Bean?
HYPOTHESIS:
Yes, you will watch anything starring Sean Bean.
PROCEDURE:
Watch the pilot episode of "Legends" starring Sean Bean.
PROCEDURE NOTES & OBSERVATIONS:
Audience familiarized with concept of domestic terror.
Apropos of nothing, here is a militia.
Sean Bean is wearing militia glasses and has hair that really wants to be a mullet but isn't.
He's laughing too much... not sure if he's really a militia guy.
Why do these militia men have no problem with Sean Bean's accent?
Lead bad guy is the "Founding Father". (Note: Credits listed Zeljko Ivanek. It's probably him. He's never not the bad guy.)
Sean Bean wants to "Blow some shit up." I've never been in a militia but that seems a little on the nose.
SEAN BEAN IS GOING TO DIE IN THE FIRST TWO MINUTES.
Why does that guy have a leather vest?
SEAN BEAN DOES NOT DIE.
Sean Bean's character is observed to have big balls.
His fake character's name is Lincoln and he's going to meet the Founding Father... irony.
The ATF just ruined everything... like always.
Vest guy is a C.I.... his costume is unconvincing so he'll probably die at some point.
Sean Bean has been undercover as Lincoln for six months.
Hero shot with Jesus-light behind Sean Bean's head... he lives... for now.
Sean Bean's real character's name is Martin Odum.
Sean Bean has a son and an estranged wife-character-stereotype.
He promises to cook his son Chinese dinner... least plausible thing so far.
Estranged wife/stereotype says everything can't be the same when Sean Bean comes back because that's a thing characters like that say.
Uh oh, he signed a check with his alias, er, "legend"... dude has problems.
Sean Bean can laugh in other languages.
There's a suspicious guy in a raincoat stalking him.
First commercial. So far show has proved Sean Bean is the star of it.
Ad for "Dallas." No Sean Bean. Not interested.
We're back. Sean Bean's apartment is sparsely decorated and has the worst lamp ever.
God, Russell, don't call him at that number.
Militia is apparently planning "the big one."
"How do you know it's not a trap?" "I don't, but it's a chance we've got to take." Am growing concerned about the cliches.
Meeting with militia guys set at a strip club... mixing business and pleasure does not seem like proper militia procedure.
There's a blonde agent who doesn't seem to like Sean Bean... cliche concern growing.
Why is she blaming Sean Bean for everything? They better have not had a relationship in the past.
Apparently, three out of four shrinks said Sean Bean, aka Martin Odum, aka Lincoln, had a personality disorder and found him unfit for duty, but the fourth shrink said "He's the most naturally gifted deep cover operative that we've got. Maybe the best we've ever had." Ok.
Sean Bean accused of patronizing blonde agent.
He's really sorry. Sean Bean is sorry for patronizing you.
Yep, they had a relationship in the past.
HOLY CRAP IT'S THE GUY FROM "PITCH PERFECT."
Sean Bean glares at someone but they don't die.
HOLY CRAP IT'S GIRL FROM "NAPOLEON DYNAMITE." PLAY TETHER BALL WITH SEAN BEAN NOW.
Sean Bean's accent is explained. He was an air force brat.
At this point, Sean Bean is barely tolerating everyone.
Russell is the best asset Sean Bean ever recruited... everyone on this show is the best of whatever it is they are in this show
Blonde agent -- whose name I refuse to learn until the writers give her one non-cliche character trait -- says Martin/Sean Bean knows these guys better than any of us. She's totes on his side now.
"You aren't flying solo anymore." No one says this to Sean Bean.
Now not sure if Sean Bean is the star of "Legends" or if every cliche ever is the star.
Sean Bean's character's legend has a fake special needs daughter.
Sean Bean's character's legend has a persecution complex and a stutter.
He just said "I" instead of "he." Dude has a problem.
Oh, no, he's stuttering!
LET'S ALL STARE AT SEAN BEAN NOW.
Sean Bean breaks homemade Chinese dinner plans with his son.
Raincoat Guy is still up to no good. Or is he?
"You don't know where your life begins and your legend ends." LOL, Raincoat Guy.
"There is no Martin Odum. He's a legend." OK, script, we heard you.
"Trust no one." Especially not the screenwriters.
Second commercial. The good news is this show is employing every cliche possible. In this economy, that's an achievement.
"Pitch Perfect" Bobby is cardio dancing alone in his apartment. Sad.
Bobby tells us how computers work. He's good.
There could be a spin-off series that's just an hour of Sean Bean saying "hard on."
There is meant to be sexual tension between Sean Bean and the not terribly well-considered female FBI agent character, but there isn't.
HOT CLOTHES-CHANGING ACTION
Sean Bean is practicing his laugh. Need 20 more minutes of this.
Dammit, Russell.
Ding Ding Ding: Zeljko Ivanek IS the Founding Father.
At this point, I think Sean Bean's character is bad at being undercover.
Unwritten female FBI agent is posing as a stripper now. That didn't take long. This show may hate women.
She's as believable as a stripper as I am as a stripper.
Uh oh, now she has to give Sean Bean a lap dance because he says there's a "camera" in the ceiling.
I want to see a lap dance on TNT about as much as I want to see one on Animal Planet.
HA HA, IT WAS JUST A SMOKE DETECTOR. YOU GAVE ME AN UNNECESSARY LAP DANCE. HA HA HA.
"How do you know?" "I read people, that's how I know." Script attempts to make up for having female FBI agent give Sean Bean a lap dance.
Third commercial. We have learned that the writers think a female FBI agent can't tell the difference between a smoke detector and a surveillance camera.
These militia guys think they're going to kill Sean Bean. Idiots.
The hastily-sketched female FBI agent is now in a robe for whatever reason.
Sean Bean is laughing again.
Sean Bean's character -- in character as his legend -- says he's not afraid to die because he's already dead. Show is now actively giving the finger to the audience.
"I have stage-four cancer." Why would the militia guys care if he has cancer?
HOT CANCER-MAKING-UP ACTION
HOT SPELLING MISTAKES ACTION
Computers save the day.
The G7 is having a huge media event which we're just hearing about now.
Pretty sure they're just saying lines from random episodes of "24" at this point.
Goodbye Russell. You were the best C.I. ever. But also a card-carrying member of the Aryan brotherhood, apparently.
Rudderless female FBI agent character now says Sean Bean is impressive. Soon there will be sex for no reason.
Fourth commercial. We've learned that militia dudes have a lot of sensitivity towards people battling cancer.
"First rule of undercover: make the lies as close as possible to the truth." But, wait, wouldn't that be confusing for the person telling the lies if they tell them for a really long time... ohhhhhhhh... dude is messed up.
"Wow, C4?" "Guess how much?" "500 lbs?" "Six." Conversation brought to you entirely by information that helps the feds.
Militia wants Sean Bean to go on a suicide mission with the Founding Father who also clearly has cancer.
Why aren't you going in Founding Father? You definitely have cancer.
The FBI blows the op because they suck at FBI-ing.
For some reason, it's all over. Founding Father blows no one up and everyone is basically fine.
Sean Bean is having a hard time with not dying.
Flashback to Raincoat Guy.
"Pitch Perfect" dancing Bobby cracks Raincoat Guy's identity. He's good.
Fifth commercial break. Really just hoping for a dance number with Bobby and Sean Bean now.
Sean Bean and "Napoleon Dynamite" girl have a cute chat but the show has no time for it.
Bye "Pitch Perfect" computer cardio Bobby. We saw you do that one thing in your apartment, so we knew you better than every other character.
Sean Bean is disturbed by the deaths of people who aren't him.
For some reason, Sean Bean's character considered Bobby a friend. After meeting him twice?
How did Sean Bean and Raincoat Guy get each others' phone numbers?
Wait, Sean Bean's in the car now?
Did the show run out of time, what's happening?
Raincoat Guy is going to die.
He got stabbed by a lady who does not stab Sean Bean. The hell?
Raincoat Guy has a book in his left pocket and says, "The answer's in there." Dear God, please don't let it be a bible.
Not a bible. Phew.
Sean Bean demands to know "WHO AM I???"
Sean Bean catches the only empty train ever.
RESULTS:
Sean Bean Deaths: 0
Fully Realized Supporting Characters: 0
Plausible Plot Points: 0
Cliches: Infinite
Chance You'll Watch The Next Episode Simply Because It Stars Sean Bean & Watching Him Do Anything Is Better Than Not Watching Him Do Anything: 100%
CONCLUSION:
Yes, you will watch anything starring Sean Bean.
Popular in the Community