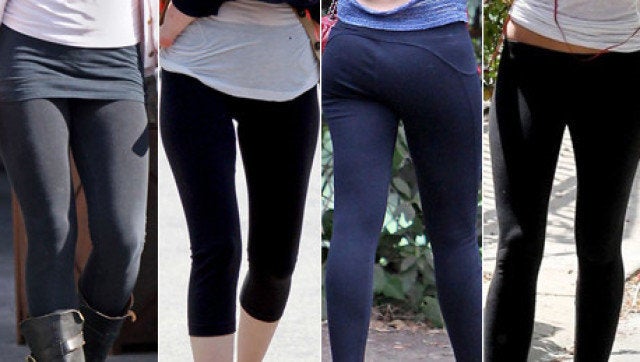 Lincoln vs. Douglas. Kennedy vs. Nixon. Obama vs. Romney. For all of the great debates in American history, no brave souls have dared to tackle society's ultimate smackdown: can you wear leggings as pants?
If you're uninitiated with the very serious rules of hosiery, there are two basic ways for we ladies to wear our leggings. The first way is to slip them on under a dress, a long tunic (long enough to cover your, uh, essentials) or a skirt. This method of wearing leggings is simple and finite.
Of course, leggings-pants-pocalypse has its A-list fans. Pippa Middleton's done it. Kim Kardashian's done it. Katie Holmes has done it. But most girls we know think the leggings as pants look is blitheringly disgusting and a definite fashion don't.
And yet, we wanted to know: what do straight men think of this notorious bottomswear? Do they find it sexy? Sloppy? A bit uncouth?
We asked. And here's what they said:
"I personally think it's hot. I think it would be exceptionally rare to find a straight guy who would be mad about cute girls wearing super-tight clothing."
"It's a little slutty, way too revealing, leaves nothing to the imagination. Yes, it often is attractive. However, I don't walk around with my dong hanging out. It's called being taken seriously and wearing clothes. But the long shirt that goes down over the ass -- then it's fine."
"I mean, if you like camel toes... call me old fashioned, but I'm the kind of guy who likes a little mystery."
"This is a bar conversation I've had with guys before and opinions seem to be split. In my opinion, it's basically the same thing as a pair of tight fitting jeans, which more or less nobody has a problem with. Like anything else, it's a look that varies from person to person, but I think it's fine for winter. Although Olivia Wilde could wear pants made of made of Snickers wrappers and it would probably be flattering."
"The part where the leggings come up to the ass where there's a little space may be God's greatest gift to man."
"It's attractive, and I'm a feminist, but at some basic level I won't take you seriously as a person."
"If they have an attractive body (hell, even if they don't) I have no problem with them showing it off, but I would still question their judgement. Probably not the kind of girl I would want to take home to meet the parents. Though it's a totally different story if it looks like the are going to/coming from the gym."
"Usually you don't notice unless it looks really bad or really good. It seems like it's become a norm now but I don't really get it. Don't you all realize you're basically showing everyone exactly what shape you are which isn't always flattering?"
"If the ass is an 8 or better, then I am an enthusiastic proponent."
So, that proves... absolutely nothing. But enough of what the guys think: what do YOU think about leggings as pants? Sound off in the comments!
See some stars rocking their leggings as pants below...